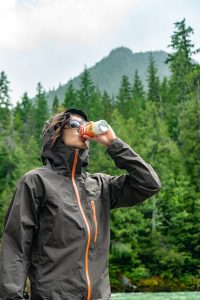 Back in March, when COVID-19 was declared a global health emergency and the world around us was changing at an unprecedented pace, there was a collective, what do we do now? This question undoubtedly resounded deeply throughout all communities and industries — because life as we knew it had changed.
For many business owners and entrepreneurs, the pandemic catapulted their business plans into unchartered territory. With border closures and mass shutdowns, talks of an economic downturn, an impending recession and stock market crash—it was looking pretty grim. Yet in the midst of widespread closures and scale backs, one Vancouver-founded brand decided to launch their first ready-to-drink beverage, mid-global pandemic.
Vancouver Founder and CEO of Wize, Max Rivest, made the deliberate decision to move ahead with plans to bring his new canned beverage to the market— with an official launch date of July 15, 2020.
Launching a new RTD product in the middle of a global pandemic takes courage. It also requires killer instincts, clarity of vision, top-notch marketing expertise, a comprehensive strategy as well as a badass team with the execution power to deliver. Enter Jaclyn Cummings of JC Marketing Consulting (powerhouse PR professional with a client list that reads like a who's who). Working closely in collaboration, Rivest and Cummings continually circled back to the main driving force behind the campaign: the need to innovate and do something meaningful. Even if the odds are against you.
"Launching a brand or product right now can feel unnerving. The question to ask yourself or your client is simply why do you matter right now and how can you help the current state of our world?," shares Cummings. "If you can easily articulate your benefit, your marketing message has a better chance to land with new and existing customers, press, and influencers."
Fear of uncertainty can kill dreams. But Wize was built off a big mission: to create a world-class beverage brand by innovating the coffee leaf and stabilizing the coffee industry for long-term socio-economic growth. Coffee Leaf Tea is the biggest development the tea category has seen in years. When Wize first launched in November 2014, they won Best New Product at the 2015 World Tea Expo, attracting worldwide press for their hero ingredient, coffee leaf, and its focus on social impact and change.
The leadership team at Wize pioneered Coffee Leaf Tea to support Nicaraguan farmers who were impacted with reduced work due to coffee bean seasonality. The coffee bean harvesting season is a short three months, and once it's over, workers have to migrate and uproot their families to find other off-season jobs, which leads to poor attendance in schools and widespread food security issues. On average, coffee communities in Central America will go through three months of hunger per year, typically the last three months of the off-season, when they've run out of savings from the winter coffee bean harvest.
"The coffee crisis has been worsening for decades, and now with COVID peaking in Latin America, it's getting even harder to survive in this industry. Half of the coffee farmers in our region are planning on migrating elsewhere and abandoning their crops because there are no other options. Thankfully, with our innovation, we can make Coffee Leaf Tea in the off-season, and it helps keep people employed at a safe distance outdoors," shares Enrique Ferrufino, Wize Co-Founder and Chief Production Officer.
Sourced responsibility straight from the Nicaraguan cloudforest, every can sold generates two minutes of off-season employment. They've already generated over 75,000 work hours for farmers in need—with a running goal to reach 1 million hours of off-season employment hours.
Prior to working with Cummings, the team at Wize hadn't invested heavily in marketing communication efforts, but mostly relying on word of mouth, inbound, influencers, and their industry community for their growth. This time around, with so many variables at play and stakes at an all time high, they knew working with an expert who can help them navigate new realities and leverage communications to educate the public about the taste, health, and social impact of their innovation was going to be clutch.
The food industry as a whole — food and beverage companies, restaurants, grocers — have all felt the impacts of COVID-19. And for companies without the ability and capacity to pivot quickly, the future was uncertain. Yet while the industry was in the throes of adapting and reinventing, an Ipsos study revealed that in one week in April, more than 25% of consumers tried a new brand or product due to the unavailability of their usual brand, putting new brands entering the market at a natural advantage. This presented a unique opportunity for food and beverage companies. However, even so, Wize is less inclined to hedge their bets on what could turn out to be a pandemic-fueled trend and is more interested in accelerating the growing conservas trend across North America.
Rivest, says, "We knew that if we didn't take on this project, that someone else would do it and they may not have the same ethical standards or focus on quality that we would have, so we had to set the bar as high as possible in order to drive this new type of tea in the right direction."
Wize's deliberate launch during a global pandemic was done with the intention to contribute to the cycle of positive social impact—supporting Nicaraguan farmers in the coffee harvesting off-season, stabilizing the coffee industry for long-term socio-economic growth, and helping with wider economic health and recovery. If this isn't reason enough to launch a new product during COVID-19, what is?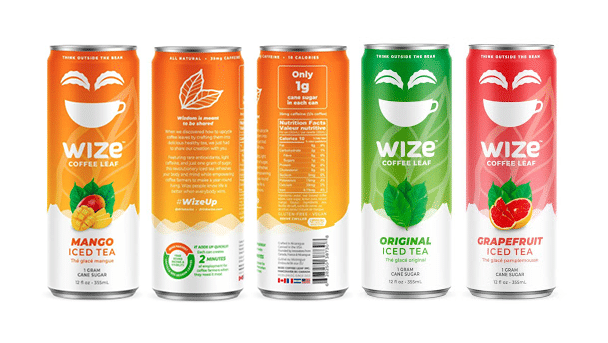 Learn more about Coffee Leaf Tea and how the company is giving back: follow them on Instagram or visit https://drinkwize.com/.
Photo Credit: Wize
Christian Thomson
LinkedIn
10/07/2020
Christian is a British-born entrepreneur and founder of Marwick. For over 19 years, Christian has successfully helped businesses excel in digital marketing. Founded in 2012, Marwick has grown from a start-up to the 11th Fastest Growing Company in Canada in 2020 and expanded into the UK in 2019.