What is the Difference Between SEO and PPC?
To understand the difference between SEO and PPC services, let's start by visualizing how you personally use search engines like Google on an everyday basis:
Say you're getting ready to book a vacation and you want to find ideas of what to do in Hawaii, or search for new sunglasses for those sunny beach days. No matter what you're searching for, the search results will be composed of both paid advertisements and "unpaid" organic listings.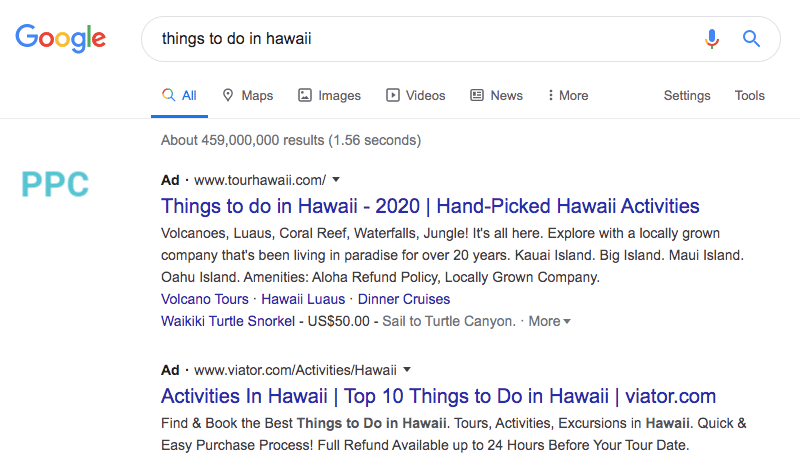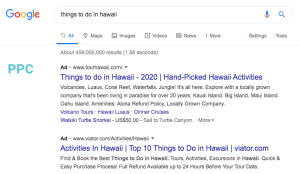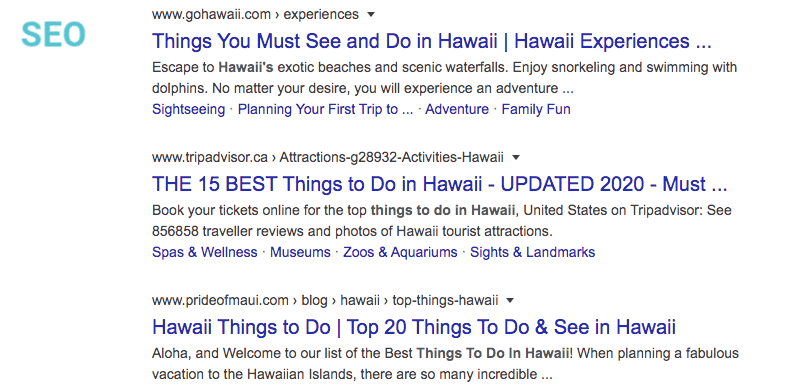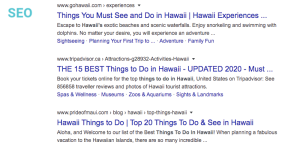 Ranking Organically through Search Engine Optimization
Although organic listings are not advertisements and therefore you do not pay Google to place your information in that spot, many business owners hire marketing agencies like Marwick Marketing to help them rank organically. Building credibility with Google is what moves you up in search rankings for your target keywords. Experienced marketing professionals will know the tried-and-true best practices to use in order to optimize you for success and be seen before your competitors.
According to a recent study by Google, organic listings are often seen as more credible than paid advertisements, boasting a 65% CTR for the top 3 organic positions. This is because organic results are often trusted more than paid advertisements. Google pushes these pages to the top because they're seen as more relevant to the user- which is always their number one priority.
When to use Pay Per Click
You know it's true- there have been times when you've made a search on Google, skipped right past the advertisements, and went straight to the organic listings. Now that you've realized this, you might be thinking of dropping paid ads from your strategy altogether, but that's not necessarily a great idea. Here's why:
One of the benefits of running paid advertisements is that you only pay when someone actually clicks on your ad. If someone clicks on your ad, and assuming these ads are optimized properly, you can be sure these potential customers have some level of interest in what you're offering. You want to be sure you have the most high-quality traffic coming through for your budget, which means working towards lowering your CPC (Cost Per Click) so you get the best bang for your buck (the most clicks for your set budget)!
We Recommend Using Both SEO and PPC Services
With all of that said, Marwick Marketing typically recommends implementing a strategy that combines both SEO and PPC, with the goal of dominating search results and being seen before your competitors. We hope we've demystified the difference between SEO and PPC and encouraged you to put a strong digital marketing plan in place that takes advantage of all benefits. Using SEO and PPC services simultaneously is an investment that can lead to significant growth of your business online!
Christian Thomson
LinkedIn
29/04/2019
Christian is a British-born entrepreneur and founder of Marwick. For over 19 years, Christian has successfully helped businesses excel in digital marketing. Founded in 2012, Marwick has grown from a start-up to the 11th Fastest Growing Company in Canada in 2020 and expanded into the UK in 2019.