So, you have been developing your online presence and now understand SEO and how it benefits you. You've got a pretty good grasp on it and feel pretty good until someone mentions SEM. What's that? Do you need it? What is it for?
Don't panic. If you understand SEO, you will understand SEM, so let's take a look at it.
SEM: What Is It?
SEM is short for Search Engine Marketing, which is the use of paid ads on search engines such as Google, Bing, and Yahoo in order to reach potential customers. It is also called search engine advertising, paid search advertising, or pay-per-click advertising (PPC).
When a potential customer searches for a service or product that you supply, these ads appear in prime spots on the SERP (search engine results page), though that spot may vary depending on the type of device being used. Typically, they will be at the top or on the side of the search results, and they will carry an "Ad" designation.
How Does Search Engine Marketing Work?
With SEM, you pay to have your ad appear at the top of search engine results. When a search engine user searches for keywords or phrases you've selected, your ad may be displayed if it matches relevancy criteria and if it fits within your budget allocated to bidding on those keywords. You will not be charged for the simple display of your ad, but rather when the ad is clicked upon (pay-per-click).
The cost will vary. Each time someone clicks on your ad, it will cost you, with amounts dependent on your industry, geography, and competition. The amount will also fluctuate over the course of your ad campaign.
What Are the Benefits?
Results.
You might wonder if you couldn't simply improve your site's SEO to gain more visitors, rather than spending money to appear on SERPs. SEO is very helpful for your site's performance, but takes time to show results—sometimes up to 6 months—and involves a lot of work to create high-quality content. With SEM/ PPC, you see the results immediately, by seeing your business on page one of a search.
Rank.
The average user will not look past the first page of results when searching for something online. With so many competitors vying for very limited space, you may find it difficult to rank on page one, even with your best efforts. If you are a new business or are in the process of creating your online presence, SEM/ PPC advertising can get you where you need to be: right in front of your customer's eyes.
Conversion.
Using SEM, you are putting your ads in front of those who are most likely to be interested in your product or service. Your ad requires you to choose a geographic location as well as specific searches to target.
Consequently, your ad is not appearing randomly to those who are casually browsing, but instead, it will be visible to those actively seeking what you offer.
Analytics and Tracking.
When someone reaches your website, pay-per-click ad services (such as through Google or Bing) enable you to collect data with each click. This includes information on the location of the visitor, the length of time they spent on your site, which pages they visited, and the device they were using (desktop, laptop, mobile).
This data will show you exactly what you are receiving in return for what you are paying and allow you to collect leads for the future. You will be more efficient with your advertising and in a better position to turn those clicks into revenue.
Local Search.
Given that SEM has specific features that allow you to target geographical locations, it is a great means of reaching local customers that are searching online. Local search is rising, especially with the advent of voice search, and SEM/ PPC is a great way to tap into the potential it offers.
SEM is a great way to boost your traffic by increasing your online exposure. SEO and quality content will get you through in the long run, but if you want some visibility and noticeable results now, look into SEM!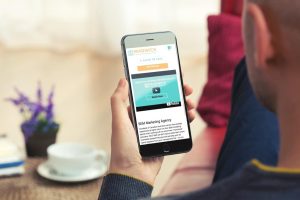 Christian Thomson
LinkedIn
16/03/2018
Christian is a British-born entrepreneur and founder of Marwick. For over 19 years, Christian has successfully helped businesses excel in digital marketing. Founded in 2012, Marwick has grown from a start-up to the 11th Fastest Growing Company in Canada in 2020 and expanded into the UK in 2019.