SPUD uses their resources to create a positive impact on the environment, while providing customers with fresh, organic, sustainably sourced groceries.
(All photos courtesy of SPUD)
In 1997, there was a little company called Small Potatoes Urban Delivery. The Vancouver-based service would send customers boxes of produce that was so fresh there was still dirt on it. Peter Van Stolk, founder of Jones Soda, saw the potential of selling groceries within an e-commerce realm and took over the company in 2010. Now, over 20 years after its inception, SPUD.ca (re-named Sustainable Produce Urban Delivery) has emerged as an innovator in the organic grocer sector offering everything from fruits and vegetables to household goods, with delivery services available across Western Canada.
It's been a fun process to witness the company's growth, Arndrea Scott, Director of Retail Marketing at SPUD, tells REACH. "It became such a niche market to begin with and then, over time, as consumers have really developed an online appetite to shop, it's become the norm for many."
Sourcing Organic Produce and Products Sustainably
So, what does it mean to be a sustainable brand? For SPUD, sustainability is defined by finding opportunities to lessen its carbon footprint and create a positive impact. For a company for which local and organic is at the heart, there are a few essential things to keep in mind.
First is its Banned Ingredients list. Comprised of food additives like artificial colours, preservatives and hydrogenated fats, the list helps streamline exactly which items are stocked on SPUD's e-shelves. "We live by that list," Scott says. "And we say no to a lot of products, which is something I'm really proud of." As such, customers know exactly what they're getting when they purchase from SPUD—and they can trust in the process that goes into sourcing the products.
The banned ingredient list also informs who SPUD works with: primarily local distributors and local farmers. "There's a lot of rules around who we're going to bring onboard: what type of ingredients you carry, what kind of company you are, what your values are with farming," Scott explains. "Obviously farming practices are super important. We get really close with a lot of these local vendors, they become people that we have relationships with. So, it's really important that there is that synergy of values around good food, around the environment, around sustainability."
Farmed produce is a particularly tricky commodity, Scott adds, because there are so many factors that can impact the season, like weather, that dictate a bountiful harvest or small crop. Working with local farmers means understanding there's no perfect cycle of food and customers won't see their favourite items available on the website all the time.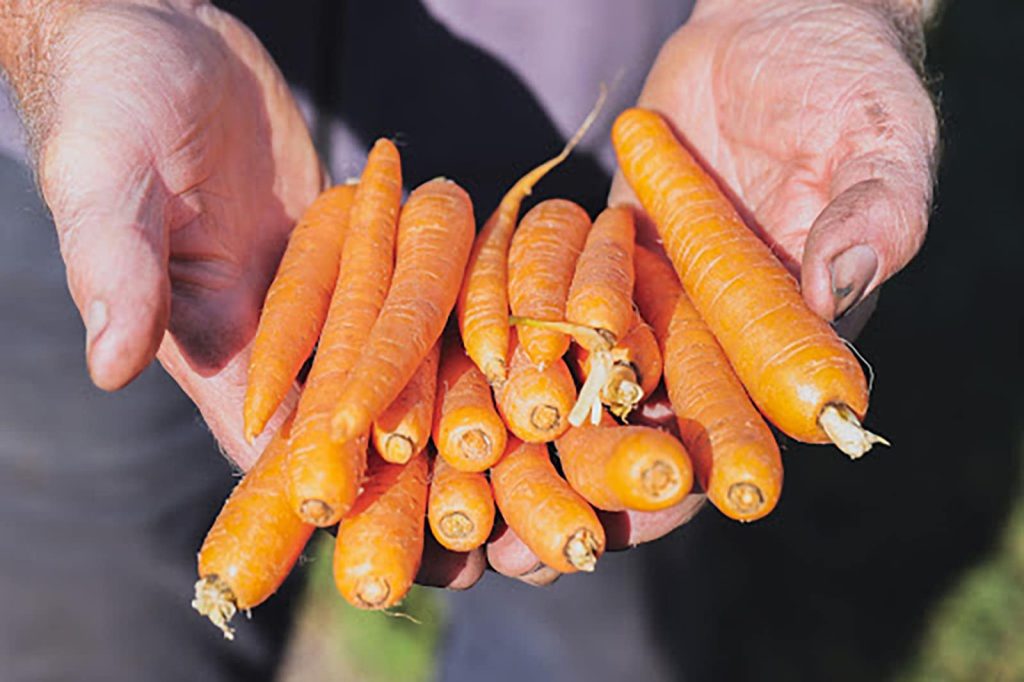 Finding Ways to Eliminate the Billion Dollar Issue of Food Waste
According to the National Zero Waste Council, over a third of food produced and distributed in Canada doesn't get eaten. It costs the economy up to $100 billion every year and also contributes to four per cent of the country's greenhouse gases. SPUD tackles the issue of food waste in a variety of ways. One is by not having any in-store displays. Another is through selling imperfect produce at a lower price point.
"We really want to get away from the [idea of the] perfect apple or the perfect carrot," Scott explains. "There's no such thing when you're growing organically. Imperfect produce was an opportunity for us to say to our customers, 'Hey, we can get in these bananas—they might be bruised.' So, it was a combination of understanding that there's a market for feeding people without having to make everything so perfect and that, as consumers, we care more about where it comes from than [what it looks like]."
If food nears its expiry date, SPUD works with organizations such as Quest Food Exchange to ensure that it gets distributed to individuals in need instead of being thrown away. If the food really didn't survive its lifespan for some reason, SPUD has partnerships with a number of biodiversity farms where the compost is then used for animal feed.
"There is a way to use everything up," Scott says. "You just have to think about it and come up with a plan on how to do it."
Understanding That Challenges and Sustainability Goals Go Hand-in-Hand
Maintaining a nearly zero-waste organic grocery store hasn't come without its challenges. But as the company grows, finding ways to be sustainable remains at the forefront—a philosophy that helps SPUD navigate how to overcome any hurdles it encounters.
For example, due to COVID-19 and the concern about the virus living on surfaces, SPUD couldn't deliver goods in its usual reusable bins. So, for the time being, the company has transitioned to using cardboard boxes (it staunchly avoids the use of plastic).
Another challenge was realizing the amount of waste that came from pouches that carry food like oats, nuts, and granola. In response, SPUD created a Take Back program where customers can return those pouches and the company then sends them off to get recycled into new items like playground equipment.
Finding innovative options around packaging is high up on SPUD's list of sustainability goals. "Clearly with COVID, single-use packaging became essential in some cases," Scott expands. "So we are trying to get that goal back on the table, starting with bringing back our reusable bins when it's safe to do so, looking at other sustainable packaging options, and picking back up with our Take Back program to help our customers recycle those hard to recycle plastic products."
The Essential Role of Storytelling
For an online grocer, the way in which items are presented to customers is key. Marketing provides a platform for the stories of local vendors to be told. And who doesn't want to know more about where those delicious tree-ripened, hand-picked peaches came from? Plus, everything that goes into the process of getting items from farm to table—and what goes into doing that ethically and sustainably—is part of a compelling narrative the customer is intrinsically part of.
"People want to get a stronger connection to their food and that's I think marketing's role—to help people get that connection," Scott says.
Christian Thomson
LinkedIn
28/08/2020
Christian is a British-born entrepreneur and founder of Marwick. For over 19 years, Christian has successfully helped businesses excel in digital marketing. Founded in 2012, Marwick has grown from a start-up to the 11th Fastest Growing Company in Canada in 2020 and expanded into the UK in 2019.