If you want to attract customers in your local area, then optimizing your site for local search is a necessity. Many small businesses rely heavily on local customers and local SEO, also known as Google Maps SEO. For example, a dog owner might search for "pet food near me" when they need dog food and other supplies and be directed to your location.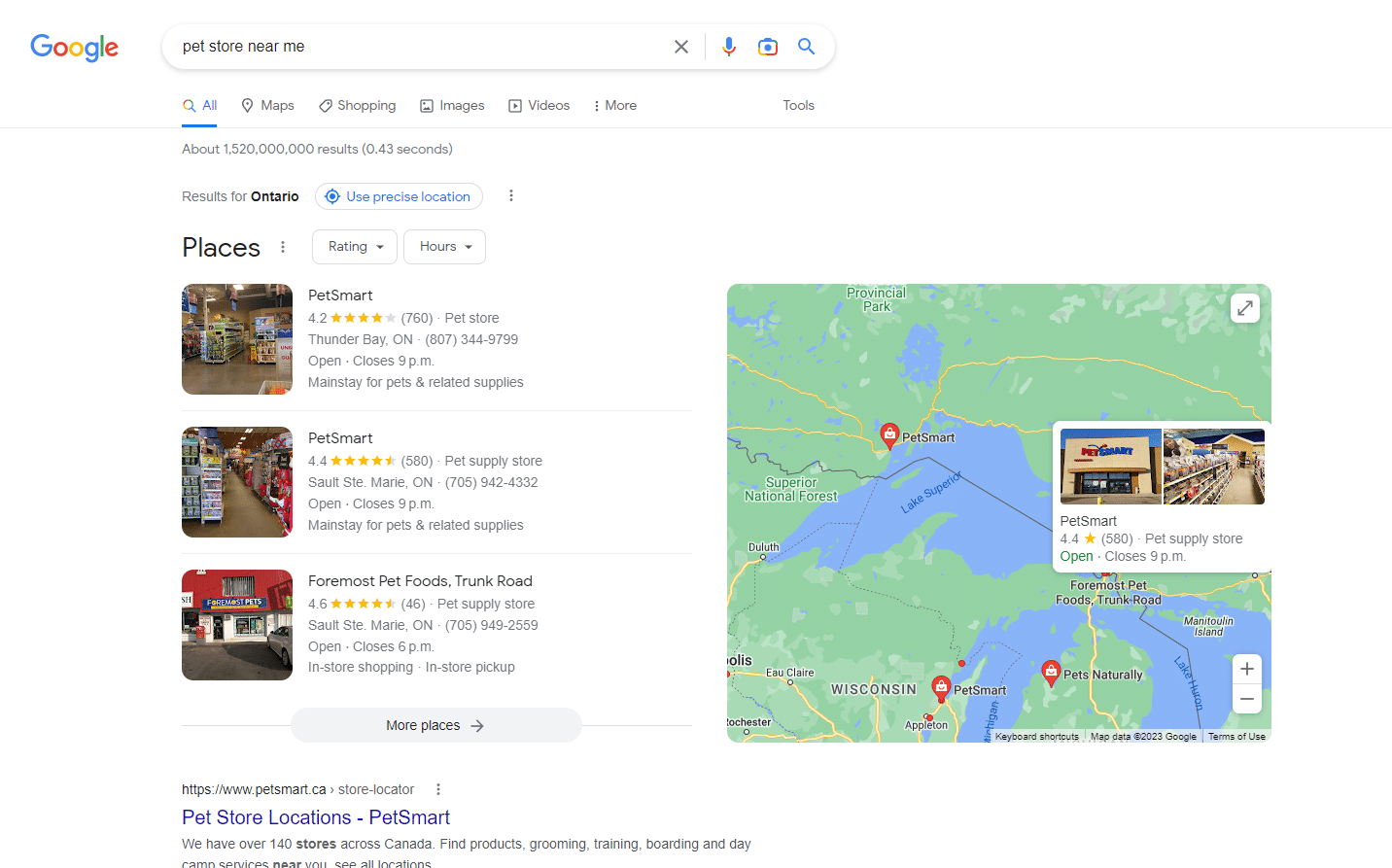 Those 3 listings you see right at the top of the search results pages there – those are the listings that are powered by your local SEO efforts.
Different factors go into organizing and ranking those listings than the factors that drive the traditional organic listings. But it's well worth putting the effort in to optimizing for them.
Great local SEO means your business will rank higher in the map pack. And with map packs now appearing at the top of many local service and product based searches, local SEO can be a great shortcut to the top of the SERPs for your local small business.
Here are some more reasons why your business could benefit from local SEO.
Reaching More Customers
Reaching customers is a function of SEO in general, but local SEO connects you with your community. You will become more visible to those in your area. These are often clients who, by their proximity to you, may become recurring customers. However, because of the amount of search that is done on smart devices, you may also get visitors from further afield who just happen to need what you can provide when they are close to your location. 
More than 80% of smartphone users habitually choose "near me" when searching. Without a good local SEO strategy, you could be allowing them to miss you completely.
Greater Online Visibility
Your local SEO efforts can even put you ahead of your larger competitors, appearing at the top of local search results. This is because Google's Map Pack, which will give information about your business, including your location on a map, appears above organic listings.
Local SEO involves optimizing your website so that you rank higher in Google Maps and attract customers through your Google My Business profile. This introduces you to new customers who may not be familiar with you, particularly if you are a new or small business.
More Foot Traffic to Your Brick-and-Mortar Location
With greater local visibility, you will also receive more foot traffic. When consumers are looking for goods and services with "near me" as part of their search, it's typically an indicator of immediate need and a willingness to make a purchase. 
In the example above, the dog owner looking for pet food nearby is likely doing so because they have realized that they are running low on dog food. They need to make a purchase and want the closest location so that their needs can be met right away. Being visible to local traffic can therefore easily provide you with more sales.
Citation Building Increases Authority and Rankings
Citation building, or link building, involves attracting high quality links from other sites to your own website. The high-quality links help to establish and demonstrate the legitimacy of your website and business, in turn boosting your online authority.
Building Trust with Your Audience
Part of optimizing your local SEO involves seeking good reviews. As these reviews increase in number, people take note. When you rank well with your customers, it helps to build your reputation and create a sense of trust. For many consumers, positive reviews from those who have already done business with you feels the most reliable and trustworthy. are a far more reliable, trustworthy source of information about your company than any other. In fact, 87% of users searching local businesses will read reviews before making a purchase.
This increased confidence in your brand will often be a deciding factor for those who are choosing between you and a competitor.
Tap into the "Shop Local" Movement
The events of recent years have resulted in some significant changes to buying habits for many consumers. As businesses struggled to stay open during and even after lockdowns, many consumers developed a strong interest in helping local enterprises, with 56% saying they intentionally gave their business to local stores and sought out locally sourced products.
In the months since the pandemic, consumers have continued to support local businesses. By optimizing for local SEO, you will benefit from the support of your community. If you have a strong local presence online but your competitors continue to rely exclusively on traditional methods, customers will be more inclined to deal with you.
Why You Need Google Places Optimization
You might be thinking of Google Maps and Google Places as the same, or at least very similar products, but they are, in fact, separate. 
Anyone who has had to navigate someplace unfamiliar to them has probably used Google Maps, a handy, free service that can provide directions and even gives you a convenient street view of virtually any address. Searching for a type of business might show you dozens of possibilities and show you how to get to the one you choose.
Google Places works differently. It is a web listing similar to the Yellow Pages business directory. A business can use Places to provide information, including the hours of operation, details of current or upcoming promotions, coupons, and more. It also includes relevant categories and search terms to help customers find your listing and can lead to more direct calls, leads, and sales.
Google Places is also popular for uploading photos and reviews. This is often done by restaurants, which can encourage patrons to share their experiences for the benefit of other potential customers. While reviews on other sites such as Yelp and Trip Advisor certainly are of benefit, Google Places links are often ranked higher than either of those or similar sites. Positive customer reviews help the business build credibility, and the interaction with customers enhances ties to the local community.
To stand out from your competition, make the most of your business, and continue gaining new customers while building your brand and authority, local SEO is a must. Without it, the customers in your neighborhood that need your goods and services may not even be aware of your presence.
Christian Thomson
LinkedIn
25/02/2023
Christian is a British-born entrepreneur and founder of Marwick. For over 19 years, Christian has successfully helped businesses excel in digital marketing. Founded in 2012, Marwick has grown from a start-up to the 11th Fastest Growing Company in Canada in 2020 and expanded into the UK in 2019.