As a marketing agency in Vancouver we've had a great amount of fun this morning pulling together some creative marketing ideas and Guerrilla marketing tactics to promote your business in a unique way.
We also spoke with some key marketing gurus in their said field of expertise. Here are some fun, easy to do and cheap marketing ideas to get your brand messages across.
Pizza Box Stickers
With an investment of a few bucks for some Post-It Note types of stickers or creative stickers with your business information on it you could cut a deal with a locally owned pizza joint. Ask them to place your sticker on the inside of the box in return for banner advertising on your website, or any other form of cross-marketing so they benefit from your customer base. The investment is minimal – but the potential for return is great.
Call Me. Maybe.
Why is following up with someone on the phone considered "unique?" Because no one does it anymore. In general, people rarely follow up. If they do, you get an email, a Twitter follow, or a generic LinkedIn request. A phone call is personal and it requires attention. You can delete emails and LinkedIn requests. You can't just hang up on someone you just met. I had someone follow up with me on the phone in December and wow did that make an impact. I just had lunch with him yesterday.
Chalking and Reverse Graffiti
Don't bother paying for a major sponsorship at that next conference or MeetUp. Instead, just write your slogan or web address with sidewalk chalk outside the conference hall. Free advertising for the entire day! Add a hash tag and/or offer to get people engaged. Or how about reverse graffiti?
Reverse graffiti, also known as clean tagging, dust tagging, grime writing, green graffiti or clean advertising, is a method of creating temporary or semi-permanent images on walls or other surfaces by removing dirt from a surface. It is often done by removing dirt/dust with the fingertip(s) from windows or other dirty surfaces, such as writing 'wash me' on a dirty vehicle. Others, such as artist Moose, use a cloth or a high power washer to remove dirt on a larger scale.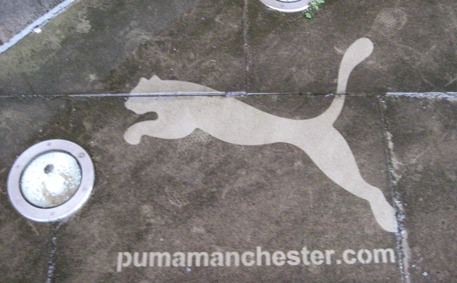 Hit Re-Tweet
Twitter is free to use, easy to set up and extremely powerful. Head of Social Media at UK-based Fresh Egg; David Somerville comments:
"One of my most proven pieces of advice for people in businesses big or small is to use Twitter smartly to connect with the right people. Identify your targets – new customers, possible partnerships or even potential employees – and simply follow them on Twitter to start.

Then you can begin to retweet some of their tweets or favourite them, then when the time is right reply to them commenting on something they've tweeted. This gets you on their radars in an unobtrusive way and they are likely to at least follow you back, if not engage with you.

I've used this successfully over the past few years to do everything from to selling advertising space to help secure a new job!"
Car Wraps
Driving around to clients meetings, cruising to town to pick up some shopping, dropping kids off at school or when you are stuck in traffic people naturally read your sign writing without realizing. Daryl Matilda, Owner of Vancouver Car Wraps confirms:
"On an average a wrapped vehicle will attract 30 to 70,000 people per day on the Lower Mainland of Vancouver. If Reflective material is used you can attract 40 to 85,000 during the evenings and months of November till April. Split that over 3 years. It is less than $0 .77 cents per day based on a decal package."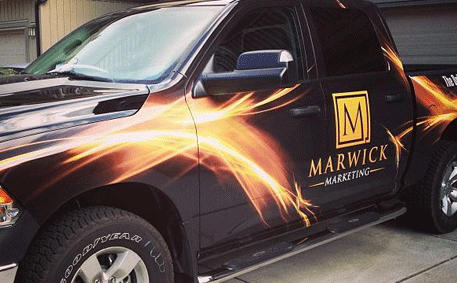 We noticed a three times increase in organic search results directly linked to our brand keywords; marwick marketing, marwick marketing inc, marwick marketing company.
Reply-to-All
Ever get that big family invite to a wedding, or a friend sending on an e-mail but they don't BCC their recipients. Casually reply to all. This is assuming that you have your website, phone number, and social media links in your email signature!
Get Handy with the Candy
Hand out branded Halloween candy with your business information on it! If parents are going through their kid's candy, which we hope most parents do, they will see your business offer and details.
There are tons of candy bar wrapper templates you can download for free off the internet! You could even double up this idea by offering special discount codes or coupons on your advertising treat!
Patricia Lessard from Leading Edge Promotional Products comments:
"Candy and other food gifts are a sweet way to say thank you to your clients and employees. Even though they are gone quickly they leave a lasting impression of good will. I have not yet heard of someone that has received a food gift, candy, cookies, chocolate and not appreciated and enjoyed it."
Hide the Card
This technique creeps out my wife, but I think it's very clever. Go to a bookstore or the library and find all the books that are relevant to your business. Slip your business card in with a personal note on the back suggesting that the two of you get together for a book club on this very book.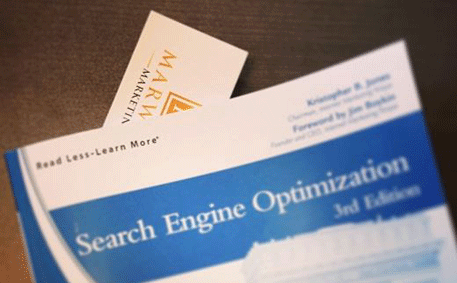 Offer Regularly Scheduled Free Consultation
One of the best ways to market yourself is to show off what you can actually do. Simply carve out some time and announce via social networks, your mailing list, or anywhere else that you're offering free consultation for a certain period of time. Do it for an hour a day, an hour a week, or maybe carve out a full day to do nothing but offer free consulting. You can do this via online chat, via a Twitter #hashtag, or via the phone.
Advertise Your Business Through Your Mobile Hotspot
If you have a phone that can turn into a portable hotspot (on an iPhone it's a personal hotspot), let everyone see it the next time you go to a conference. This is a great opportunity to get some free advertising to your industry peers. Rename your hotspot your web address or create a message that says, "TXT 415-555-1212 if you're looking for developers," "TXT 415-55-1212 if you want the password to this hotspot," or some other way you want to connect with people at the conference. The same can be done for your office's network name, especially if you're in a building with other companies or better still a café that people meet at for meetings. Don't forget to still keep your network secure.
Create Your Own Backlinks
Using a blog search engine and a traditional search engine, enter keywords for which you'd like your business to rank high in search results. Go to each resulting blog post and leave a comment with a link back to your site, ideally to a relevant article. Do this for 50 sites and you'll soon see better search results on that term.
What's your unique marketing idea for promoting yourself and your business?
Have you done any of these? Do you have any of your own techniques? If so, what, and how did it turn out? Let me know in the comments.
Christian Thomson
LinkedIn
11/09/2013
Christian is a British-born entrepreneur and founder of Marwick. For over 19 years, Christian has successfully helped businesses excel in digital marketing. Founded in 2012, Marwick has grown from a start-up to the 11th Fastest Growing Company in Canada in 2020 and expanded into the UK in 2019.