In just one year, the automotive landscape drastically shifted in ways that would have normally taken five. While the general truths of the automotive industry remain the same, new trends demand both your attention and seamless, customer-centric solutions. In late 2021 Premier Google Partner agency Marwick Marketing in association with the Automotive Retailers Association surveyed over 200 businesses in the automotive industry.
These companies were made up of Auto Glass, Auto Recyclers, Auto Rental, Collision Repair, Dealerships, Mechanical Repair, Wheel & Tire, Powersports, and Towing.
54% of respondents cited Facebook as the main platform for marketing their business online in 2021, followed by Google Ads (40%), then Instagram (34.78%), and then Search Engine Optimization (33%).
Only 14% of business owners used YouTube to promote their business despite YouTube being the second biggest search engine in the world.
According to Google Canada, 72% of people who watched a video online from a company in the automotive industry took action to contact that business.
Videos that showcase the business, the vehicles, the staff, and inventory were shown to have the highest impact on potential customers.
As the automotive industry rolls into the new year, 55% of companies said they were going to maintain the same marketing effort and budget as 2021. 27.18% increased it, noting that more and more customers are online, leaving 17.44% saying they would slightly decrease efforts and marketing spend.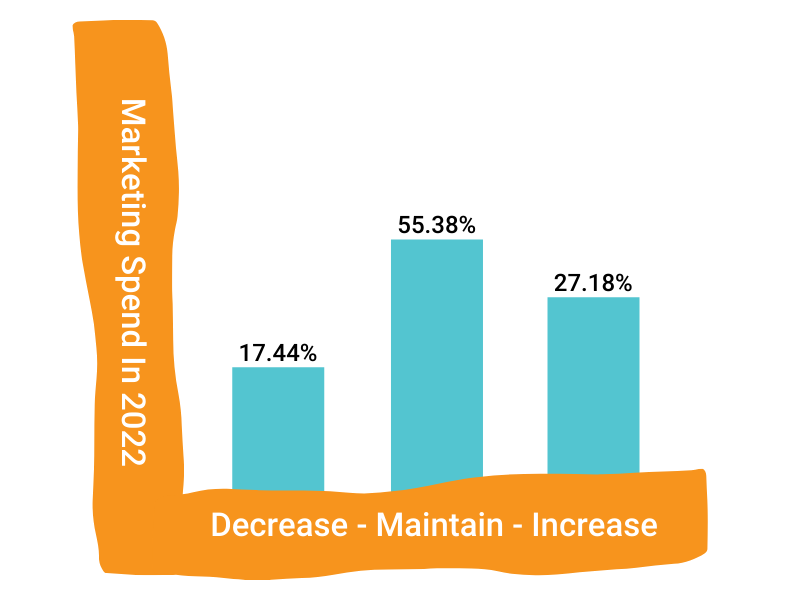 With an ever-changing digital landscape, it's no wonder that 67.18% of respondents hire an external digital marketing agency for support, yet only 35.90% of respondents noted that they measure the success of their marketing online on an on-going basis. 
Marwick Marketing's CEO, Christian Thomson explains "Success breeds complacency. Complacency breeds failure. All too often a local business can become complacent with its marketing strategy only to find a competitor eating away at their market share online, often too late to stop them. The way potential customers are wanting to engage with your company has changed and will continue to change dramatically. Moving toward a customer-led, frictionless experience will pay dividends for many years to come."
Q. How often do you measure the success of your online marketing?
Consumers are changing the way they think about their cars and increasingly looking at alternative forms of transportation, this includes making the shift to electric. In response to this shift, the Automotive Retailers Association of British Columbia (ARA) is pleased to announce the launch of EVfriendly, an industry-led program, sponsored by the Ministry of Energy, Mines and Low Carbon Innovation, designed to cultivate a higher degree of confidence in zero-emission vehicle (ZEV) ownership. "We are very pleased to launch this new program in B.C.," said Ken Hendricks, Senior ARA Project Manager. "We hope, and fully expect that it will quickly become the trusted, go-to resource as our province transitions to a cleaner, greener transportation system."
Automotive businesses will need to work toward branding their business as environmentally friendly to remain competitive. 
Christian Thomson
LinkedIn
10/01/2022
Christian is a British-born entrepreneur and founder of Marwick. For over 19 years, Christian has successfully helped businesses excel in digital marketing. Founded in 2012, Marwick has grown from a start-up to the 11th Fastest Growing Company in Canada in 2020 and expanded into the UK in 2019.