It's no surprise that the term "SEO Consultant in Vancouver" is searched by local business owners over 100 times a day. Business owners just like you looking for a local SEO consultant to help their companies website rank higher on Google, Bing, DuckDuckGo, and Yahoo.
My name is Christian Thomson and I'm the founder of Marwick Marketing. As a search engine optimization consultant in Vancouver, our Vancouver SEO agency provides services to companies throughout British Columbia.
We've been doing this since 2012 and our SEO specialist team have helped hundreds of local Vancouver-based companies improve their positioning on Google and thus increase their revenues.
We believe that when you hire us to be your SEO consultants in Vancouver, it's about more than just rankings. It's great communication, excellent reporting, and a mutual partnership – as your business growth is our business growth.
As a testament to that Marwick Marketing was ranked 19th Fastest Growing Company in BC in 2020 (out of 500,000 businesses) by Business In Vancouver magazine. We can only grow our agency if our clients are growing! We don't work on contracts, we work on results and relationships. Hence your success IS our success.
This page will give you all the information needed to make an informed decision on who to hire as your next Search Engine Optimization consultant.
Ask An SEO Consultant - Your Questions, Answered!
As a global digital marketing agency, Marwick Marketing has specialists and offices throughout Canada, the USA and the UK.
600 Stew art Street
Suites 300 & 400
Seattle
Washington
98101
1300-1500 West Georgia Street,
Vancouver
BC
V6G 2Z6
Why Our SEO Consultant Firm Is Vancouver's Number One in 2022!
10 years

 of proven success, we've grown from one SEO consultant to a team of 20 BC-based experts!
Published Vancouver SEO consultant in 

Forbes Magazine

 (Top Marketing Trends and Marketing During A Downturn)
Published Vancouver SEO consultant in BC Business Magazine (Marwick Taps into the Secrets of Search Marketing)
We have our own proven and 

proprietary

 SEO process (see case studies below)

18th Fastest Growing Company

 in BC (Source: Business In Vancouver Magazine)
SEO strategy aligned to 

Google's 2022 policies

High-quality work from our 

in-house

 Canadian team of SEO consultants
Deep competitor insights – know more about your competitors than your competitors know about themselves!

Top 3%

 Premier Google Partner Agency since 2012
Experts in local SEO for Vancouver & Lower Mainland – our SEO Consultants live in and around Vancouver, and know it well!
Monthly reports, monthly strategy calls, and your own custom-build digital marketing dashboard

Highest rated SEO agency in Canada

 (Source: 115+ five star Google Reviews)
Double Website Traffic With A 40% Conversion Rate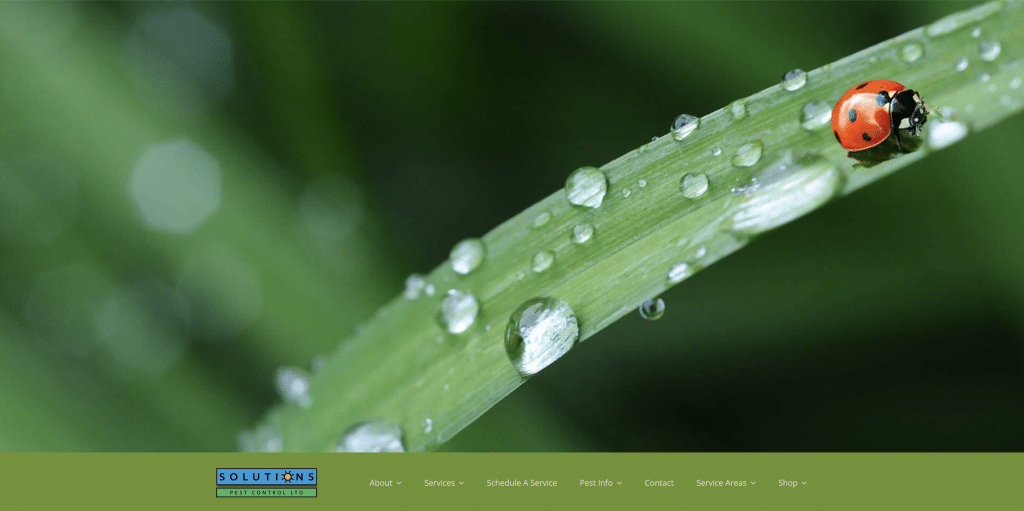 Pest Solutions provides pest removal throughout Vancouver and the Greater Vancouver Region. In the same 12 months, our SEO specialist has been able to double their website visitors and increase their lead conversion to 40%. Vastly increasing their sales revenue has allowed them to reinvest into the business to capture more geographical locations.
Page 1 Rankings on Google
Search Engine Optimization for Pest Control Companies

If your pest control business is top of Google when a customer is searching for pest control, rodents, commercial pest control, remove bed bugs – or any one of the hundreds of search terms there is a high chance you will land that customer as it is very unlikely they will be "shopping around" during their time of need.
Search Engine Optimization is the process of working on your current website to improve the user experience, which Google will reward you for. Things like website speed, website security, informative and helpful content, and good quality backlinks to show the popularity of the website. Ensuring the website has no errors like broken internal links, missing page titles, or Alt tags. These are all areas that a good SEO specialist will be able to guide you through, step by step.
4.9/5 from over 100 reviews!
Graham Wilson
CEO @ Life Support Group
"Amazing team at Marwick Marketing - job well done! Fast, responsive, innovative and reliable. Quality service, attention to detail. Recommend above any other SEO firm in Canada or the UK for top quality results."
Tyson Nicholson
Sunly.ca
"Markwick has done a phenomenal job at both PPC and SEO. They have been able to work with me in a small market ensuring targeting was on point to allow me to get the right visitors. This led to great conversion rates. Within a week for PPC they were able to reduce my cost per lead and increase the amount of leads (which were all relevant leads too!)."
Angie Wahi
McQuarrie
"I have been working with the team at Marwick for over 6 months and after unsuccessful attempts to work with some other local agencies, I am pleased to have found the team at Marwick. They are extremely agile, responsive, and have helped pivot the companies entire digital marketing strategy with great results in just a few short months...all while developing and launching a brand new custom website too!"
Big Returns On SEO Investment For Dental Clinic in Vancouver
In a matter of months, our in-house dedicated team of SEO experts ranked the website 1,409 placements HIGHER on Google, resulting in a three-times increase in website traffic from non-paid organic traffic.
Norburn Dental Clinic's mission is to provide you with the most positive experience possible by offering personalized and attentive care in a comfortable and modern environment. The management team at Norburn Dental were keen to see the growth of high-quality customers to its clinic in Burnaby, so they reached out to Marwick Marketing to boost their ranking on Google.
In a matter of months, our in-house dedicated team of SEO experts ranked the website 1,409 placements HIGHER on Google, resulting in a three-times increase in website traffic from non-paid organic traffic.
Positions In Oragnic Search
We Consult On SEO Campaigns For Businesses Throughout Vancouver
We're proud to be ranked #1 on the independent website Clutch for "SEO Agency In Vancouver" and "Digital Marketing Agency in Vancouver"
Clutch is an independent platform that collects objective feedback from clients about each company registered on the site. They perform in-depth interviews with clients and customers about the quality of their interaction with each Clutch-registered company. Based on the data gathered, the service formulates a fair rating of all the firms and independent SEO specialist professionals. Clutch categorizes companies by their geographic location, a field of their expertise, and the focus on proven skills.
No matter what your business is, you want to stand out among your competitors. You strive to be the best in your field, and you want to let your potential clients know why they should choose you over anyone else. So, if you want to be unique, why advertise in a generic way? For your Vancouver business, you want to ensure that you are working with a reliable SEO Consultant.
You probably already know that SEO stands for Search Engine Optimization. It is a way to ensure that those who are looking for the goods and services that you offer are able to find you. To be highly visible, you need to rank on the front page of Google's results page, ideally in the top three results. Why? Because anything beyond that tends to be overlooked.
But why do you need an SEO Consultant?
When you are looking for a product or service, wouldn't it make sense to deal with someone who is knowledgeable about your local market and the place where you live and do business? Your clients likely feel the same. If you are going to reach out and appeal to local clients, then your advertising should reflect your local connections.
Vancouver isn't a city like every other city. There is a unique character and a way of doing things that you don't find everywhere else, so why would you want your SEO practices to be the same as other cities on the other side of the country? Would you take the same approach in Vancouver, as in, say, Montreal? Not likely.
Vancouver has character and charm. It is considered one of the happiest places to live and has been called the most livable city in the world. Most of all, however, it is known for its intense natural beauty, from snow-capped mountains to its deep blue sea, Vancouver has it all. Vancouver is unique, as are the people who live here.
In a city such as this, you don't want to settle for run-of-the-mill SEO. You want to deal with an SEO consultant that understands Vancouver and its people. SEO is all about making connections; it bridges the gap between businesses and customers. For that reason, you need a consultant who understands your audience and knows their habits, their motivations, and desires. You want a professional SEO specialist who can connect you in a way that those who are not familiar with the city will not be able to do. By understanding your customers better, your SEO consultant in Vancouver will be able to determine your best method of connecting with them.
So how do you qualify a SEO consultant in Vancouver?
1. Ask for a list of current and past SEO clients
Reputable SEO consultants in Vancouver should have no issue sharing a short list of past and present clients. This will help give you an idea of how effective they are and what a working relationship with them might be like. Clients should be able to give you an idea of what sort of impact the SEO consultant had on their search rankings, the size of their audience, and their conversions.
2. Find a SEO consultant who tracks EVERYTHING
You want decisions to be made based on data and results, not just instinct and gut feelings. The consultant you hire should be tracking and measuring all of your data, including phone calls, site visits, contact forms, click-through rates, and much more.
3. Set specific SEO goals
When you are looking to hire a specialist for your Search Engine Optimization (SEO), have a goal more specific than "increasing organic traffic." While greater amounts of traffic may be a good thing, it doesn't automatically translate to increased revenue for your business. Ranking well in the SERPS likewise is not going to prove useful if you are ranking for something outside of your domain.
Detail what it is that you are looking for. This may be a boost to your sales by ranking on certain keywords, reducing your website's bounce rate, or improving your conversion rate. Perhaps you seek to build a strong following on social media or create sponsored content.
Whatever your goals may be, be clear on what you expect and what you will require to reach those goals.
4. Trust word of mouth
Your first instinct may be to do an online search and choose the company that ranks well with the search engines. That seems logical enough, given that this is what you want them to do for you. Consider, however, that there are excellent companies that are so busy optimizing sites for their customers that they don't do their own as effectively.
A truly excellent SEO specialist should have long-time customers who have also referred others to them. A consultant that consistently satisfies their customers and earns referrals will be busy enough without having to scramble for attention online.
Of course, this doesn't mean that someone that does score well in search engines or "best of" lists aren't worth investigating; just be sure to factor in more than their position in the SERPs.
5. Work with an SEO consultant that communicates effectively
You probably already have access to many of the tools that an SEO expert will use, but you likely don't have the time or resources to go through and analyze all the data. For this reason, you want to work with a specialist that can effectively communicate to you everything that you need to know.
SEO is an ongoing affair, so it is possible that you will be working with your chosen firm for many years. Make sure you find a specialist that you can trust and build a long-term relationship with.
Marwick Marketing is a leading digital marketing agency in Canada. Work directly with an SEO consultant or Google Adwords consultant and hire us for google ads management to improve your online visibility or reduce the Google ads cost against your competitor.
What Do SEO Consultant's Mean By Onsite SEO?
Onsite search engine optimization, as the name implies, is concerned with the website itself, editing various items to make everything clearly understood by Google, Yahoo, Bing and other search engines. When your website is clear and appealing, search engines are more likely to award you a higher ranking in their search index. The elements that onsite SEO concerns itself with are the ones that tend to come to mind first when discussing Search Engine Optimization (SEO):
Content (evergreen pages, landing pages, blogs and FAQ's)
Page titles and meta descriptions
What Do SEO Consultant's Mean By Offsite SEO?
Offsite search engine optimization can indicate that you are an authority in your field by having other reputable sites link back to yours. Google's search engine algorithm considers a site's authority when determining rank.
Create high-quality content that is not only interesting but the type of content that is easy to share. Be entertaining in addition to informative.
Make use of review sites. Doing this effectively will get people talking about your business. Having a good public reputation can benefit your company in multiple ways.
Reach out to influencers that are already known to your target audience. Collaborate with those that your audience trusts.
Do some guest blogging. If you can start writing for someone who is already recognized as an authority in your field, you can gain some excellent exposure. Always link back to your site.
Tap into social media. Be active across social media and engage your followers. Encourage activity on your page and aim to have your followers mention your business on theirs.
Your SEO specialist should be able to confidently speak to you about each of these areas in detail, and show you how to leverage tgem in your campaign.
These are all things over which you have control and which you are able to adjust for maximum impact.
While you can gain a certain amount of authority simply from having been around for a certain length of time, that is not terribly efficient when compared to more active means. Here are some ways to improve offsite SEO:
Which is More Important, Onsite SEO or Offsite SEO?
In truth, both are important in the eyes of search engines. The focus of your efforts should initially lie with onsite SEO, given that it focuses on your site and its content. This is your foundation. From there, you can grow your authority by having other sites link back to yours, but this only happens if your site offers quality content and real value to your audience.
Marwick Marketing is a leading digital marketing agency in Canada. Work directly with an SEO consultant or Google Adwords consultant and hire us for google ads management to improve your online visibility or reduce the Google ads cost against your competitor.
Speak to an SEO consultant to help you optimize your Google ads campaign!
Best SEO Specialist in Vancouver?
One of the essential things for moving forward in our modern business landscape, you simply cannot afford to sleep on the power that the Internet makes available to small and large businesses alike. If you're serious about any real success and unlocking the secret to financial freedom for you and your business, then mastering search engine optimization with the assistance of the best SEO specialists Vancouver has to offer is the fast route to just that.
Finding the best SEO consultant
If you've been paying attention at all to the search engine optimization landscape in the past year or so, you know that this is one of the most constantly changing and ever-shifting areas in business. What works today to shoot your web property to the top of the rankings could very well be the factor tomorrow that cripples your business and drops you to the bottom of the barrel. Google and the other major search engine networks are always looking to improve their search engine algorithms, with little regard for whether or not it has a dramatic impact on your specific rank.
Without the help of the absolute top SEO expert in Vancouver, you're going to have to play a serious game of catch-up. Just by leveraging what these SEO specialists bring to the table, you'll be able to shortcut the path to success, giving you an almost unfair advantage over your competition that continues to try and plod along on their own. You are busy enough as it is, and as a smart and savvy business person understand that you should be spending your time on areas where you can make the most impact and not forcing yourself to learn an entirely new language, technology, and system.
How to know that you're making the right choice when hiring an SEO Consultant?
The first and most essential way to tell whether or not you've actually found the best SEO consultant in Vancouver has to offer is to look at the real results that they've already been able to provide. The search engine optimization world is filled with people who claim to provide the moon and the stars when it comes to results, only for you to discover that their own websites barely scrape the first five pages of Google. Looking back on their success with other clients in campaigns will give you exactly the kind of inside information you need to know whether or not they are a smart decision to forward with.