Find More Customers &
Grow Your Business
With Canada's
Premier
Google Agency
Start today with a FREE, no strings attached, audit of your current website.
Book A FREE Discovery Call
Want to find out exactly how to grow your business online? Book a free, no strings attached Discovery Call with our team today, and let us show you how!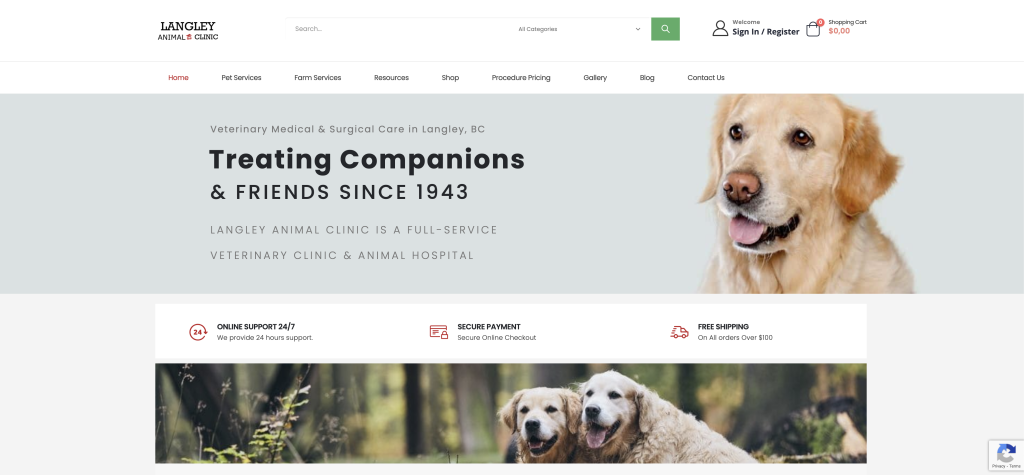 The Langley Animal Clinic is one of Vancouvers largest and most trusted veterinary clinics, and a proven example of how effective organic SEO, Google Ads (formerly known as Google AdWords), Social Media and Google Map listings can ensure they are number one every time. We can help your vet clinic, as we have done for Langley Animal Clinic and many others.
Page 1 Rankings on Google
Find a time that works for you, and book a Discovery Call today.
Your Trusted Vancouver SEO Agency
If you're looking to grow your business, you need to be utilizing SEO.
But what is SEO?
How does it help businesses grow?
And why should you consider using it over other digital marketing channels?
In the next couple of minutes, we'll answer all of those questions and more.
We'll explain what SEO is, how it works, the advantages of using it, and how you can outrank your competitors on Google.
Plus, we'll tell you why hiring a reputable and trusted Vancouver SEO agency is the best decision you can make for your business!
When you're looking for a SEO company or SEO Agency to provide Search Engine Optimization in Vancouver we know you have a lot of choices.
You could struggle through it. You could hire someone in China via an agency. You could hire an expensive agency.
BUT
Did you know that Vancouver has its OWN Google certified Premier Partner Agency right here in Vancouver, BC, Canada!
Marwick Marketing Inc. is a full-service online marketing agency and one of its main marketing channels is search engine optimization!
Imagine what we can do for your local Vancouver based company.
If you're a cleaner, carpenter, painter, roofer, lawyer, spa owner, car dealership, shop, café, clothing store we can help you (and any other business!)
Transparent, Real Time Reporting
24/7 access to your very own, custom reporting dashboard.
Track your rankings in real time.

Our Tried And Tested SEO Process
Our 4 step SEO process has helped hundreds of businesses to increase targeted organic search traffic to their websites, and ultimately generate more leads and sales online.
It all starts with ensuring that your site's technical foundations are built solidly and on sound SEO principles and best practices. Having the right foundations makes it easy for Google to find your most important pages.
With the foundations laid, it's time to start building. Identifying keywords that actually drive traffic in your niche and strategically placing them in key onpage HTML elements on the correct pages on your site helps Google to understand what that page is about and rank it accordingly.
Backlinks, citations, mentions of your brand name on the web and even people searching your brand name are all strong indicators that your site is useful, important and relevant. Fine-tuning and then amplifying those factors turn up your online brand power and drives authority to your website.
Now is the time to expand your reach with a well-researched, expertly designed content development strategy. We'll help you become the go-to resource in your niche, expand your organic reach and rank for more keywords. All by creating high-quality, research-driven content that engages your audience and answers the questions they are actively searching for.
Your Vancouver SEO Questions Answered
SEO Agency Vancouver, Canada
For the last eight years as an SEO agency serving Vancouver and Greater Vancouver, we have mastered the art of high-quality search engine optimization for the companies we work with. We've seen other SEO agencies come and go in Vancouver. Our Vancouver SEO agency is made up of full stack web developers, SEO consultants, and conversion rate optimization experts. Our team is 100% Vancouver-based ensuring only the very best in white-hat SEO and unbeatable communication and customer service.
Looking for a SEO agency in Vancouver that will help you grow your business? Look no further than Marwick Marketing. We have a proven SEO process that has helped businesses just like yours increase traffic to their website, generate more sales and conversions online and grow their business. Contact us today to learn more about our SEO services!
Marwick Marketing is your trusted SEO agency in Vancouver. With our proven SEO process, we can help you grow traffic to your website, increase sales and conversions online and grow your business.
Choose Marwick Marketing for all of your SEO needs – we are experts in the field and have the results to prove it! Contact us today for a free SEO consultation and find out how we can help you grow your business.
Why We're The Best SEO Company in Vancouver
Offices in Squamish, Vancouver, and Victoria

Bing Solutions Partner

Highest Rated Agency in BC (Google Reviews)

Dedicated Account Rep

100% Canadian Team (Never Outsourced)

Many Case Studies

Happy Client References On Request

Dedicated Custom Dashboard
We have many happy clients and SEO case studies and we're the highest rated SEO agency in Vancouver according to Google Reviews. Contact us today and let'see if we can help your company grow online.
Best SEO Company in Vancouver?
One of the essential things for moving forward in our modern business landscape, you simply cannot afford to sleep on the power that the Internet makes available to small and large businesses alike. If you're serious about any real success and unlocking the secret to financial freedom for you and your business, then mastering search engine optimization with the assistance of the best SEO company Vancouver has to offer is the fast route to just that.
Why it's essential to pick the best as SEO company Vancouver has to offer
If you've been paying attention at all to the search engine optimization landscape in the past year or so, you know that this is one of the most constantly changing and ever shifting areas in business. What works today to shoot your web property to the top of the rankings could very well be the factor tomorrow that cripples your business and drops you to the bottom of the barrel. Google and the other major search engine networks are always looking to improve their search engine algorithms, with little regard for whether or not it has a dramatic impact on your specific rank.
Without the help of the absolute top SEO company Vancouver, you're going to have to play a serious game of catch-up. Just by leveraging what these SEO professionals bring to the table, you'll be able to shortcut the path to success, giving you an almost unfair advantage over your competition that continues to try and plod along on their own. You are busy enough as it is, and as a smart and savvy businessman understand that you should be spending your time on areas where you can make the most impact and not forcing yourself to learn an entirely new language, technology, and system.
How to know that you've made the best SEO company Vancouver decision
The first and most essential way to tell whether or not you've actually found the best SEO company Vancouver has to offer is to look at the real results that they've already been able to provide. The search engine optimization world is filled with people who claim to provide the moon and the stars when it comes to results, only for you to discover that their own websites barely scrape the first five pages of Google. Looking back on their success with other clients in campaigns will give you exactly the kind of inside information you need to know whether or not they are a smart decision to forward with.