Marwick Marketing is a leading SEO agency in Toronto and across Canada.
We've helped hundreds of businesses across the GTA to rank higher on Google and attract more organic traffic to their sites.
SEO Toronto
Case Study #1
First Place On Google!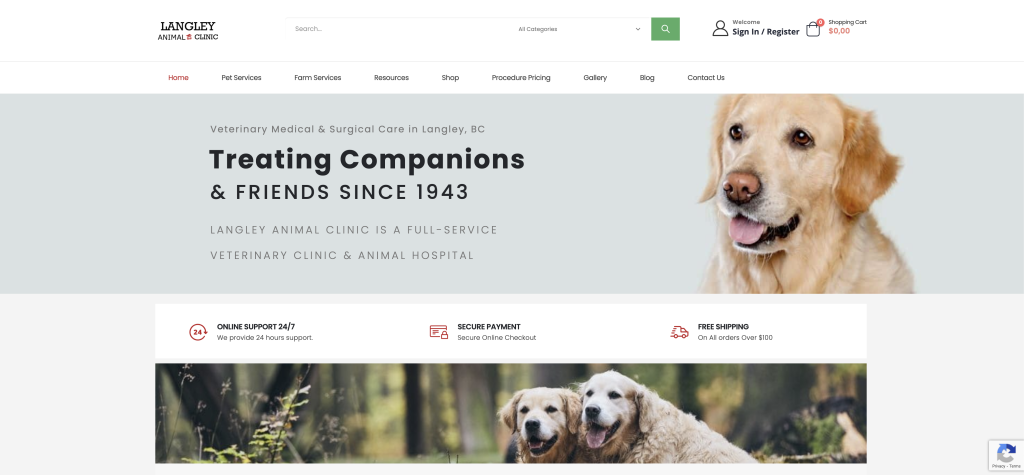 The Langley Animal Clinic is one of Canadas largest and most trusted veterinary clinics, and a proven example of how effective organic SEO, Google Ads (formerly known as Google AdWords), Social Media and Google Map listings can ensure they are number one every time.
Over the years, our SEO strategy and focus has evolved from ranking them #1 for many of their main procedures and specialties in their local area, to a national level ecommerce SEO campaign that drives thousands of dollars in recurring monthly revenue.
Your Trusted Toronto SEO Agency
If you are looking for an SEO company in Toronto, but feel overwhelmed by your choices, we understand.
You have many companies to choose from, but what are you really looking for in an SEO consultant in Toronto?
Finding the right consultant means the following:
Well-executed SEO that is an investment, not a cost
Local, Toronto-based talent that knows your city in addition to SEO; our work is never out-sourced
Clear, concise reports on a regular basis, showing how your website is doing vs. the competition
Face-to-face meetings with real people that are invested in serving you
An extensive list of satisfied, referring customers in Toronto
How We Do It
We use only the most effective and proven white hat techniques to elevate your site's ranking in search engines.
All our SEO campaigns are designed to bring your website targeted organic traffic, and we work hard toward our goal of achieving a month-on-month growth in users.
We view good SEO not as a destination, but as an ongoing journey that takes you ever higher.
If you have met with another Toronto SEO agency, you may have been offered a one-price-fits-all solution, but we are unlikely to suggest the same. We offer truly customized SEO marketing strategies, based on a free, in-depth SEO and website audit. You are not the same as every other company, and you deserve a tailored service that addresses your specific needs.
Transparent, Real Time Reporting
24/7 access to your very own, custom reporting dashboard.
Track your rankings in real time.

Our Tried And Tested SEO Process
Our 4 step SEO process has helped hundreds of businesses to increase targeted organic search traffic to their websites, and ultimately generate more leads and sales online.
1. Lay The Foundations
It all starts with ensuring that your site's technical foundations are built solidly and on sound SEO principles and best practices. Having the right foundations makes it easy for Google to find your most important pages.
2. Optimize Your Pages
With the foundations laid, it's time to start building. Identifying keywords that actually drive traffic in your niche and strategically placing them in key onpage HTML elements on the correct pages on your site helps Google to understand what that page is about and rank it accordingly.
3. Build Your Brand
Backlinks, citations, mentions of your brand name on the web and even people searching your brand name are all strong indicators that your site is useful, important and relevant. Fine-tuning and then amplifying those factors turn up your online brand power and drives authority to your website.
4. Own Your Niche
Now is the time to expand your reach with a well-researched, expertly designed content development strategy. We'll help you become the go-to resource in your niche, expand your organic reach and rank for more keywords. All by creating high-quality, research-driven content that engages your audience and answers the questions they are actively searching for.
SEO Strategy
We've worked with hundreds of businesses across Toronto and throughout Canada to help them achieve more with their websites.
Using our tried and tested SEO strategies, we drive targeted organic search traffic that converts into more sales and more leads for your business.
With a passionate team of over 20 Toronto SEO specialists, Marwick Marketing has decades of combined and proven experience ranking local and national websites on major search platforms like Google.
Every website and every project is unique. Our Toronto SEO Agency takes pride in devising effective, data driven and fully customized SEO strategies the help large, medium and small businesses alike achieve their goals. Get the right SEO strategy for your business. Call our specialist SEO services team today!
Local SEO
What is local SEO? It's a commonly asked question, but it can be incredibly complex to answer. Local SEO (or organic geo-targeted search results) is a subset of organic search that has been expanding exponentially over the last few years as more and more people use mobile devices to search for products and services locally.
At its simplest level, it can be defined as optimizing your website for local business search. This is often done by choosing, or creating, specific landing pages that are targeted to distinct geographical markets. It doesn't just involve the traditional organic ranking factors that most SEOs are familiar with (like keyword usage and page content) but also includes elements like building citations for local listings, managing reviews and testimonials, integrating Google My Business , determining Google+ Local page optimization best practices, leveraging ads on Google Maps/Google+ Local etc…
As you can see there's a lot of moving pieces in the world of local SEO services – so make sure you have a Toronto SEO expert on your side who knows what they're doing! A Toronto Search Engine Optimization agency will do the heavy lifting for you when it comes to local SEO, and can help you determine your Toronto SEO plans.
Onpage SEO
Search engines place a significant amount of weight on page titles. So much so that there are tools available to check whether or not your title tags adhere to the best practices laid out by Google (title should be between 50-60 characters, never exceed 70). If you are hiring an SEO agency , Toronto for example, to improve your rankings then one of their first tasks will be to review your page titles and suggest changes where necessary.
Of course it isn't just about length; if it was then newspaper headlines would always work well! The important thing is making sure you include all the relevant keywords at the beginning of your title to catch any potential searchers who have those phrases in mind when they search This is especially true for longer tail keywords as if you don't catch them with your title tag then they may well ignore your page altogether.
Page titles also play a role in how much trust is placed in your page by Google. A low quality site that hasn't taken the time to correctly label its pages won't rank very highly and so can be ignored by potential clients / customers. As such, Toronto SEO agencies know that it is important to pay attention to detail on this front, even if it does take a little more effort than simply rephrasing the name of your business at the beginning of each page title. If you aren't doing this already then Toronto SEO agencies recommend getting started with some simple changes such as:
Making sure each page is accessible via a URL that includes the most important keywords – good keyword research is vital to ensure you are targeting the right keywords with the best search volume
Always including the most important keywords in your page title
Using titles that are between 50 and 70 characters long        – making sure that each page has its own unique, descriptive title
Including meta description tags on every page of relevant content (this can be done by hand or through automated tools)
Writing high quality articles with detailed information for human eyes to find. If you want to rank higher than low quality sites then need to make sure you aren't attempting to beat them at their own game. Toronto SEO agencies will always recommend improving the quality of content on your site and moving towards writing more in-depth pieces rather than simply linking to a single page with a short essay on it; this is still classed as " low quality ".
Offpage SEO
When it comes to search engine optimization (SEO), on-site optimization is only half the battle. Off-site SEO, or influence marketing, refers to any activity that can affect your website's visibility in search engines like Google and Bing. While on-site SEO attempts to make your website more visible by increasing its rankings through a variety of factors, off-site SEO attempts to do the same thing by affecting the authority of your site through other means.
Influence marketing comes usually in two forms: link building and press releases.
Link Building
Link building is simply getting other websites to link back to you from their own sites. The more powerful or well known these linking sites are, the better off you'll be as a higher-ranking site. SEO companies in Toronto might use a variety of methods to generate links, from SEO optimized articles to press releases and blog posts. The more high quality links you have pointing back at your website, the better chance it has to rank well on Google or Bing.
 Why Is It Important?
Off-site SEO is important because whether people are using search engines like Google or resource directories like Yahoo, they want to find the best possible solution. SEO companies in Toronto that focus on both off-site SEO and on-site SEO will have a much better chance of ranking well, given the more influence their site has.
Technical SEO
Technical SEO  is one of the most important  aspects  of marketing an online presence .
If you're looking to rank higher on Google, Bing or Yahoo for keywords that your ideal customers are searching for, technical SEO is what you need to be focused on.
Not familiar with technical SEO ? Here's a quick run down.
Technical SEO is the practice of making sure that your website is search engine friendly to ensure high rankings on Google, Bing or Yahoo for targeted keywords.
There are three components involved in Technical SEO: HTML code, structured data and caching , along with a number of other elements that go into technical SEO.
HTML code is the language used for designing websites. Unfortunately, not all HTML code is created equally in terms of search engine friendliness. Certain tags are interpreted very differently by Google then others – you want to be sure your code is structured in a way that will help rather than hurt your search engine visibility.
Structured data is the microdata, metadata and schema markup that goes into an HTML document. Metadata tells search engines what the page you're building is about – this helps them determine how relevant your page is to specific keywords or topics. Schema markup adds additional information to give search engines more insight into what the content on any given site pages are all about.
Caching refers to 'storing resources temporarily so they can be quickly retrieved' (Webopedia). The process of caching can increase website responsiveness because it allows for faster retrieval of data during frequently accessed operations like online searches.
There are many more factors that go into Technical SEO, but this gives you an idea of what's involved. If you're looking to rank higher on Google, Bing or Yahoo for keywords that your ideal customers are searching for, technical SEO is what you need to be focused on! As the best SEO company in Toronto, flawless technical SEO is a cornerstone of every one of our search engine optimization campaigns.
SEO Agency Toronto, Canada
Contact Us Today and Receive a Free $750 SEO Audit!
There may appear to be many choices for an SEO company in Toronto, but we believe there is really just one. As a certified Google Partner Agency, we offer full-service online marketing and SEO services. That means we offer you service in website design, social media marketing, Google Business Photos, training workshops, Google Adwords (PPC), online brand reputation management, search engine optimization and anything else that you might need!
When you need an SEO company in Toronto, trust our talented and experienced marketing team to get you the results you seek!
Are you looking for the best SEO agency in Toronto?
Look no further than Marwick Marketing! We are experts in SEO and can help your business get to the top of the search engine results pages. Our team of experienced professionals will work tirelessly to improve your website's search engine optimization performance and help you achieve your desired results. Contact us today for a free consultation!
Why should you work with the best SEO agency in Toronto?
Here are just a few of the benefits:
– Increased website traffic
– Improved brand awareness
– Higher conversion rates
– Greater customer satisfaction
– More leads and sales
Are you ready to take your business to the next level? Contact Marwick Marketing, Toronto's best SEO company, today and let us show you what our expert SEO services can do!
SEO is one of the most important aspects of online marketing. If you want your website to succeed, it's essential that you invest in SEO services. Luckily, Marwick Marketing is here to help! We are the best SEO agency in Toronto and can help your business get to the top of the search engine results pages. Our team of experienced professionals will work tirelessly to improve your website's SEO and help you achieve your desired results.
Why Is SEO Important?
SEO is important because it helps you get more website traffic. When your website appears higher up in the search engine results pages, it means that more people will see it and potentially visit it. This can lead to increased brand awareness, improved conversion rates, and greater customer satisfaction. In short, SEO can help you achieve all of your online marketing goals!
If you're interested in learning more about SEO or would like to discuss your specific SEO needs with our team, please don't hesitate to contact us today.
Marwick Marketing is the best SEO agency in Toronto. We are experts in SEO and can help your business get to the top of the search engine results pages.
Benefits Of Search Engine Optimization
SEO is one of the most important aspects of online marketing. If you want your website to succeed, it's essential that you invest in SEO services. Luckily, Marwick Marketing is here to help! We are the best SEO agency in Toronto and can help your business get to the top of the search engine results pages. Our team of experienced professionals will work tirelessly to improve your website's SEO and help you achieve your desired results.
Why do you need an SEO agency in Toronto?
There is no quicker and easier way for people to find what they are looking for than to search online. Unfortunately, that will only be of benefit to your business if you are there for them to find. Search engine optimization is, effectively, advertising. Good search engine optimization is what will allow your audience to find you, and doing it correctly is a vital part of any marketing strategy. Bad SEO practices are what will keep you buried far down in the search results.
There's a huge difference in the quality of SEO services you can expect to receive when you hire an agency, and we regularly speak to business owners who have had experiences with other Toronto digital marketing companies who haven't been able to drive the kind of results they need and expect.
Over the years, we've built a strong SEO team of dozens of technical specialists, and honed our skills whilst helping hundreds of Canadian businesses to achieve their goals online. We believe in transparent, open reporting against clear and agreed KPIs. We love what we do and we're here to deliver you real and tangible results.
Here are some reasons why you need a Marwick Marketing, as your SEO agency in Toronto.
Increased Exposure
You want to be sure that your business appears front and center when someone is searching for the services or products that you offer. Your goal here is to appear on the front page of results when someone does a search. On Google, the top 3 results for a search receive 60% of all clicks, representing a huge number of potential clients.
Simply put, if you aren't in the top three, the majority of your audience is going to your competition.
Our SEO experts can conduct a powerful competitor research audit to help you uncover the right SEO strategy for your industry, and easily walk you through the entire process.
We will help you rank at the top of the search engine results page (SERP), which means more exposure for your business. More exposure means more customers, and more customers means greater sales.
Boost Your Credibility
When you are at the top of the results page, that effective signifies that Google is recommending you and that in turn goes a long way toward establishing your credibility. Having Google rank you highly is taken by most that you have a quality, respectable company, and a leader in your field. Many who are searching for a company to meet their needs see the top position as being the best of the companies turning up in the SERP.
That is where you need to be, and we will work to get you there.
SEO is Long-Term Marketing
SEO provides you with ongoing advertising.
An ad in a newspaper or magazine comes and goes. Print ads will be thrown away. Radio and TV ads are seen or heard and then forgotten. Using a good Toronto SEO company to reach the top of the search results page, however, means that you remain where people can see you for as long as you maintain that spot.
It will take some effort to reach the top spot, but once you are there, you can stay there indefinitely, provided you do the right maintenance.
SEO Targets Your Audience
Other forms of advertising tend to reach a general audience, only some of whom are interested in what you have to offer; by using SEO, you are putting yourself in front of those who are specifically searching for you, and that leads to better results.
Rather than spending time, effort, and money to reach people who may or may not be interested in your products, reach those who definitely are.
It is Comparatively Cheap
When you compare it to traditional advertising, search optimization is relatively cheap. A half-page ad in a major Canadian newspaper can cost you thousands of dollars for something that will be seen once and then put in the recycling. SEO, on the other hand, is considerably cheaper, and provides ongoing advertising, making it one of the biggest ROI channels in your marketing strategy.
Any of these reasons are enough to consider hiring an SEO agency in Toronto, but more than anything else listed so far, the main reason is that your competitors are doing it. If you are not willing to do the same, you will, in essence, be handing them what could be your business.
Don't let that happen. Make use of the best Toronto SEO company and get the business you desire. Speak to our SEO team today about your digital strategy!