Canada's
Premier
Google Agency
Start today with a FREE, no strings attached, audit of your current website.
Book A FREE Discovery Call
Want to find out exactly how to grow your business online? Book a free, no strings attached Discovery Call with our team today, and let us show you how!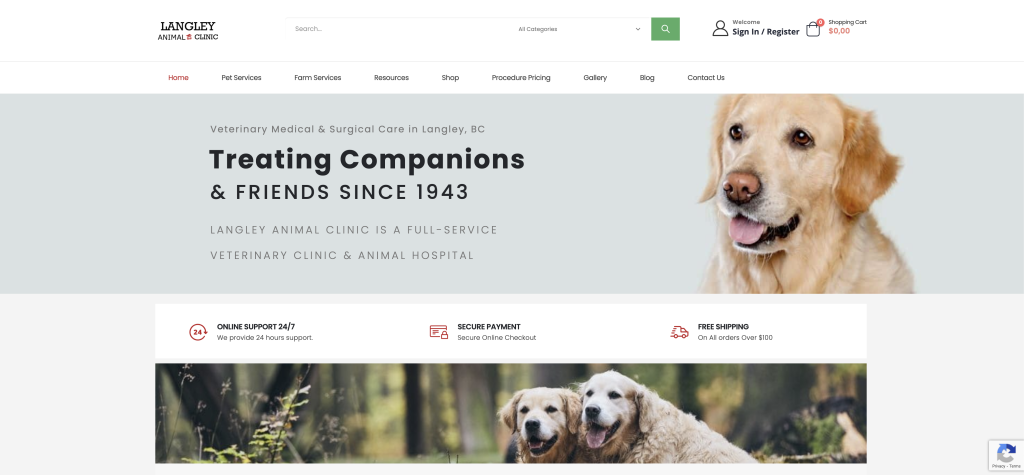 The Langley Animal Clinic is one of Vancouvers largest and most trusted veterinary clinics, and a proven example of how effective organic SEO, Google Ads (formerly known as Google AdWords), Social Media and Google Map listings can ensure they are number one every time. We can help your vet clinic, as we have done for Langley Animal Clinic and many others.
Page 1 Rankings on Google
Find a time that works for you, and book a Discovery Call today.
Surrey SEO - Your Questions, Answered.
How Can A Surrey SEO Agency Help My Businenss?
Local Surrey SEO services can help your business to achieve exponential growth in online sales and enquiries by connecting you with more people from your target audience on popular search engines such as Google.
SEO services in Surrey are focused on making your website more visible in the SERPs (Search Engine Results Pages) – ensuring you appear higher in the listings and more often when people from your target market are searching online.
A good Surrey SEO agency will know your area (and ideally your industry) well. Only then can they really develop the right Surrey SEO strategies to connect you to more of your target users online.
At Marwick Marketing, we have been serving local business across Surrey, Langley, Vancouver and the Lower Mainland with data driven SEO services for almost a decade.
Local SEO is a term used to describe a specific type of SEO services in Surrey that focuses on improving your organic search rankings specifically within your local geographical area.
Depending on what your business does, and who your target audience are, you'll either want to consider a local Surrey SEO campaign, or a broader national or maybe even international campaign.
If you are a local service business, for example, getting onto the first page of the search results in your local Surrey area can add thousands or even hundreds of thousands of dollars in annual revenue to your bottom line.
As a leading Surrey SEO company, we can help you get to that all important first page of Google.
No!
Marwick Marketing is a full service digital marketing agency, with a team of highly experienced specialists across all aspects of marketing .
Our digital marketing team can also help you with everything from social media marketing to web design to keyword research!
Take the first step to get your business in front of more potential customers today – contact our Surrey team.
We Are Your Trusted Surrey SEO Agency
We understand you have a lot of choices when it comes to finding the best SEO Company in Surrey. We also understand hiring the right SEO Consultant in Surrey requires the following:
• Trust in the SEO Company to deliver quality SEO work and not shoddy cheap SEO.
• You want all the SEO work to take place in Surrey, BC, never out-sourced!
• When done correctly SEO is an investment and not a cost.
• Regular reports on how your website is doing against your competition.
• Meet face-to-face with the people behind the work.
• A large network of referring, happy customers in BC, Canada.
As a certified Google Partner Agency we are fully up to date on all of Google's latest updates; Panda, Penguin, and Hummingbird updates.
Marwick Marketing is Canada's leading Search Engine Optimization agency, ranked 18th Fastest Growing Company in British Columbia by Business In Vancouver Magazine and the highest-rated SEO agency on Google across Canada.
We're a leading SEO Agency in Surrey, with a proven track record of driving real business growth via organic search marketing campaigns.
For over 10 years, we've worked with a huge range of local, national and international businesses just like yours to help them build their online brands and reach more customers in the major search engines.
Our BC based team has grown, and now includes some of the best industry specialists from across the globe.
Get in touch, and find out how we can help your business grow too.
Book A FREE Discovery Call
What Is Search Engine Optimization?
Search Engine Optimization (as known as SEO) is the process of improving your website so that Google trusts it enough to place it above your competition. Our custom SEO process, refined over the last 12 years, includes making your website load as fast as possible, ensuring the website is secure, providing incredible content that is both helpful and unique. Our highly experienced team will ensure that all onpage and technical SEO best practices are met across your site. Items like missing ALT Tags, Meta Descriptions, broken links (internal and external) and so much more.
Ultimately, we do what Google wants to see from a trusted and well-built website. In return, Google places your Surrey business higher on Google. The result is more organic traffic, more leads, and phone calls to your business.
We are your Surrey SEO Company
Imagine what we can do for your local Surrey based company.
If you're a cleaner, carpenter, painter, roofer, lawyer, spa owner, car dealership, shop, café, clothing store we can help you (and any other business!)
Transparent, Real Time Reporting
24/7 access to your very own, custom reporting dashboard.
Track your rankings in real time.

Our Tried And Tested SEO Process
Our 4 step SEO process has helped hundreds of businesses to increase targeted organic search traffic to their websites, and ultimately generate more leads and sales online.
It all starts with ensuring that your site's technical foundations are built solidly and on sound SEO principles and best practices. Having the right foundations makes it easy for Google to find your most important pages.
With the foundations laid, it's time to start building. Identifying keywords that actually drive traffic in your niche and strategically placing them in key onpage HTML elements on the correct pages on your site helps Google to understand what that page is about and rank it accordingly.
Backlinks, citations, mentions of your brand name on the web and even people searching your brand name are all strong indicators that your site is useful, important and relevant. Fine-tuning and then amplifying those factors turn up your online brand power and drives authority to your website.
Now is the time to expand your reach with a well-researched, expertly designed content development strategy. We'll help you become the go-to resource in your niche, expand your organic reach and rank for more keywords. All by creating high-quality, research-driven content that engages your audience and answers the questions they are actively searching for.
We don't provide a one-price-fits-all, and we're unlikely to quote you until we've run an in-depth free SEO and website audit. SEO companies in Surrey, BC, who give you a price BEFORE looking at what needs to be done are missing the point of customized, tailored SEO marketing strategy.
We're not just an SEO Company in Surrey!
You need to make sure that you are hiring the best SEO company for your business, but it can be hard to choose between all of the companies out there offering SEO services in Surrey. With us, you will benefit from our extensive experience, proven results, high standards, and focus on ethical tactics.
We have helped new firms who are just starting out and need to build traffic, large corporations who want to maximize their search traffic without paying for ad impressions, and companies that have been hit by Google algorithms including the Penguin and Panda updates.
So whatever your situation, if you need an SEO company In Surrey that can deliver on its promises and get you the rankings that you need, start by getting in touch with us today for your free website review.
We're a certified Google Partner Agency that offers full-service online marketing. From website design, social media marketing, online brand reputation, Google Ads (PPC), Google Business Photos for Businesses, and training workshops.
Our marketing team is highly skilled, experienced, and recommended globally.
Serving Surrey BC Since 2012
Marwick Marketing is located two minutes from Highway 1 on the 200th intersection. Our address is 8661 201st Street, 2nd Floor, Langley, British Columbia, V2Y 0G9.
Choosing the Best SEO Agency in Surrey BC
Given the importance of your website to the success of your business, it is critical that it be fully optimized. With the right SEO team on your side, you'll experience a boost in organic traffic, a better ranking, and, most importantly, more conversions. Conversely, working without an agency, or the wrong one, might lead to a decrease in organic search rankings.
For our business to reach its full potential, you need a proper search engine optimization campaign, but how do you go about choosing the best SEO agency in Surrey BC?
Here are some tips to help you out.
Review Their Portfolio and Past Performance
You can start by looking at the company's own website. It is properly optimized and are they showing up in searches for their keywords? If their own website is not performing as well as it should, they are unlikely to work wonders for yours.
You can learn a lot by looking at their past performance. Review case studies, look for industry awards, and check out other companies they work with to see how they are ranking in Google. Are they performing at a level that you would consider satisfactory for your own site? When it comes down to it, what you want to see in an SEO company is what you want for your own business: results.
When you have evidence of their past success, you can move forward feeling confident that they can help your business. But if that evidence is hard to find, you may want to look elsewhere.
Look For an Ethical Company
This can be a tricky one if you are unfamiliar with proper SEO practices, so it's a good idea to have at least some basic knowledge of search engine optimization. If a company provides you with quick results by bringing traffic to your site, you will probably be quite happy. But if they are doing so by using unethical practices, typically known as Black Hat SEO, the results won't last. Possible consequences of Black Hat SEO range from a negative impact on your search rankings and visibility to having your website banned from Google and other search engines.
You may also want to check if the company handles the work in-house or if they outsource it to a third party.
Recognize That Lower Costs Come With Risks
It's normal and understandable that everyone wants to save money where they can. Working with the cheapest SEO provider you can find does come with some risks, however. While the price tag isn't always indicative of the best quality, a low-end company may not have the resources to properly address your needs or scale with you as you grow. They may not be able to get the results you are looking for, and worse than that, they could end up doing long-lasting harm to your business if they do SEO incorrectly.
A less expensive agency with limited resources may also try to get results for you using Black Hat SEO, as mentioned above. While the prices of SEO agencies can vary widely, your primary concern should be getting the job done right.
Understand Your Goals and The Outcome You Desire
To choose the right SEO specialists for your company, you need to have a firm vision of what you want. You need to know what your business goals are and what you are hoping to achieve.
SEO has many different facets, and while you may ultimately address several of them, you should know where you want to start. Does your weakness lie in technical SEO? Do you need to improve your content? Knowing where you want to go will help you determine the path to take.
Does the marketing agency understand your goals? Are you able to communicate with them effectively?
Be Wary of Guarantees
This builds upon the previous points. There are no real guaranteed results, so be wary of what the company promises you. If they guarantee that you will reach a particular rank or receive a specific amount of new traffic, you may want to consider looking elsewhere.
SEO is constantly changing and evolving as search engines like Google update their algorithms. This means that SEO agencies are also constantly updating their approach to get you the best results possible. If the agency does offer you a guarantee, it should be that they will stay on top of every update and follow all the proper guidelines as presented by the search engines.
Ask How They Report Results
The agency should be able to explain how they report results. Using Google Analytics, for example, they are able to get a better picture of how your site is developing, what has been working, and what is still in need of adjustment. They should be creating strategies based on results gained in previous months, analyzing and interpreting them to determine the best way to reach your objectives.
Meet With the Company to Ask Your Questions
While it seems obvious, you should be sure to sit down (either in person or online) with the company and discuss exactly what they can do for you and how they will do it. This is also your opportunity to see if they fully understand your goals and to ask any questions that you may have.
You should be looking for transparency. The agency should be willing and able to answer your questions to put your mind at ease and to clarify any uncertainties, rather than claiming to rely on secret methods.
Keep in mind that when you engage an agency, you are looking for partners in your company's future success. You should feel comfortable working with them and confident that you are making the right choice.
If you are looking for an SEO agency in Surrey BC, contact us today and learn about what sets Marwick apart.