Find More Customers &
Grow Your Business
With Winnipeg's
Premier
Google Agency
Start today with a FREE, no strings attached, audit of your current website.
Book A FREE Discovery Call
Want to find out exactly how to grow your business online? Book a free, no strings attached Discovery Call with our team today, and let us show you how!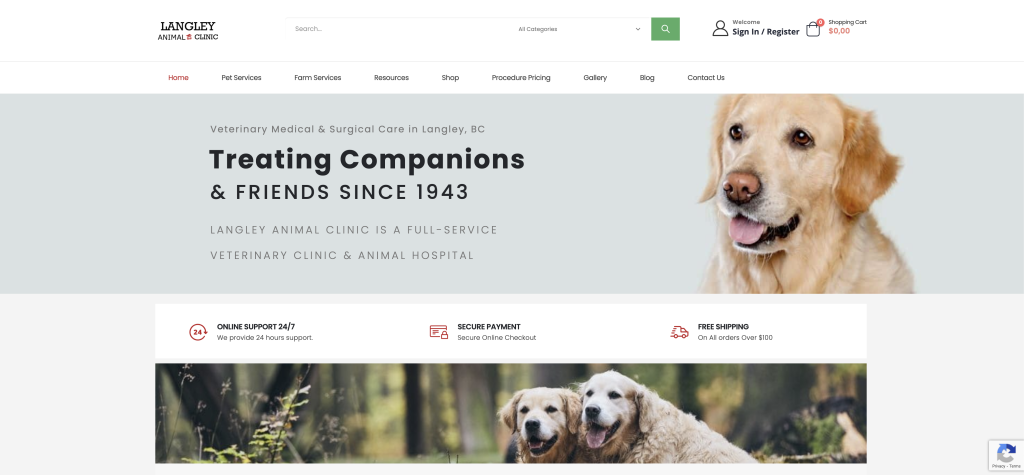 The Langley Animal Clinic is one of Canadas largest and most trusted veterinary clinics, and a proven example of how effective organic SEO, Google Ads (formerly known as Google AdWords), Social Media and Google Map listings can ensure they are number one every time.
Over the years, our SEO strategy and focus has evolved from ranking them #1 for many of their main procedures and specialties in their local area, to a national level ecommerce SEO campaign that drives thousands of dollars in recurring monthly revenue.
Page 1 Rankings on Google
Find a time that works for you, and book a Discovery Call today.
Your Trusted Winnipeg SEO Agency
Looking for a reliable SEO Agency in Winnipeg?
Marwick Marketing are one of Canada's leading SEO and digital marketing agencies, with hundreds of 5 star reviews across Google, Clutch and Better Business Bureau.
Over the last decade, thousands of clients and business owners have trusted our expert team with their Winnipeg SE, and our campaigns have directly contributed to the growth of countless companies across not only Winnipeg, but Canada and North America too.
But what makes Marwick Marketing special? And why should you trust us to be your Winnipeg SEO agency?
Marwick Marketing was originally founded in Vancouver, BC in 2002.
Founded with the goal of forming long term, successful partnerships with our clients, our laser focus has always remained on generating the best possible ROI on marketing budgets.
This focus and commitment to our goal has enabled us to grow into one of North Americas leading SEO agencies, and many of our clients have been partnered with us for years, with our team continuing to add value month after month.
To put it simply… we grow our business, by helping you grow yours.
Transparent, Real Time Reporting
24/7 access to your very own, custom reporting dashboard.
Track your rankings in real time.

Our Tried And Tested SEO Process
Our 4 step SEO process has helped hundreds of businesses to increase targeted organic search traffic to their websites, and ultimately generate more leads and sales online.
It all starts with ensuring that your site's technical foundations are built solidly and on sound SEO principles and best practices. Having the right foundations makes it easy for Google to find your most important pages.
With the foundations laid, it's time to start building. Identifying keywords that actually drive traffic in your niche and strategically placing them in key onpage HTML elements on the correct pages on your site helps Google to understand what that page is about and rank it accordingly.
Backlinks, citations, mentions of your brand name on the web and even people searching your brand name are all strong indicators that your site is useful, important and relevant. Fine-tuning and then amplifying those factors turn up your online brand power and drives authority to your website.
Now is the time to expand your reach with a well-researched, expertly designed content development strategy. We'll help you become the go-to resource in your niche, expand your organic reach and rank for more keywords. All by creating high-quality, research-driven content that engages your audience and answers the questions they are actively searching for.
SEO Agency in Winnipeg
When you are building your business, your website is one of your most valuable assets. It is your direct link to customers past, present, and future. With it, you can inform them about your company, upcoming promotions, and new product launches, even if they are in another city or another country on the other side of the globe.
When your website is not performing to its full potential, you are likely losing customers. There are many possible reasons for this, so it is not necessarily an indication that you are not providing quality content. All websites have some room for improvement, and that is where SEO comes in and why you should be working with an SEO agency in Winnipeg.
What is Winnipeg SEO?
You have likely heard of SEO but may be unfamiliar with what it is. Basically, SEO, or Search Engine Optimization, is about optimizing your website in such a way that it performs well in search engines such as Google and Bing.
The reason for this is that any time a user searches for something online, the search engines attempt to determine the user's intent and provide them with the most appropriate content for their needs. For example, when a user enters "best big-screen TVs" in the search bar, they will receive links to reviews, stores that carry electronics, and anything else that seems applicable to what the user is looking for.
When the search engine returns its suggested links on the Search Engine Results Page (SERP), the user will almost invariably choose from among the first few listed at the top of the page, making the top 3, in particular, the prime location for businesses that want to be noticed. Very few users will scroll down the page and even fewer will continue on to the second or third pages.
With such an emphasis on the top positions, it's imperative that you give the search engines reason to list you first.
What Does an SEO Agency Do?
An SEO agency will work with you to make your website more attractive to the search engines, which will encourage them to list you in a higher position. In turn, this helps customers looking for the goods and services that you offer to find you. This can be accomplished through a variety of methods, and a good SEO strategy will make use of them all.
To make the most of your website, you must first identify its weaknesses. Where does it fail to make an impact? What can be improved?
Even if you are perfectly happy with the appearance of your site, there are always elements that can be improved. SEO is an ongoing process of continual improvement.
All search engines strive to provide their users with what they need. Google, in particular, places considerable emphasis on the user experience. If Google detects users visiting your site only to quickly click back and try another site, it will interpret this to mean that your site is not offering a great enough value to the user or is perhaps simply not relevant to their search. In either case, they will be less inclined to suggest you to another user making a similar search.
Customers may leave your site if they are unable to find the information that they are looking for. Even if the desired information is actually somewhere on your site, they may choose to look elsewhere if even one of several factors—like loading speed—is not meeting their expectations.
An SEO agency will help you determine what factors are keeping you from being seen and driving away those who do make their way to your website.
How Can SEO Help You?
As mentioned above, SEO is an ongoing process that continually adjusts your site to ensure peak performance. Most often, there will be several issues that need to be addressed before you start seeing the results that you are hoping for. Some of the most common factors to be addressed include:
Speed
Mobile users tend to be impatient, often leaving a site after only a few seconds or after visiting a single page. This is measured by the bounce rate. Research performed by Google indicated that when the load time of a page increases from 1 second to three seconds, the bounce rate jumps 32%. Five seconds may not seem like that much, but a website with pages that take 5 seconds to load will lose most of its visitors as the bounce rate climbs to 90%.
This is the reason why improving your load speed is critical.
High-Quality Content
A high bounce rate may also be the result of the site's content being low quality or not relevant enough to the user's needs. Google wants to match users with the highest possible content, but having users bounce from your site is taken as an indication that your content is either low-quality or simply not relevant enough.
On the other hand, if users stay on your site for an extended period and visit multiple pages, this is taken as a sign that you are offering value to your visitors. When this is the case, the search engines reward you by increasing your rank.
Your content should be well-written, relevant, and current. Time-sensitive and outdated information lose their value.
Ease of Navigation
Having a great website filled with quality content may be wonderful, but if a visitor can't navigate your site to find what they want, it is useless to them. You need to ensure that your site is easy to navigate, with a clean, clear design that makes it easy to find useful information.
Keywords
Any time a user arrives on your site from the search engine, it's because they have entered specific terms, known as keywords, to find you. These are the words and phrases that a user will enter in the search bar. If your content makes use of these keywords, you will be viewed as a potential match for their search.
Keywords help to define what your content and website are all about, letting the search engines know if you are a good match for the user's search.
Other On-Page SEO Factors
On-page SEO, or on-site SEO as it's also known, includes the factors that we have reviewed above, but several others as well. A proper SEO strategy will also see you optimizing your headlines, HTML tags, images, and more. Bringing all these elements together creates an image of expertise and authority. Users will know that your site is one that they can trust.
Why You Need an SEO Agency in Winnipeg
Simply put, you need an SEO agency because your competitor is likely using one. Additionally, you need the expertise of an SEO agency that knows the right methods of improving your rank in the eyes of search engines. Once your website moves to the top of the SERP, you will be considerably more visible and perceived as the right fit for the user's needs.
Optimizing your website can make a huge difference in its performance and that of your business. For more information on how an SEO agency in Winnipeg can help, contact us today and we will be happy to answer all your questions.