Find More Customers &
Grow Your Business
With Ottawa's Leading
SEO Agency
Start today with a FREE, no strings attached, audit of your current website.
As a full service digital marketing and SEO agency in Ottawa, our team includes everything from SEO specialists, to PPC / Google Ads experts, social media managers and web designers.
For over 10 years, clients across Ottawa and all throughout Canada, have trusted Marwick Marketing to deliver and execute on cutting edge, data driven digital marketing campaigns that drive more sales and more leads for their businesses.
Book A FREE Discovery Call
Want to find out exactly how to grow your business online? Book a free, no strings attached Discovery Call with our expert digital marketing team today, and let us show you how!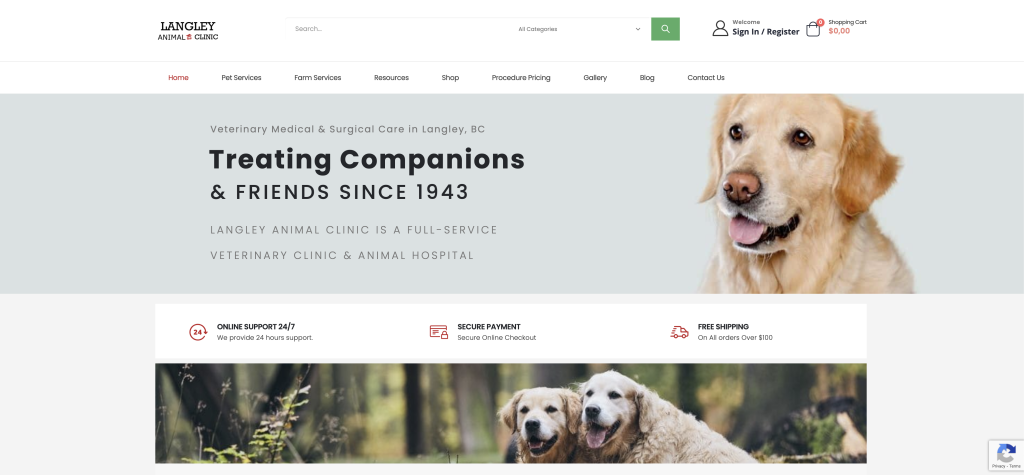 The Langley Animal Clinic is one of Canadas largest and most trusted veterinary clinics, a national level ecommerce pet and large animal store and a proven example of how effective organic SEO, Google Ads (formerly known as Google AdWords), Social Media and Google Map listings can ensure they are number one every time. We can help your business too, as we have done for Langley Animal Clinic and many others.
Page 1 Rankings on Google
Find a time that works for you, and book a Discovery Call today.
Your Local Ottawa SEO Agency
Ottawa's Top Rated Search Engine Optimization Agency
4.9/5 from over 100 reviews!
Graham Wilson
CEO @ Life Support Group
"Amazing team at Marwick Marketing - job well done! Fast, responsive, innovative and reliable. Quality service, attention to detail. Recommend above any other SEO firm in Canada or the UK for top quality results."
Tyson Nicholson
Sunly.ca
"Markwick has done a phenomenal job at both PPC and SEO. They have been able to work with me in a small market ensuring targeting was on point to allow me to get the right visitors. This led to great conversion rates. Within a week for PPC they were able to reduce my cost per lead and increase the amount of leads (which were all relevant leads too!)."
Angie Wahi
McQuarrie
"I have been working with the team at Marwick for over 6 months and after unsuccessful attempts to work with some other local agencies, I am pleased to have found the team at Marwick. They are extremely agile, responsive, and have helped pivot the companies entire digital marketing strategy with great results in just a few short months...all while developing and launching a brand new custom website too!"
Transparent, Real Time Reporting
As a Marwick Marketing client, you'll get 24/7 access to your very own, custom reporting dashboard.
Track your rankings, traffic, Cost Per Click, conversions and any other metrics you want, all in real time.

What Are the Benefits of Hiring an SEO Agency in Ottawa?
By now, most businesses and virtually anyone with an online presence have probably heard about Search Engine Optimization (SEO), but there are still those who don't quite understand what it is and what it does. They may not see its importance, or if they do, they may not recognize the benefits of working with SEO professionals. Unfortunately for them, their competitors may.
If you are on the fence, you may be wondering, "What are the benefits of hiring an SEO agency in Ottawa?" The most obvious one is that it works and gets you results with a return on investment (ROI) that is almost unmatched outside of email marketing.
Benefits of Hiring an SEO Agency in Ottawa
Although there is a tendency on the part of some business owners to want to handle everything themselves, there are times when it makes much more sense to partner with someone else. By working with an agency to handle your SEO in Ottawa, there are many benefits to be had, including:
Tapping Into Their Knowledge
There is a reason why some people receive the designation of an expert. Some things simply cannot, or at least should not, be done by those with casual knowledge. Having only basic knowledge of SEO will not only fail to get you the best results, but it could also actively hinder your efforts or cause harm. It can take several years to master SEO and that is time that you don't want to waste if you are looking for results now. A professional from an SEO agency can hit the ground running and start laying the foundation for your future success.
They Stay On Top of Things
One of the reasons why SEO takes time to master is the fact that it is constantly changing and evolving. You probably already know that Google updates their algorithms regularly, and all search engines are constantly making adjustments to improve their user experience. With all these new and changing requirements, staying up to date with SEO can be a trying task. And if you don't devote time to staying current, you will quickly fall behind.
When you work with an SEO agency, they can stay on top of all the changes and adjust for them, ensuring that your SEO strategies will continue to provide the results you are looking for.
Saves You Money
Trying to manage your own SEO requires a sizable expenditure of both time and money. You need to hire the right employees and see to their training. Then you have to equip them with the necessary hardware and software. Once that is done, you have to continue to update their skills and equipment periodically. As mentioned above, an SEO agency manages that on its own, saving you time and expense.
Greater Online Impact
This is essentially the whole point of SEO. You want to be visible online and easy for your clients to find. This is true in all cases, but particularly if the majority of your business occurs online. If your clients can't find you, you will simply miss out.
If you are dealing largely with local customers and businesses, this is still important. Your local SEO strategy will help you obtain new clients in your local area, helping you grow your business by bringing customers to your door.
Avoiding Potentially Costly Mistakes
As mentioned, SEO takes time to learn, and even when you are doing your best to keep up to date, it can be complicated. Because of this, it can be surprisingly easy to make a mistake or miss something that you should be doing. This can have a significant negative impact.
Having an expert in SEO handle your website's SEO means that fewer mistakes will be made, and any that might occur are easier to fix and handled by experts.
A Better Understanding of Analytics
There are many tools available to help with your SEO, and analytics are extremely important. The problem is that a faulty understanding of what the analytics are telling you can send you in the wrong direction. An SEO agency, however, can help you better understand your analytics, giving you the insight and knowledge necessary to make the best possible choices.
Increased Revenue
Once you are making more informed decisions using the greater understanding of analytics that your SEO agency provides, you will have the best opportunity to propel your company forward and increase your revenue.
The Ability to Focus on Other Things
As a business owner, there are always tasks and situations vying for your attention. When you are trying to handle your SEO on your own, it is a distraction from the other things that you could or should be doing. Even having an in-house SEO team will take some of your attention away from other aspects of your business.
When you hire an SEO agency to manage your company's SEO, it leaves you with more time to address what you want. This not only removes some of the weight from your shoulders but also allows you to focus on the things you do best, increasing efficiency and productivity.
Better Results Over Time
SEO, even when done correctly, takes a bit of time to produce the best results, but once you start to see those results, they will only grow with time. The effects of good SEO are cascading, with one change benefiting the next. For example, adjusting your website to become more visible makes it easier to find the great content that you have produced, and that great content makes it easier to rank for your keywords. Ranking for your keywords will then make you more visible, creating an upward spiral.
These are just some of the advantages of hiring an SEO agency in Ottawa, but even with just these, it should be evident that hiring an agency can benefit you immensely. Your competitors are likely working with SEO agencies already. Don't let them have an unfair advantage over you.