Find More Customers &
Grow Your Business
With Edmonton's
Premier
Google Agency
Start today with a FREE, no strings attached, audit of your current website.
We are Edmonton's leading SEO agency.
Are you a local Edmonton based business looking to improve your rankings on major search engines, attract more organic search traffic to your website and grow your online business?
We can help!
As Alberta's capital, Edmonton is home to a huge range of businesses – from tech, to manufacturing to tourism and hospitality. And of course, it also continues to be a vitally important center for the oil and mining industries.
With a growing population, Edmonton holds the unofficial title of Canada's Festival City due to it's shear diversity of interests, talents and cultures.
All of this diversity and booming population, makes Edmonton a unique and vibrant place to launch and grow a business.
At Marwick Marketing, our local team of SEO specialists and digital marketing consultants have help launch, scale and grow many local companies, with targeted Search Engine Optimization campaigns.
Book A FREE Discovery Call
Want to find out exactly how to grow your business online? Book a free, no strings attached Discovery Call with our team today, and let us show you how!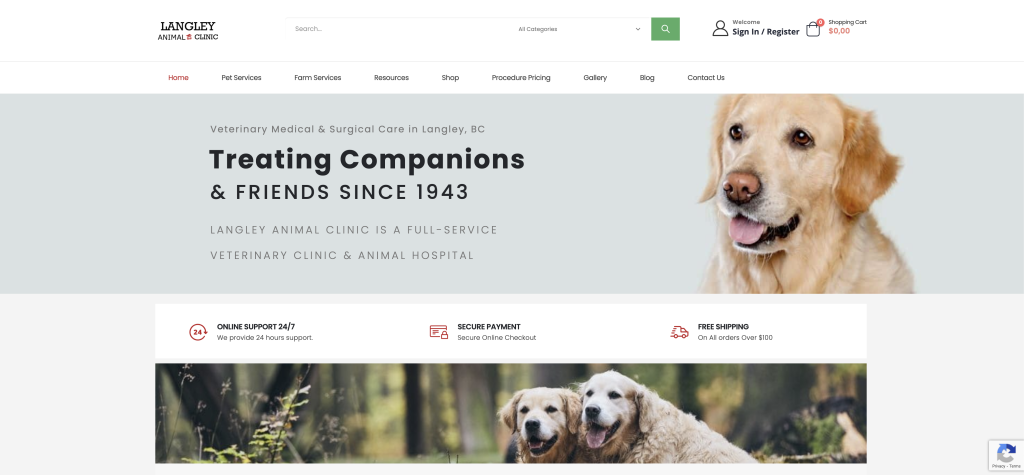 The Langley Animal Clinic is one of Canadas largest and most trusted veterinary clinics, and a proven example of how effective organic SEO, Google Ads (formerly known as Google AdWords), Social Media and Google Map listings can ensure they are number one every time.
Over the years, our SEO strategy and focus has evolved from ranking them #1 for many of their main procedures and specialties in their local area, to a national level ecommerce SEO campaign that drives thousands of dollars in recurring monthly revenue.
Page 1 Rankings on Google
Find a time that works for you, and book a Discovery Call today.
Your Trusted Edmonton SEO Agency
When it comes to choosing an SEO company in Edmonton, there are plenty to choose from and it might not be readily apparent what differentiates one from all the others. Don't be fooled, however. There are differences, and finding the right SEO consultant in Edmonton will be a boon to your company, but how do you make that choice? You look for the following:
Local talent that knows both SEO and Edmonton, never outsourcing the work

Real people who will sit down with you in person to address your needs and concerns

Regular, clear reports that show how your website is performing compared to competitors

Happy, satisfied customers in Edmonton offering referrals

A partner invested in the growth and success of your business

Most of all, someone you can trust to provide top-quality SEO work
Our team works hard to raise your website's ranking in search engines. We use only proven, effective white hat techniques to drive specifically targeted organic traffic to your business. Our goal is to provide you with ongoing growth, month after month, making SEO a solid investment with an attractive return.
SEO Agency in Edmonton
Your website is an integral part of your business, serving as a means of attracting customers and informing them about your products, services, and the company itself. It is a means of communicating with your audience and reaching out to potential clients across the globe.
If your website is underperforming, there could be several reasons why. It's not necessarily that your content isn't good or that people aren't interested in what you have to offer. Most websites are not operating to their full potential. If you are looking for ways to improve your website and make it work for you, you need to consider working with an SEO agency in Edmonton.
What Is SEO?
SEO is short for Search Engine Optimization, and it is essentially what it sounds like: optimizing your site so that it performs well in the search engines. But why is that important?
Any time a user is searching for something online, whether that be a product, a service, information, reviews, or even simple entertainment, the search engines such as Google and Bing use the input search terms to match the user's query with the most appropriate content. For example, entering "running shoes for kids" will bring up links to shoe stores, reviews, and perhaps a top ten list of brands.
When the user receives the Search Engine Results Page (SERP) with links suggested by the search engine, they almost invariably stick to the results located at the top of the page. Few will scroll down to examine other links, and even fewer will continue to the second or third page. Obviously, then, if you want potential customers to click on a link that takes them to your website, you should be appearing among the top results for searches related to your business.
What Does an SEO Agency Do?
The goal of the SEO agency is to help you raise the profile of your website, bringing it to the top of the SERP where you are more likely to be seen and receive clicks from your audience. There are several ways to accomplish this, and a good SEO strategy will address them all.
Optimizing your website begins by identifying its weaknesses to determine why you are not performing as well as you should. Your website is a collection of parts which add up to an overall user experience that, if not pleasing, can actually drive visitors away.
Search engines like Google place tremendous emphasis on this user experience. If they note that visitors to your site leave almost immediately upon arriving, that is an indicator that they are not finding what they want or need. Google will then become increasingly less likely to continue recommending your site.
If a visitor leaves your site, it may be because they could not find the information they were seeking. An SEO agency can help you identify the factors that may be hindering your website's performance.
How Can SEO Help You?
SEO is an ongoing process that seeks to continually improve your site, making it more appealing to search engines, thus earning you a higher spot on the SERP. There is usually work to be done on several aspects of your website to get the best possible results. Some of the things that the SEO agency will look at include:
Speed
Users get frustrated when pages and websites take too long to load. This is particularly true of mobile users. Bounce rate refers to the percentage of users who leave your website after visiting only one page. Google's research has shown that the bounce rate increases by 32% as page load time goes from one to three seconds. If load times reach 5 seconds, the bounce rate increases to 90%. Optimizing your site for speed will help you retain visitors.
High-Quality Content
Another reason for a high bounce rate is having low-quality content or content that doesn't match what the user is looking for. As part of providing an excellent user experience, search engines want to know that the sites they are suggesting have relevant, high-quality content.
It's important that the content you create matches the search intent. If users find what they are looking for on your site and if the content is of high quality, they will be more inclined to stay and even click on other pages. This will signal to the search engines that your site offers value to users, which in turn will cause them to view your site in a more positive light.
Content freshness is also an important factor, as outdated information loses its value.
Ease of Navigation
Users should be able to navigate your site easily. If they arrive on a given page but don't have a convenient, easy way to move to other pages on your site, they are more likely to back out and look elsewhere. A clean, clear design encourages visitors to peruse other parts of your website.
Keywords
Keywords are what brings users to your site. These are the terms that they enter into the search engines to help them find what they want. When you are using the correct keywords in your content, it helps search engines match the user's intent to the information, goods, and services that you offer.
Other On-Page SEO Factors
On-page SEO, also known as on-site SEO, includes the factors listed above but also requires optimizing your headlines, HTML tags, images, and more. This helps to create an image of expertise and authority, which in turn leads visitors to have greater confidence in your business.
Why You Need an SEO Agency in Edmonton
These are only a very few factors that go into optimizing your website. An SEO agency has the knowledge and expertise to bring out the best in your site so that search engines will rank you highly, users will be more likely to find you, and visitors to your site will have the experience that they are looking for.
A properly optimized website is a tremendous asset to your business. Contact us today to learn more about how we can help you make the most of yours.
Transparent, Real Time Reporting
24/7 access to your very own, custom reporting dashboard.
Track your rankings in real time.

Our Tried And Tested SEO Process
Our 4 step SEO process has helped hundreds of businesses to increase targeted organic search traffic to their websites, and ultimately generate more leads and sales online.
It all starts with ensuring that your site's technical foundations are built solidly and on sound SEO principles and best practices. Having the right foundations makes it easy for Google to find your most important pages.
With the foundations laid, it's time to start building. Identifying keywords that actually drive traffic in your niche and strategically placing them in key onpage HTML elements on the correct pages on your site helps Google to understand what that page is about and rank it accordingly.
Backlinks, citations, mentions of your brand name on the web and even people searching your brand name are all strong indicators that your site is useful, important and relevant. Fine-tuning and then amplifying those factors turn up your online brand power and drives authority to your website.
Now is the time to expand your reach with a well-researched, expertly designed content development strategy. We'll help you become the go-to resource in your niche, expand your organic reach and rank for more keywords. All by creating high-quality, research-driven content that engages your audience and answers the questions they are actively searching for.
SEO Edmonton, Canada
Claim Your Free SEO Audit Today! A $750 Value!
You are not like every other customer, so don't settle for cookie-cutter solutions. As your SEO company in Edmonton, we'll provide you with everything you need to stand out. As a certified Google Partner Agency, we'll provide you with true, full-service online marketing. 
Why You Should Hire An Edmonton SEO Company
Most companies these days are aware of the benefits of having professional SEO done for them. If you are thinking about hiring an SEO company but are not yet convinced that it is the right move, this article may be able to help you reach a decision.
There are several benefits to outsourcing your SEO, and while there is obviously some expense involved, you will find that these benefits will far outweigh the cost. So, with that in mind, here are some reasons why you should hire an Edmonton SEO company.
It Saves You Time
One of the most valuable resources that you have available to you is time, and it must be spent wisely. Business owners and managers are often hard-pressed to find enough time to do everything they want or need to do. SEO is a strategy that may require more time than you have, and it definitely takes time that you could spend in countless other ways.
SEO is not something that is ever truly finished. It is an ongoing process that involves research and upkeep to stay fully optimized. By outsourcing your SEO to a team of professionals, you free up valuable time that can be spent on other important tasks. For many business owners, this is one of the more compelling reasons to hire an SEO agency, as it allows them to turn their attention back to the things that they do best.
Some of the tasks that an SEO company will handle for you include:
Updating your site with necessary changes

Keyword research

Optimization of keyword density and content

Meta-date optimization

Optimization of internal linking

Analysis of campaign data necessary for ongoing adjustments

Monitoring and resolution of SEO performance issues
It Saves You Money
If you have an in-house SEO department, you have probably already discovered that there are several ongoing expenses to deal with, the most obvious being the salaries of the employees themselves. Additionally, there is the maintenance and upgrading of both hardware and software, which of course requires that the employees be kept up to date with periodic training. These fees can add up over time and are never really done.
When you hire an SEO company, they will ensure that their employees have the most current training, as well as access to the latest software and equipment. This means that—especially over the long term—hiring an SEO company will save you significant money versus maintaining your own in-house team.
They Have Experience
One of the major advantages of working with a professional SEO company is the fact that they can bring you a great deal of experience. You will have access to not just one expert in SEO, but a whole Edmonton digital marketing agency team. Further, their experience will be broad, covering multiple industries beyond just your own and giving them insight that an in-house team would be hard-pressed to match.
When your business relies heavily on its website, SEO is not something that should be left to trial and error or guesswork. Not only will this not get the results you seek, but it also runs the risk of negatively impacting your site and its ranking.
Professional SEO companies know how to create and develop a proper SEO strategy that gets results, improving your site's visibility and ranking. They also have the experience to deal with different situations as they arise, such as the frequent changes to algorithms, ensuring that you can always respond quickly and appropriately.
They Get the Best Results
If you don't know what you are doing, or even when you are simply unsure, you are taking risks with your business and leaving things to chance. And even if you have some success, it is not likely to be at the same level that you would achieve when dealing with a professional SEO company.
An SEO company will sit down with you to discuss your needs and goals. They will perform an audit on your site to pinpoint which areas are most in need of work. Putting everything together, they will come up with a plan that takes everything into account to make the best, most effective strategy for bringing your site more traffic and greater visibility.
They Know More Than Just SEO
While the SEO company you hire will obviously be specialized in SEO, that will not be the only advantage they offer you. Do you need help with creating high-quality content for your site? What about inbound marketing or web design? Partnering with an SEO company gives you access to a wide range of skills and specialties that you might not even be aware of. This means that they can do far more than simply help your site reach the top of the search results—though obviously, that is their main focus.
Many business owners like to take a hands-on approach and that can also include handling their own SEO. Unfortunately, that often doesn't provide them with the results they want. Not only will other aspects of the business not get the attention they need while owners work on the SEO, but their site not perform as well as it could, and it may even end up suffering penalties and lower the ranking further.
SEO is a major part of your company's success, with 32% of marketers worldwide stating that it offers the best return on investment and another 41% saying that it offers at least a medium return. This means that when you invest in an SEO company, your costs will be recouped by the increased revenue that it brings.
When you consider the benefits that it brings, you'll see why you should hire an Edmonton SEO company for your business.