Find More Customers &
Grow Your Business
With Calgary's
Premier
Google Agency
Start today with a FREE, no strings attached, audit of your current website.
Welcome to your new, Calgary digital marketing agency.
No matter how big or small your business – from start up to international brand – our expert Calgary based digital marketing team can help take your brand and website to the next level.
As a full service digital agency, our team of specialists span SEO, PPC, Social Media Marketing, website design and development and more!
Here at Marwick Marketing, we are Cowtown's leading digital marketing agency – powering online growth for Calgary based businesses across a broad range of industries.
Calgary is a rapidly growing city, with a population of well over 1.3 million. If you want to reach more of this growing market, Marwick Marketing can help.
Traditionally much of Calgary's growth has been powered by the oil industry and supporting sectors, but this growing cosmopolitan city is also home to an innovative and dynamic small business community.
Thousands of new businesses start up every year here in Calgary, and as Calgary's leading digital marketing agency, Marwick Marketing help business owners and marketing managers attract more customers online, and grow their businesses.
Top SEO Agency in Calgary, Canada
Don't just take our word for it.
Check out our huge range of case studies from real life clients. Over the years, we've helped hundreds of businesses just like yours.
You can also check out our reviews on Clutch, Google Reviews and Facebook to see what our clients have to say.
Amazing team at Marwick Marketing - job well done! Fast, responsive, innovative and reliable. Quality service, attention to detail. Recommend above any other SEO firm in Canada or the UK for top quality results.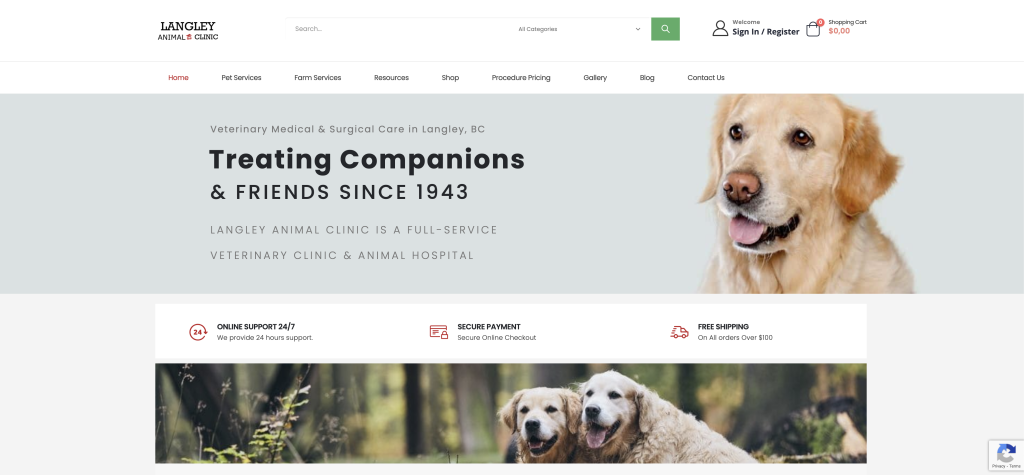 The Langley Animal Clinic is one of Canadas largest and most trusted veterinary clinics, and a proven example of how effective organic SEO, Google Ads (formerly known as Google AdWords), Social Media and Google Map listings can ensure they are number one every time.
Over the years, our SEO strategy and focus has evolved from ranking them #1 for many of their main procedures and specialties in their local area, to a national level ecommerce SEO campaign that drives thousands of dollars in recurring monthly revenue.
Page 1 Rankings on Google
Find a time that works for you, and book a Discovery Call today.
Your Trusted Calgary SEO Company
Search engine optimization is big business.
That's because SEO is big for your business.
There is no shortage of choices of companies to choose from, but when you are looking for the right SEO company in Calgary, you aren't going to pick just anyone. You will want an SEO company in Calgary that can give you all of the following:
SEO that gets results, giving you a healthy return on investment

A trustworthy company that works hard to give you quality SEO work

Work produced locally, in your community, not outsourced

Face-to-face meetings and relationship building

Regular, easily understandable reports showing how you are doing against your competition

A history of satisfied customers in Calgary who can offer references
Using only reliable and effective white hat techniques, we will bring your website to prominence in the search engines, increasing the amount of organic traffic to your site.
We use only the most effective and proven white hat techniques to elevate your site's ranking in search engines.
Our Tried And Tested SEO Process
Our 4 step SEO process has helped hundreds of businesses to increase targeted organic search traffic to their websites, and ultimately generate more leads and sales online.
It all starts with ensuring that your site's technical foundations are built solidly and on sound SEO principles and best practices. Having the right foundations makes it easy for Google to find your most important pages.
With the foundations laid, it's time to start building. Identifying keywords that actually drive traffic in your niche and strategically placing them in key onpage HTML elements on the correct pages on your site helps Google to understand what that page is about and rank it accordingly.
Backlinks, citations, mentions of your brand name on the web and even people searching your brand name are all strong indicators that your site is useful, important and relevant. Fine-tuning and then amplifying those factors turn up your online brand power and drives authority to your website.
Now is the time to expand your reach with a well-researched, expertly designed content development strategy. We'll help you become the go-to resource in your niche, expand your organic reach and rank for more keywords. All by creating high-quality, research-driven content that engages your audience and answers the questions they are actively searching for.
Transparent, Real Time Reporting
24/7 access to your very own, custom reporting dashboard.
Track your rankings in real time.

Contact Us Today and Receive a Free $750 SEO Audit!
While other SEO companies in Calgary might give you a quote right off the bat, we will take a look at your business first to give you a free in-depth SEO and website audit. Why do we do this? It allows us to give provide you with a truly personalized, effective Calgary SEO marketing strategy so that we can bring you the results that others cannot.
Connect with Us Now to Get Our Free SEO Audit, Valued at $750!
We are more than just another SEO company in Calgary. As a certified Google Partner Agency offering online marketing services, we can do it all: social media marketing, website design, Google Adwords (PPC) online brand reputation, and more.
Contact our experienced, highly skilled search engine optimizationteam today and find out why we are recommended globally.
If you're looking for the best SEO company in Calgary, look no further than Marwick Marketing. We're a full-service Calgary SEO agency that can help you improve your website's search engine rankings and drive more traffic to your site.
We have years of experience helping businesses just like yours achieve success online, and we're confident that we can do the same for you. We'll work with you to develop a custom SEO strategy that fits your unique needs, and we'll help you track your progress so you can see tangible results.
If you're ready to take your business to the next level, contact Marwick Marketing today. We'd be happy to discuss our Calgary SEO services with you and answer any questions you may have.
What Is SEO? And How Can It Help My Business?
SEO (or Search Engine Optimization) is the process of identifying what keywords your target audience are typing in to major search engines like Google, and then optimizing your website so that it appears higher up in the organic search results for those terms.
As a result, your website gains more traffic. Your brand gains more exposure. And the number of leads / sales you make through your website grows too.
Here at Marwick Marketing, that's exactly what we've been doing for our clients since 2012.
By taking the time to thoroughly understand your target audience and your industry, we can combine our knowledge of your business with our decades of combined experience to help you increase your online reach and make more money from your website.
Our global team of SEO specialists live and breathe Search, and our tried and tested processes have powered growth for hundreds of business across Calgary and throughout Canada too.
So how does SEO work? How can we help your business grow online?
Well… there are hundreds and hundreds of factors that go into boosting a websites organic search positioning, but over the years we've boiled it down to a simple 4 step framework.
Laying the foundations
The very first thing we need to do with any new project, is to ensure that the foundations we're building the campaign on are technically sound.
This is the most technical and one of the most important parts of the whole SEO process.
Our goal in this stage is to ensure that the website is at a point where it is easily crawlable and accessible to major search engines.
Equally important here, is making sure that we restrict the search engine crawlers from accessing any unimportant pages of the site, and focus their time and efforts on our key, traffic driving pages.
This stage typically takes the first month or two of a campaign, but can take longer depending on the size and complexity of your website.
One of the benefits of hiring Marwick Marketing over any other Calgary SEO agency, is that our SEO specialists aren't just about theory and best practices. We're all about action and implementation, and whilst many other SEO agencies in Calgary and throughout Canada might simply provide you with a list of recommendations and a task list, our team likes to get hands on and actually implement as many of our recommendations as possible directly onto your website for you.
If your website is particularly large or complex in its functionality, or if it doesn't run on one of the popular mainstream CMS systems like WordPress or Shopify, you may prefer to have your inhouse or external 3rd party web development team handle the implementation phase for you. And that's totally fine too. We work in a consultative and advisory capacity for many large national and international organizations to help provide actionable SEO advice to their internal and external teams whilst driving revenue impacting SEO strategies.
Optimize your pages
Research and understanding is the key to success at this point in the process.
When you first start working with us here at Marwick Marketing, we put you through our rigorous Client Success Phase. It's an intensive 3 month commitment, where we'll meet more regularly and really get to understand your business, your industry and what you're goals are for your SEO campaign. Understanding your goals to the full allows us to identify clear KPIs that will form a measurement for success in your SEO campaign, and our strong focus on this stage in the process is what makes is a top Calgary SEO agency.
Once we truly understand what you're aiming to achieve, who your target audience are, the nuances of your niche and the platform you're starting from, only then can we take the time to research and explore the best target keywords to help you get to where you want to be with your business.
After identifying the best keywords to target, we'll set about matching them up to the correct target landing pages.
Once we know which pages we want to target for which keywords, we get to work on optimizing those pages for our main target keywords (as well as thousands of other related and long tail terms), always with the goal of increasing your websites organic visibility in the search engines, gaining you more traffic from major search engines and, ultimately, more leads and more sales online.
This is where Marwick Marketing is different to a lot of Calgary SEO companies you might have worked with in the past.
Unlike other SEO companies in Calgary, we don't simply provide you with long and complicated lists of problems that should be fixed.
We like to get hands on, and we firmly believe in implementing what we preach.
Most of our clients don't need (or even, have) a 3rd party website developer or inhouse tech person.
When you work with us here at Marwick, you don't get a monthly report with recommendations and best practices that you'll never be able to actually implement and use.
You get results. You get a full service digital marketing agency in Calgary.
Expand and grow
By this stage in the SEO campaign, we're usually hitting the 3-4 month mark.
Results are starting to build and the campaign is gathering momentum.
You're picking up ranking increases for your main target keyword terms and your website is in great technical SEO health.
A lot of other SEO companies will be taking their foot off the gas at this stage.
They'll ride this momentum and start to get complacent.
At Marwick Marketing, we do things differently.
Rather than being a time to take a step back, we see this as a time to double down.
With momentum behind it, this is the perfect time to expand the site and look for opportunities to create new targeted content to connect with your users, and further expand the number of keywords that your site can be found for in organic search.
At this stage, our keyword research specialists and our content development teams come together to identify your best opportunities. Then we get to work creating, optimizing and publishing the content that connects with your audience in the search engines, engages your users, and builds more traffic to your website at all stages of your sales funnel.
Developing further, awesome content not only allows you to rank for a wider range and scope of keywords, it also builds authority into your site and positions you as the go to resource and experts in your niche.
This is an extremely powerful way to build your brand, turn visitors into fans, and fans into customers.
Over the last 10 years, our Calgary SEO company has helped hundreds of businesses, both local and national, to achieve growth that transforms their businesses.
Are you ready to get started on growing your business? Call our Calgary SEO team today.