Find More Customers &
Grow Your Business
With Burnaby's
Premier
Google Agency
Start today with a FREE, no strings attached, audit of your current website.
As Metro Vancouver's third largest city, Burnaby's business community is thriving, with strong growth in industries like IT, biotech, life science, film, media, education, environmental services, tourism, agriculture and much more.
We work closely with the Burnaby Board of Trade and small to medium sized businesses of all shapes and sizes across Burnaby and the Lower Mainland in improve their organic rankings on Google and major search engines, drive more qualified traffic to their websites, and make more money online.
Our Burnaby SEO agency specializes in increasing rankings and traffic for small to medium sized businesses throughout the Lower Mainland.
We've helped some of Burnaby's best and most well known local businesses to grow online, powering bottom line revenue growth through targeted and tailored SEO services.
Our local, Burnaby based SEO agency team is a 20+ strong group of specialists spanning all areas of SEO. From technical SEO, to onpage SEO to offsite SEO with link building, outreach and content marketing. Whatever your campaign calls for, we have the expertise to power growth for your business online.
Book A FREE Discovery Call
Want to find out exactly how to grow your business online? Book a free, no strings attached Discovery Call with our team today, and let us show you how!
Powering Burnaby's Best Local Businesses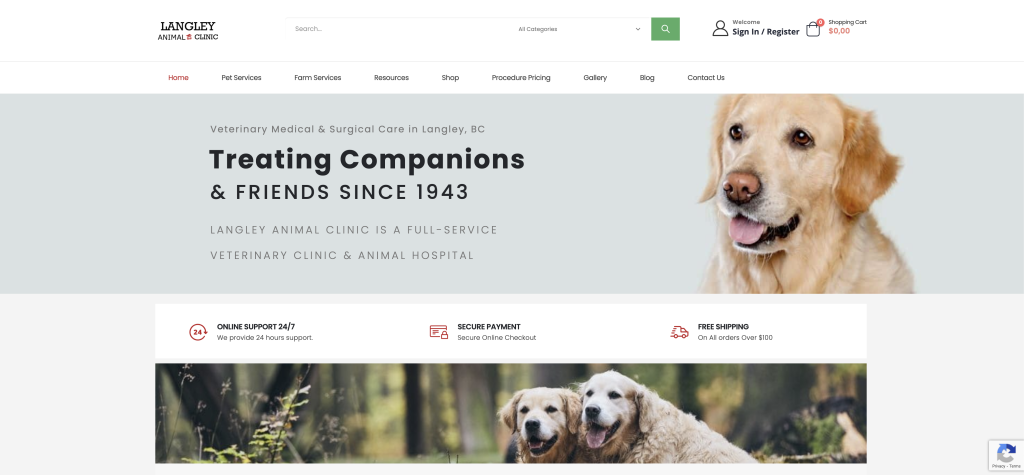 The Langley Animal Clinic is one of Canadas largest and most trusted veterinary clinics, and a proven example of how effective organic SEO, Google Ads (formerly known as Google AdWords), Social Media and Google Map listings can ensure they are number one every time.
Over the years, our SEO strategy and focus has evolved from ranking them #1 for many of their main procedures and specialties in their local area, to a national level ecommerce SEO campaign that drives thousands of dollars in recurring monthly revenue.
Page 1 Rankings on Google
Find a time that works for you, and book a Discovery Call today.
Your Trusted Burnaby SEO Agency
We understand you have a lot of choices when it comes to finding the best SEO Company in Burnaby. We also understand hiring the right SEO Consultant in Burnaby requires the following:
• Trust in the SEO Company to complete quality SEO (search engine optimization) work and not cheap SEO, black-hat SEO.
• You want all the SEO work to take place in Burnaby, never out-sourced!
• When done correctly SEO is an investment, and not a cost.
• Regular updates on how well your website is doing against your local and online competition.
• Meet face-to-face with the people behind the work.
• A large network of referring, happy customers in Burnaby, Canada.
We don't provide a one-price-fits-all, and we're unlikely to quote you until we've run an in-depth free SEO and website audit. SEO companies in Burnaby who give you a price BEFORE looking at what needs to be done are missing the point of customized, tailored SEO marketing strategy.
Transparent, Real Time Reporting
24/7 access to your very own, custom reporting dashboard.
Track your rankings in real time.

Our Tried And Tested SEO Process
Our 4 step SEO process has helped hundreds of businesses to increase targeted organic search traffic to their websites, and ultimately generate more leads and sales online.
It all starts with ensuring that your site's technical foundations are built solidly and on sound SEO principles and best practices. Having the right foundations makes it easy for Google to find your most important pages.
With the foundations laid, it's time to start building. Identifying keywords that actually drive traffic in your niche and strategically placing them in key onpage HTML elements on the correct pages on your site helps Google to understand what that page is about and rank it accordingly.
Backlinks, citations, mentions of your brand name on the web and even people searching your brand name are all strong indicators that your site is useful, important and relevant. Fine-tuning and then amplifying those factors turn up your online brand power and drives authority to your website.
Now is the time to expand your reach with a well-researched, expertly designed content development strategy. We'll help you become the go-to resource in your niche, expand your organic reach and rank for more keywords. All by creating high-quality, research-driven content that engages your audience and answers the questions they are actively searching for.
Don't Hire A SEO Company in Burnaby if..
The company or SEO consultant suggests any of the below:
Heavy upfront fees should ring an alarm. Why should you be asked to invest heavily in SEO  before you've seen the process at work?
"Guaranteed" results for first-ranked positions are another warning sign.
If you come across an agency that promises to place your site at the top of a search list, do some investigating. Find out what key word(s) they're basing their claim on: are they commonly used search terms, or are they counterintuitive words and phrases?
Watch out for SEO Companies that are cryptic about the links they plan to build. If they don't offer to give you monthly reports detailing the specific progress of your campaign, think twice about working together.
We're 15 Minutes from Burnaby!
Marwick Marketing is located two minutes from Highway 1 on the 200th intersection. Our address is 8661 201st Street, 2nd Floor, Langley, British Columbia, V2Y 0G9.