Data Driven, Results Orientated,
Join one of Vancouver's leading SEO companies today, and take your business to the next level.
Since 2012, we've helped hundreds of local Vancouver businesses to rank higher in leading search engines, increase their visibility online, and attract more traffic and more customers from organic search.
Ready to rank?
Getting started is easy. Just tell us about your business below, and one of our Vancouver SEO experts will reach out to show you how it all works.
We're glad you asked!
At Marwick Marketing, we're not your average Vancouver SEO agency. Here's just a few of the things that make us different.
Local Companies We're Proud To Call Our Clients
Paw-fect Google Rankings!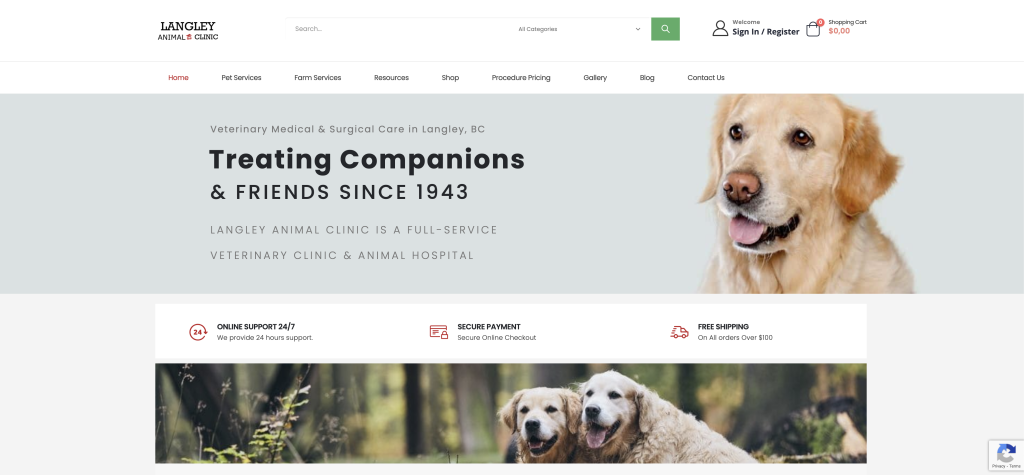 The Langley Animal Clinic is one of Vancouvers largest and most trusted veterinary clinics, and a proven example of how effective organic SEO, Google Ads (formerly known as Google AdWords), Social Media and Google Map listings can ensure they are number one every time. We can help your vet clinic, as we have done for Langley Animal Clinic and many others.
Page 1 Rankings on Google
What Our Vancouver Clients Are Saying
I started my company Elite Home Theater Seating (Elite HTS) in 2004. Since that time I've hired at least 7 different SEO companies and it was always one frustrating experience after another with many years wasted.
This cycle finally ended when we hired Marwick Marketing at the end of last year. Since then our SEO positioning has dramatically improved week after week with many search terms on page 1 of Google and the level of service has been exceptional. I believe this is a result of the genuine care Marwick shows towards their clients combined with the knowledge and experience of their team. I also feel that being a boutique agency, they are not too big or too small which allows them to provide a higher level of service than the larger agencies in town.
Bobby Bala
CEO, Elite HTS
I've dealt with other SEO companies, it can be difficult to get your monies worth. Marwick's team delivered as promised and more than once went above and beyond their scope to help us with a security issue for example. Monthly reports, great results, very good customer service and support. Look no further.
David Deckert
Sunbury Cedar Ltd
Marwick's team has done wonders for my business. They are always thinking of new things to improve my website and google ranking. I wouldn't be where I am today without them. Best investment I have made.
Kristy Dusdal
Realtor
You Might Have Seen Us Around
As you might expect by now, we've picked up a few mentions and awards over the years. You can see more over on our Press page.
Still Wondering What Makes Us The Best SEO Agency In Vancouver?
Here's what you can expect from working with us…
Our Tried And Tested SEO Process
Our 4 step SEO process has helped hundreds of businesses across Vancouver to increase targeted organic search traffic to their websites, and ultimately generate more leads and sales online.
It all starts with ensuring that your site's technical foundations are built solidly and on sound SEO principles and best practices. Having the right foundations makes it easy for Google to find your most important pages.
With the foundations laid, it's time to start building. Identifying keywords that actually drive traffic in your niche and strategically placing them in key onpage HTML elements on the correct pages on your site helps Google to understand what that page is about and rank it accordingly.
Backlinks, citations, mentions of your brand name on the web and even people searching your brand name are all strong indicators that your site is useful, important and relevant. Fine-tuning and then amplifying those factors turn up your online brand power and drives authority to your website.
Now is the time to expand your reach with a well-researched, expertly designed content development strategy. We'll help you become the go-to resource in your niche, expand your organic reach and rank for more keywords. All by creating high-quality, research-driven content that engages your audience and answers the questions they are actively searching for.
Transparent, Real Time Reporting
24/7 access to your very own, custom reporting dashboard.
Track your rankings in real time.

Your Vancouver SEO Questions Answered
Other service areas
Marwick Marketing provides local, national and international SEO services across:
Abbotsford, Burnaby, Calgary, Chilliwack, Comox, Coquitlam, Edmonton, Kamloops, Langley, Maple Ridge, New Westminster, North Vancouver, Prince George, Richmond, Squamish, Surrey, Toronto, Tsawwassen, Victoria, Whistler, Ottawa, Mississauga, Winnipeg.