Google Ads Account Access
In this online marketing blog post we take a quick look at how to easily share and link your Google Ads account. If you're a small business using Google Ads (Formerly known as Google AdWords), you might have struggled with some of the following issues:
How to grant access to your Google Ads account to other users
Understanding which users currently have access to your account
Revoking AdWords account access to previous users
Granting access to an agency or a third-party PPC software product
Let me walk through how to deal with each of the above scenarios.
Managing Google Ads Account Access
Log into your Google Ads account. By navigating to the "Account access" option in the "My account" tab, you can quickly get a view of:
Pending Invitations – See a list of the the invitations you've sent to third-party users and the status of the invitations.
Users with Account Access – Here you can see which users, outside of the person who created the account, currently have access. If you're new to a company, you might not know who all has access, and over time many advertisers grant access and forget to go back and clean up who does and doesn't have the ability to get into the account, so this screen can be a helpful reminder.
Client Managers – If you're not sure if your company has granted access to a client manager you can see whether one has been granted access here. Until recently you could only link two MCC accounts to your Google Ads account: one UI & API (typically an agency) and one API-only (typically used for software), but now you can link up to five MCC accounts, so removing client managers is less frequently an issue. From this area in the account you can start to perform specific tasks around account access and management.
Inviting Other Users to Access Your Google Ads Account
To invite other users, you simply click the "Invite other users" button at the top of the My Account > Account Access screen and fill in a few fields of information: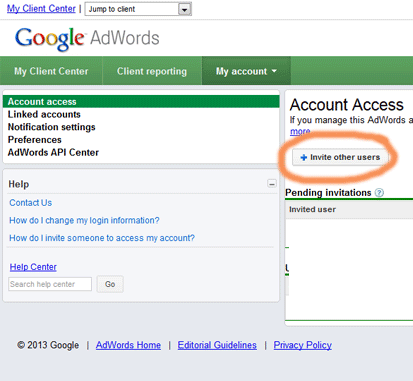 Christian Thomson
LinkedIn
07/03/2013
Christian is a British-born entrepreneur and founder of Marwick. For over 19 years, Christian has successfully helped businesses excel in digital marketing. Founded in 2012, Marwick has grown from a start-up to the 11th Fastest Growing Company in Canada in 2020 and expanded into the UK in 2019.