"Point. Shoot. Ask"
The three simple steps you need to do in order to use Jelly, a new mobile app created by Twitter cofounder Biz Stone. This is a photo app that allows you to ask and answer questions within your social networks So far, it's only designed for mobile users and it gives you a 240-character limit for each post.
Like any social media app, it can be quite addictive once you get the ball rolling. Jelly is ideal for tourists and people who just want to help someone out.
How do you get Jelly-ing?
First off, make sure you search "Jelly Industries" in the app store to find the app or else you'll be led to jellybean games. Once downloaded, you sign in by connecting your Twitter or Facebook, or both. Jelly encourages users to connect to both social media platforms to connect to more people. Currently this app has no features, and by features I mean a search engine for topics or categories, which would be great for the user.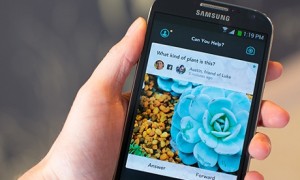 It has a very simple layout. To ask a question – take a photo, or use one that's already in your photo library and send it out. To answer questions, tap the icon on the top left. Questions will appear one by one. You can swipe the question down to remove it, star it to see what other people say, or answer it. You can even draw a response onto the photo. So if you walk by a restaurant but you want to know if it's worth going too, you take a photo of the restaurant and then it will be sent out to your Twitter and Facebook friends to answer and give you feedback. You can even send your question to a non-Jelly-using friend by sending the photo with a link to the question so they can see and answer it on the internet. You could say this app is just like Instagram but with questions.
Are we ready to Jelly?
Jelly has the potential to be a very effective app, it's even featured on iTunes "best new apps" section. As of right now, I've noticed that most users aren't taking this app very seriously by asking comedic questions about their pets or significant other which could be quite entertaining at the same time.
In theory, this is a great app to use to kill time while you're on a bus or skytrain to school or work, or when you're patiently waiting at the doctor's office. No doubt there are some technical problems due to the fact that this app was only just released last week. It can be an useful app for those who like to ask a lot of questions. Lastly, people enjoy photos rather than text posts so there's the major difference between Jelly and all those other Q&A social apps.
[Tweet "Have you tried out Jelly yet? What do you think?"]
For more information visit: https://jelly.co
Or check out their video:
Christian Thomson
LinkedIn
13/01/2014
Christian is a British-born entrepreneur and founder of Marwick. For over 19 years, Christian has successfully helped businesses excel in digital marketing. Founded in 2012, Marwick has grown from a start-up to the 11th Fastest Growing Company in Canada in 2020 and expanded into the UK in 2019.