(All photos courtesy of Sparklinghill.com)
Sparkling Hill Resort is a health and wellness retreat nestled atop Mount Royce in the northern Okanagan Valley in the heart of British Columbia's world-class wine region. As you turn off the 97 Highway, tranquil winding roads surrounded by bucolic vistas — rolling hills, grazing cows, grassy fields — set the stage for your rejuvenating experience. Ascending to the peak of the rocky bluffs flanked by sprawling mountainscapes and Okanagan lake, the award-winning architectural marvel is a magnificent juxtaposition between the natural world and cutting-edge contemporary design. Privately owned by Mr. Langes-Swarovski, the patriarch of the Swarovski crystal empire, it is the only resort in the world to incorporate 3.5 million Swarovski crystals throughout all aspects of its design.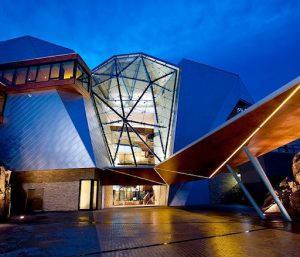 As one of North America's premiere health and wellness resorts, Sparkling Hill is renowned for their 40,000 sq. ft. European-inspired KurSpa where guests are encouraged to explore a "better level of health" with over 100 innovative therapies and treatments. It is health and wellness at its finest.
When the resort was forced to temporarily close on March 21 due to COVID-19, it was "an immensely somber and uncertain time," writes Hans-Peter Mayr, President & CEO of Sparkling Hill Resort. For nearly three months, the resort was closed to the public. For a resort renowned for their spa treatments, it was uncertain how their recovery was going to look like in a low-touch world.
One month after their reopening on July 15, I sat down (physically distanced, of course) with Sparkling Hill's Operations Manager, Conagher Jones, for an insightful conversation about how a luxury wellness resort reopens with confidence while also preserving the guest experience, albeit in a different world.
Plan, pivot, plan some more
"It's been a real exercise in adaptability," says Jones. "We're making sure we're complying— complying and exceeding— all of the public health requirements and just making sure that we balance all those things with protecting the Sparkling Hill experience."
Jones describes the organization's reopening efforts as a "fluid" and ever-evolving process, partly due to the developing requirement directives from Interior Health but also because it is a process of continual refinement, especially for a resort of their distinction. But where do you start? And where do you focus your energy?
"The answer really has to be everywhere." says Jones. "It has to be well thought out in each single area of the resort…we relied a lot on the department managers. They're the experts in their area so they had a lot of input into the plan of what they thought would work best…staying open to dialogue and feedback and listening to their concerns — that has allowed us to really deliver a high level of service despite all of the additional kinds of procedures that we've had to process."
Their foundational 15-page COVID-19 response plan was developed and refined all the way until days before the official reopening and continues to be updated as new protocols and guidelines are issued, highlighting the need to encourage a flexible mindset throughout a company's planning and communications. Being adaptable to change, although somewhat counter-intuitive, can lead to faster responses and a more refined plan especially in today's world.
Stay connected to your customers and provide value
The resort temporarily closed from March 21 to June 15. Extended closures for any type of business can be detrimental, no matter the size of the company. So what can businesses do in the interim? How can a business stay relevant and ensure they can reopen with success?
Jones says, "There [was] still uncertainty about whether [we'd] be open…so what we were able to do successfully is create valuable content."
For example, for the duration of the closure, the organization's team provided the Sparkling Hill experience via their blog posts three times a week encouraging people to continue to take their health and wellness into their own hands. They had Mental Health Mondays, where a psychiatrist on staff provided practical tips on how to cope with isolation, stress and anxiety as well as important information about how to care for your mental health; Wellness Wednesdays in which the spa manager provided DIY massage tips or how make your own aromatherapy blends; and Foodie Fridays offered immune-boosting recipes and food health information from the resort's Executive Chef.
"It was a nice way to stay engaged with our guests and we were able to stay top of mind [sic] in a way that added value."
Setting experience expectations
With there being so many unknowns in the midterm, and as industries and businesses continue to reopen, brands and companies must take steps to ensure consumers feel safe when visiting their locations, and especially true for a resort acclaimed for their wellness spa.
"We have a 40,000 square foot spa. That's really central to the experience here," says Jones. "So we knew we didn't want to reopen the resort until at least the majority of the spa experience could be in place. Guests understand that it is still Sparkling Hill, but there are going to be some changes to [their] experience."
For one, there's a thermal camera — discreetly placed at the resort's arrival entrance — that takes your temperature as you enter. And, at the time of the interview, the resort's saunas and steam rooms remain closed, as per Interior Health guidelines, including a 50 person maximum occupancy at their pool.
"It's really about setting guest expectations — so that [guests] feel safe, and feel confident knowing we are taking the necessary steps so they can have a comfortable stay in a safe and hygienic environment. So whether that's through the booking process — via phone or online— the confirmation emails, information we're sharing on social media, email marketing campaigns — all of that set the expectation. And the guests get to make that decision. They understand this might not be the full experience. But the response has been overwhelmingly positive. The guests are comfortable with what we're doing and are happy to come back to us."
Indeed so. During my stay at Sparkling Hill, Jones confirmed that they were operating at near full occupancy, provided the social distancing requirements limiting their overall capacity. And based on the growing waitlist for both rooms and spa treatments, it appeared as if guests were more than confident in the steps the resort has taken to ensure their safety.
Stay fluid
There is no playbook for reopening with success during a global pandemic. Many businesses and organizations can find themselves struggling to understand which health and safety policies will have the greatest impact on consumer confidence and, even more challenging, how these changes will affect the guest experience, and ultimately, the brand.
When asked what the future holds in the foreseeable future, Jones says, "It's a dissatisfying answer, but I think it's still very hard to say, because [sic] there's still a lot of uncertainty."
As leaders in wellness travel, Sparkling Hill Resort is a glittering example of how the hotel and wellness industry is adapting to change and staying flexible to more change ahead as we emerge out of a lockdown and into a new world. They showcase the need for a fluid, forward-looking approach that incorporates new protocols with the evolution of their brand and customer experience.
Of course, tomorrow is uncertain even in the best of times, but by sharing their insights and offering strategies to help other businesses reopen — it helps all of us in our own recovery to health and wellness.
Christian Thomson
LinkedIn
28/07/2020
Christian is a British-born entrepreneur and founder of Marwick. For over 19 years, Christian has successfully helped businesses excel in digital marketing. Founded in 2012, Marwick has grown from a start-up to the 11th Fastest Growing Company in Canada in 2020 and expanded into the UK in 2019.