Instagram launched in October 2010 and has gone from a trendy "Hipster Only" iOS-only app to a full scale social media network.
Fast forward only three years (which is a long time in the world of Social Media) and Instagram is used by 25% of Fortune 500 companies and hosts over 150,000,000 users.
To end 2013 with an Insta-Bang, Statigram has launched a free short video of your best photos in a funky short video.
The key points are free and short, but pretty fun none-the-less.
Romain Ouzeau from Statigram comments "To do so in the most beautiful manner we have released an exclusive video snapshot that features your 2013 best Instagram moments. We wanted to offer you this special gift so you can share it with your own community."
This is my Statigram from 2013, a funny mix of work, play and family.
Reference:
1) New Business Cards for Marwick Marketing.
2) My daughter attends her first Ballet recital in Canada.
3) Eva the Pug dog has to wear a funny looking bandage.
4) Marwick Marketing helps US technology firm, Sensoria, Crowdfund over $90,000USD using Social Media.
5) We headed over to Tofino on Vancouver Island for some surfing at the end of Summer.
6) Marwick Marketing moved into new offices in Greater Vancouver (Langley)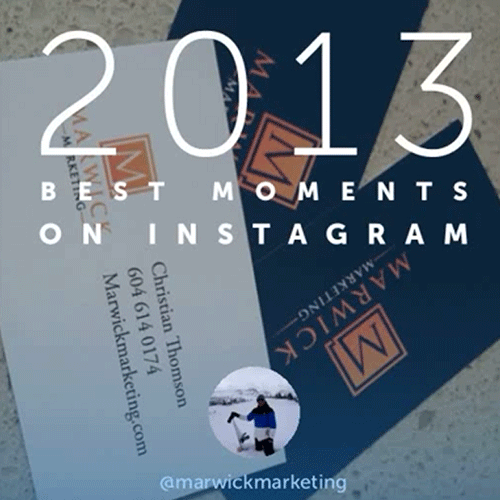 To claim your video snapshot all you have to do is sign-in on Statigram and request it. The video will be emailed to you, normally in about 12 hours. Once you've downloaded the video on your mobile share it directly on the Instagram app using #memostatigram and get featured on the Statigram Facebook Page.
The video is e-mailed to you, so upload it to Youtube or Viemo if you want to add it to your website or share the link.
Are you on Instagram?
I'd love to connect, share your handle below and I'll see you on Instagram! Happy New Year.
Christian Thomson
LinkedIn
28/12/2013
Christian is a British-born entrepreneur and founder of Marwick. For over 19 years, Christian has successfully helped businesses excel in digital marketing. Founded in 2012, Marwick has grown from a start-up to the 11th Fastest Growing Company in Canada in 2020 and expanded into the UK in 2019.