Some great news this week for SEO consultants and business owners alike. Google's crazy long url's on your business and personal profiles are going. Find out how to claim yours before someone else does!
Google Plus has gone strength to strength since its launch in 2011. Many people joked about it being a no-man's land compared to Facebook and Twitter.
No Longer a Social Media Joke
However it was and still is impossible to ignore the potential strength for good quality SEO and Social Media when powered by Google, the biggest search engine in the world.
It is unbelievable to see the growth of the new social network in such a short time compared to the growth of Facebook and Twitter. It is reported that Google+ now has a total of 500 million registered active users!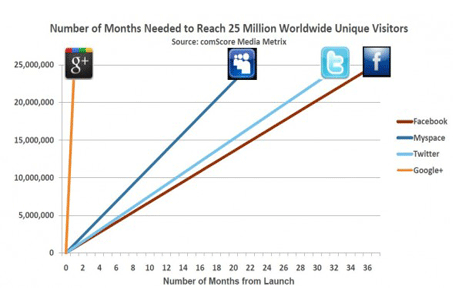 If you have been active (or at least tried to figure it out) on Google+ now, you will have possibly noticed that the URL of your personal and business profile looks quite ugly, for example:
https://plus.google.com/113914713777855840876
[Tweet "#Google is offering vanity URLs for verified accounts and other well-established accounts."]
You just need to type in short URLs like for example my profile I updated this morning following a prompt and instead of the hideously long url as before it's now a neat URL:
https://plus.google.com/+ChristianThomson
This also applies to company pages you manage for example our new page domain (Vanity URL) google.com/+Marwickmarketing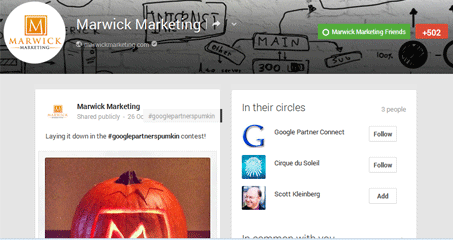 Google announced that they are introducing custom URLs to a limited number of verified profiles and pages, so you "may" have to wait for some time to clean our URLs. But it's worth logging in to see if yours is available as like domain names Google can only issue one. Google is rolling out the feature slowly and it will be available to most users very soon.
Requirements for Google Plus Vanity URL
The requirements are minimal to get these custom URLs:
Has a profile photo, and
Has at least 10 followers, and
Has an account that's at least 30 days old
But if you read the terms of service, you'll see this: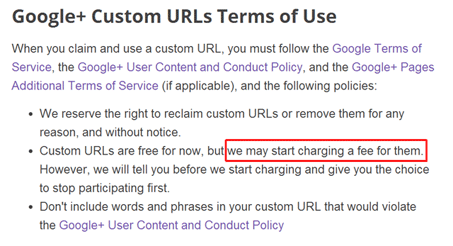 I don't imagine anytime soon will they charge for this, but it's interesting to note. If they do I'd guess the charge would be the same scale as a domain name $10 – $20 per year.
Google+ Direct Connect
Recently, Google has announced a search-specific feature called Google+ Direct Connect.
The feature gives visibility for Google Plus pages as the pages will show up when people type query in Google+ Search, for example, when people type in "+MarwickMarketing", they will see the icon and link to the Google+ page of the brand. To make your page eligible for this feature, you just need to install the Google+ badge on your website.
Google will determine your page's relevancy and popularity based on its algorithms; you will be able to get a custom URL if your page qualifies. We can understand that Google encourages us to be more active on Google Plus by engaging people, updating posts regularly and driving people to add your page to their circles. You absolutely get a better chance when your page becomes more popular. And don't forget when you post a link to your website it counts as a good link for quality SEO.
Do you use Google Plus? Did you claim your Vanity URL? Feel free to share it below!
Christian Thomson
LinkedIn
31/10/2013
Christian is a British-born entrepreneur and founder of Marwick. For over 19 years, Christian has successfully helped businesses excel in digital marketing. Founded in 2012, Marwick has grown from a start-up to the 11th Fastest Growing Company in Canada in 2020 and expanded into the UK in 2019.