Find More Customers &
Grow Your Business
With Canada's
Premier
Google Agency
Start today with a FREE, no strings attached, audit of your current website.
Book A FREE Discovery Call
Want to find out exactly how to grow your business online? Book a free, no strings attached Discovery Call with our team today, and let us show you how!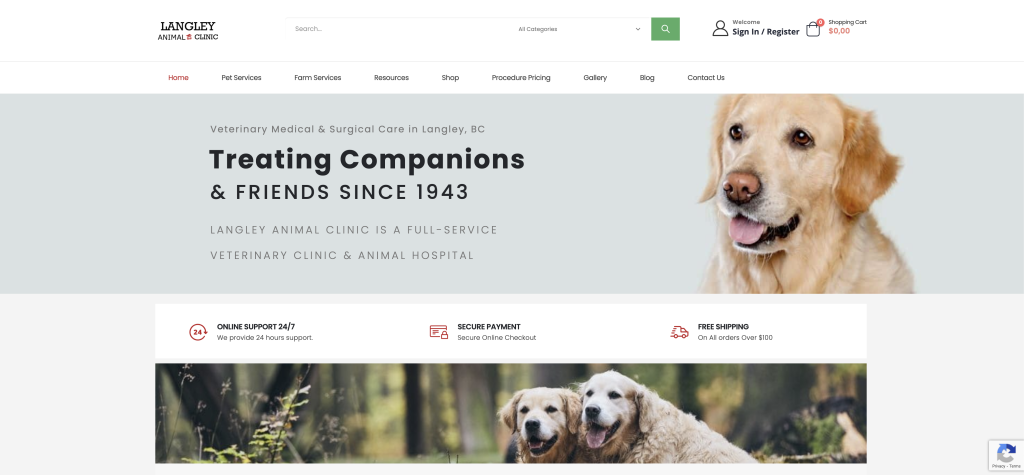 The Langley Animal Clinic is a proven example of how effective organic SEO, Google Ads (formerly known as Google AdWords), Social Media and Google Map listings can ensure they are number one every time. We can help your vet clinic, as we have done for Langley Animal Clinic and many others.
Page 1 Rankings on Google
Find a time that works for you, and book a Discovery Call today.
Proven Marketing Solutions
Does your window cleaning company have a clear view of the future? If you are looking for ways to help your company grow and bring in more clients, then digital marketing can help.
When clients are looking for a professional window cleaning company, you want them to consider you first. Digital marketing will help you get out in front of a wider, more targeted audience, and help potential customers realize why you are the clear choice for their window cleaning needs.
Search Engine Optimization for Window Cleaning Companies

Search Engine Optimization is the process of improving your site in the eyes of Google and other search engines. The reason this matter is that when Google sees value in your site, they will rank it higher, closer to the top of their Search Engine Results Page (SERP), and that is exactly where you want to be. Why?
When searching for something online, the average user will only click on the top 3 results. This means that if your site appears anywhere after that, your chances of receiving a click drops dramatically. Being the 7th or 8th result might sound impressive as part of the top 10, but you may as well be on the next page.
What Search Engine Optimization does is work to constantly improve those things upon which Google places value. If your site is slow to load, for example, users may click away before it even finishes loading, especially on mobile. If users are not staying on your page for more than a few seconds, it can be interpreted as your site lacking value, and Google always tries to serve up the highest-value, most relevant sites to users.
Given that there are more than 40,000 Google searches taking place every second, you will want to be as visible as possible. The better your ranking, the better the chance of receiving clicks. The more clicks, the more potential clients.
A More Efficient Option
As we have said, more traditional methods of advertising are not dead and gone. They absolutely do have their place, and in the right circumstances, they can be valuable and effective additions to your marketing efforts. Digital marketing, however, has advantages that other forms of marketing do not.
Printing flyers is an old standby for many businesses, but how many of those flyers end up in the hands of those actively seeking your services? Many of them will be glanced at and tossed into the recycling bin, but if you print and distribute enough, you will find clients.
Digital marketing, on the other hand, allows you to target your audience more precisely; it's like having your flyers go only to those who are already looking for your services. SEO is one way of doing this. Google Ads is another.
Top Rated Digital Marketing Agency
4.9/5 from over 100 reviews!
Graham Wilson
CEO @ Life Support Group
"Amazing team at Marwick Marketing - job well done! Fast, responsive, innovative and reliable. Quality service, attention to detail. Recommend above any other SEO firm in Canada or the UK for top quality results."
Tyson Nicholson
Sunly.ca
"Markwick has done a phenomenal job at both PPC and SEO. They have been able to work with me in a small market ensuring targeting was on point to allow me to get the right visitors. This led to great conversion rates. Within a week for PPC they were able to reduce my cost per lead and increase the amount of leads (which were all relevant leads too!)."
Angie Wahi
McQuarrie
"I have been working with the team at Marwick for over 6 months and after unsuccessful attempts to work with some other local agencies, I am pleased to have found the team at Marwick. They are extremely agile, responsive, and have helped pivot the companies entire digital marketing strategy with great results in just a few short months...all while developing and launching a brand new custom website too!"
Google Ads for Window Cleaning Companies
While SEO can be incredibly effective, it is also an ongoing process that takes time and effort. If you find that you are not seeing the results that you want as quickly as you would like, there is always the option of Google Ads.
Google Ads is a pay-per-click (PPC) platform that can bring you to the top of the SERP quickly. You will target specific keywords and phrases such as "window cleaning" so that when users enter those search terms, you will appear at the top of the page, right in front of their eyes. Window cleaning companies actually have an advantage in that when someone is searching for them, they are usually ready or almost ready to take action. You will connect with people and businesses that want you right away.
If you are not already making use of digital marketing, now is the time. Your competition may already be doing so, and you don't want to leave them having the advantage for too long.
Contact us today for more information about what digital marketing can do for you!
What Can Google Ads Do For Your Window Cleaning Company?
Hyper granular keyword and location targeting means you'll have full control over where, when and how your ads are served. Quickly test new services, and ramp up your most profitable campaigns.
Serve laser focused ads to your local target market wherever they are online, with the power of the Display network.
Are you seeing high numbers of users come to your website, but not convert into new clients? Remarketing can help keep you top of mind, with focused follow up campaigns for non converting users.
Find a time that works for you, and book a Discovery Call today.
Why Choose Digital Marketing?
Running your own small business means keeping a tight eye on your budget and doing things in the most cost-efficient and effective way possible. For many, that perfectly describes digital marketing. While traditional marketing is far from done, it can be more expensive for a lesser result. The chart below is from Google Trends and show's how potential customers are turning to Google to find a window cleaner, it is increasing every year with a seasonal spike during Spring.
Online activity is now part of the average person's daily life. Whether they are looking at email, engaging with friends and family on social media, banking and paying bills online, or most importantly for your business, looking for goods and services, the typical Canadian spends 3- 4 hours online every day. This gives you more opportunities to connect with them than almost any other medium.
Today's consumers no longer pull out those thick, heavy Yellow Pages books to find the services they need. Instead, they look online to find recommendations, reviews and learn more about the companies they are considering.