Find More Patients &
Grow Your Practice
With Canada's
Premier
Google Agency
Start today with a FREE, no strings attached, audit of your current website.
Book A FREE Discovery Call
Want to find out exactly how to grow your business online? Book a free, no strings attached Discovery Call with our team today, and let us show you how!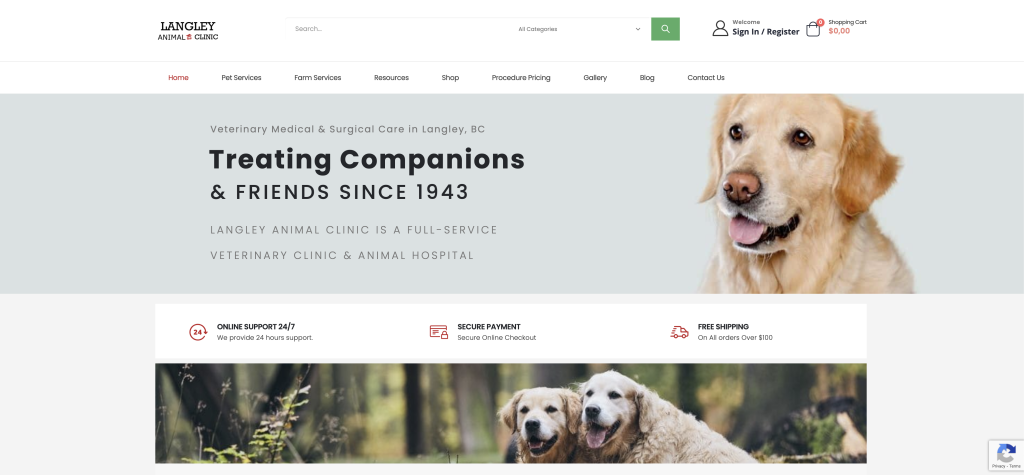 The Langley Animal Clinic is a proven example of how effective organic SEO, Google Ads (formerly known as Google AdWords), Social Media and Google Map listings can ensure they are number one every time. We can help your vet clinic, as we have done for Langley Animal Clinic and many others.
Page 1 Rankings on Google
Find a time that works for you, and book a Discovery Call today.
Proven Vet Marketing Solutions
Working as a veterinarian can be an incredibly rewarding career. Being surrounded by animals is always wonderful, but being able to help them when they need it, easing their pain, helping them get better, and keeping them from getting sick in the first place is something special.
When a pet owner needs assistance for their furry or feathered friend, you want to be sure that they can find you quickly and easily. This is where digital marketing comes in.
Search Engine Optimization for Vet Clinics

A key component of digital marketing, Search Engine Optimization (SEO) is all about improving your ranking in the search engine results pages (SERP). The vast majority of those looking for something online never make it past the first page of results. That means that you could have the most beautiful website, but almost no one will see it if it's on the second or third page.
Search Engine Optimization focuses on making your site more attractive to users and by extension Google and other search engines. Google is heavily focused on user satisfaction, and they will always try to serve up the most relevant site to match a user's input. That means you need more than good information and pretty pictures. Your site must be quick and responsive, especially on mobile devices. It also needs to be easy to navigate. And then, of course, it does need high-quality content that is relevant.
As you can see from the chart on the right, the search term (keyword) "Vet Clinic" is searched 11,000 times per month in the USA and searched 3,000 times a month in Canada.
The days of using the paper version of Yellow Pages when looking for something have passed. Consumers today will do their searching online, and when they do, they are often already prepared to take action. When someone in your region looks for a vet, being at the top of the search results means that you are the most likely to be chosen to meet their needs.
Top Rated Digital Marketing Agency
4.9/5 from over 100 reviews!
Graham Wilson
CEO @ Life Support Group
"Amazing team at Marwick Marketing - job well done! Fast, responsive, innovative and reliable. Quality service, attention to detail. Recommend above any other SEO firm in Canada or the UK for top quality results."
Tyson Nicholson
Sunly.ca
"Markwick has done a phenomenal job at both PPC and SEO. They have been able to work with me in a small market ensuring targeting was on point to allow me to get the right visitors. This led to great conversion rates. Within a week for PPC they were able to reduce my cost per lead and increase the amount of leads (which were all relevant leads too!)."
Angie Wahi
McQuarrie
"I have been working with the team at Marwick for over 6 months and after unsuccessful attempts to work with some other local agencies, I am pleased to have found the team at Marwick. They are extremely agile, responsive, and have helped pivot the companies entire digital marketing strategy with great results in just a few short months...all while developing and launching a brand new custom website too!"
Google Ads for Vet Clinics
While Search Engine Optimization is an excellent means of improving your profile online, it takes time and effort. Sometimes, you will want more immediate results, and that is when Google Ads is right for you.
Google Ads is a pay-per-click (PPC) platform. When used correctly, it can move you all the way to the top of Google's SERPs. By targeting specific keywords and phrases such as "dentist" or "dentist near me" you can put your clinic right in front of the customer. Often, when a pet owner is searching for something, they have an immediate need. By targeting those keywords that they are most likely to use, you can connect with them right when they need you most.
For example, if someone has a pet that is ill, they might input something like "sick dog." This gives you a strong advantage when advertising, and if your clinic's website is the first they come across when they are ready to take action, they are unlikely to keep looking.
By tapping into the power of digital marketing, you can bring yourself new clients and help your practice grow. Contact us today and let us show you everything that digital marketing can do for you.
Random Fact
The average cost per click for "Vet Clinic" in Canada is $1.89 and in the USA is $2.03.
What Can Google Ads Do For Your Vet Clinic?
Hyper granular keyword and location targeting means you'll have full control over where, when and how your ads are served. Quickly test new services, and ramp up your most profitable campaigns.
Serve laser focused ads to your local target market wherever they are online, with the power of the Display network.
Are you seeing high numbers of users come to your website, but not convert into new clients? Remarketing can help keep you top of mind, with focused follow up campaigns for non converting users.
Find a time that works for you, and book a Discovery Call today.
Social Media for Vet Clinics
Social media is a ubiquitous part of everyday life. On average, people will use social media for 144 minutes every day. Many will use it much more than that. With so many eyes on platforms like Facebook, Instagram, and others, you have an unprecedented opportunity to connect with your audience.
When choosing a vet, pet owners need to feel secure in their choice. They will want to deal with someone who is highly knowledgeable and competent. They will also want to know they are entrusting the well-being of their pet to someone who truly cares.
Social media allows you to show clients exactly who you are before they ever even meet you. Your social media accounts allow you to show the atmosphere, attitude, and culture of your clinic. You may wish to post cute pictures or funny videos. The internet is well-known for its love of a cat and funny pet videos, and this could be a perfect fit for your clinic. You can also share important information with your audience, quickly and easily. Is there something that pet owners in your area need to be aware of? Do you want to remind them not to leave their dog in the car on a hot day?
You can easily use your social media accounts to educate and inform clients. This helps to establish you as an authority in your field, leading to a sense of trust and confidence. Share articles from your blog, and those who read them can follow the link back to your website, increasing your traffic. Alternatively, some might prefer to contact you through Messenger or other options.
Your followers will know that you are the one to turn to when they need a vet, want information, or maybe just want to enjoy pictures of cute animals.