Find More Patients &
Grow Your Practice
With Canada's
Premier
Google Agency
Start today with a FREE, no strings attached, audit of your current website.
Book A FREE Discovery Call
Want to find out exactly how to grow your business online? Book a free, no strings attached Discovery Call with our team today, and let us show you how!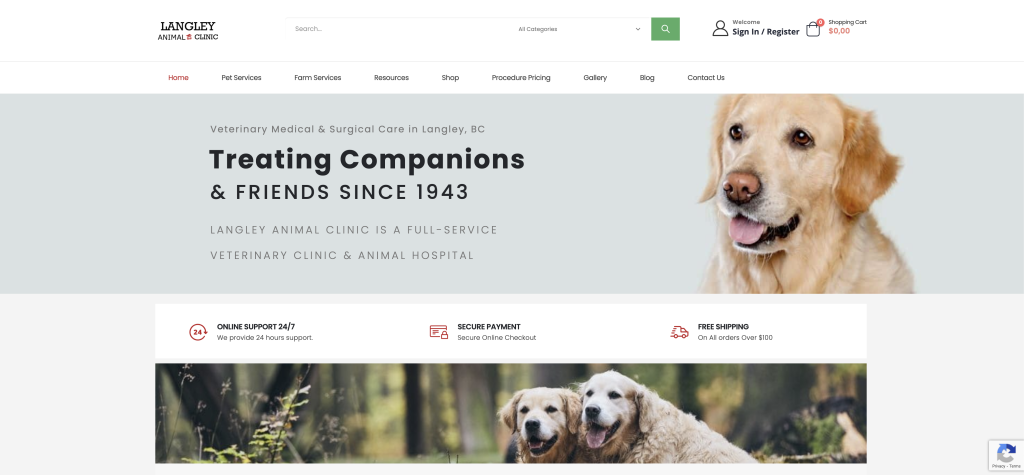 The Langley Animal Clinic is a proven example of how effective organic SEO, Google Ads (formerly known as Google AdWords), Social Media and Google Map listings can ensure they are number one every time. We can help your vet clinic, as we have done for Langley Animal Clinic and many others.
Page 1 Rankings on Google
Find a time that works for you, and book a Discovery Call today.
Proven Mental Health Marketing Solutions
For many years now, efforts have been underway to destigmatize mental health issues. Advertising designed to inform and educate the public about the realities of mental illness and addiction has appeared over a variety of media, allowing valuable discussions to take place and encouraging those who need help to seek it out without fear of judgment.
Each year in Canada, addiction and mental health problems are experienced by 1 in 5 people, and approximately 8% of adults will deal with major depression during their lifetime. Mental illness can affect anyone, with no restrictions based on age, culture, education, or income. In fact, almost 50% of the population will have experienced mental illness by the time they reach the age of 40.
Work remains to be done, however, as many still perceive those with addiction or mental illness as dangerous and unpredictable. According to Patrick W Corrigan, PsyD, the stigma of mental illness remains and is "in the same category as racism and sexism. It permeates all of society and affects people at all levels."
All of this means that as a mental health professional, there are many people who could benefit from your service, but are they finding you? Are your services easily accessible to those who need them? Digital marketing is the best means of ensuring that they are.
Search Engine Optimization for Mental Health Professionals

Search Engine Optimization (SEO) is a continual process that aims to improve your online profile, allowing your business to rank higher in the search engine results pages (SERP). It is possible to have a highly informative, well-constructed webpage for your business, and never have it be seen simply because you rank outside of the top three search results.
Having your webpage be attractive to Google and other search engines will help your ranking improve, and accomplishing this is what Search Engine Optimization is all about. The more highly Google thinks of your site, the higher it will be rated. The question then becomes how to get Google to like your website. For Google, just like your practice, the emphasis is on the user or client.
A quick, responsive website is important for ranking well in Google, particularly when it comes to mobile devices. A page that takes more than 3 seconds to load can lose up to 53% of users as they bounce away to other sites. Other considerations for ranking well include your site's ease-of-use and of course, the quality of your content.
Digital marketing goes beyond just your website, however.
Top Rated Digital Marketing Agency
4.9/5 from over 100 reviews!
Graham Wilson
CEO @ Life Support Group
"Amazing team at Marwick Marketing - job well done! Fast, responsive, innovative and reliable. Quality service, attention to detail. Recommend above any other SEO firm in Canada or the UK for top quality results."
Tyson Nicholson
Sunly.ca
"Markwick has done a phenomenal job at both PPC and SEO. They have been able to work with me in a small market ensuring targeting was on point to allow me to get the right visitors. This led to great conversion rates. Within a week for PPC they were able to reduce my cost per lead and increase the amount of leads (which were all relevant leads too!)."
Angie Wahi
McQuarrie
"I have been working with the team at Marwick for over 6 months and after unsuccessful attempts to work with some other local agencies, I am pleased to have found the team at Marwick. They are extremely agile, responsive, and have helped pivot the companies entire digital marketing strategy with great results in just a few short months...all while developing and launching a brand new custom website too!"
Google Ads for Mental Health Professionals
Making use of good Search Engine Optimization allows you to constantly improve your website's rankings on Google, but the process does take time and effort and is an ongoing process. What can you do if you are seeking more immediate results?
Google Ads is a pay-per-click (PPC) platform that gives you the opportunity to jump directly to the top of Google's SERPs. Targeting words that people are searching for, such as "depression" will put you right in front of them. Given that those who are actively researching such topics are typically in need and ready to take some sort of action, this is the best time to connect with them.
While traditional marketing still has its uses, Google Ads allows you to not only reach a targeted audience in need of your service, it makes it easier for them to find you and allows you to start building important rapport before you even meet.
For more information on how Google Ads can help you with your mental health services, contact us now and we'll be happy to show you how it can help grow your practice.
Random Fact
The average cost per click on the keyword "psychiatrist" in Canada is $1.65 and in the USA is $1.86 per click.
What Can Google Ads Do For Your Vet Clinic?
Hyper granular keyword and location targeting means you'll have full control over where, when and how your ads are served. Quickly test new services, and ramp up your most profitable campaigns.
Serve laser focused ads to your local target market wherever they are online, with the power of the Display network.
Are you seeing high numbers of users come to your website, but not convert into new clients? Remarketing can help keep you top of mind, with focused follow up campaigns for non converting users.
Find a time that works for you, and book a Discovery Call today.
Social Media for Mental Health Professionals
Social media is a part of daily life for most people, with the average person using it for 144 minutes each day. This represents more than half of a typical person's time online. This gives digital marketers a huge advantage in reaching their audience.
When seeking help for their mental health concerns, people will want to find someone that they can feel confident about. They will seek out someone they perceive as competent, caring, and professional. Social media allows you to connect with people before they ever set foot in your place of work. By posting photos, video, and valuable information, you will be able to demonstrate why your clients can trust you to provide the best care.
Your social media accounts will allow you to help educate clients and those who are simply seeking information. You will be able to establish yourself as an authority in your field, which will foster feelings of confidence and trust, and any posts that you make can lead followers directly to your site where they can find even more information or learn how to contact you.
Your social media followers will quickly learn that you are someone they can turn to for all their mental health needs and concerns.