Find More Clients &
Grow Your Law Practice
With Canada's
Premier
Google Agency
We work with select legal professionals and law firms across BC and Canada to help them increase their online reach, attract more leads and open more files.
Whether you're a small family law office, or a nation wide law firm, we can help you grow.
Ready to hear more?
Fill in the form, and one of our digital marketing specialists will be in touch.
Ready to grow your business and find more clients? To find out how we help law firms grow and attract more leads than they can handle, drop your contact details in the form below.
3X Increase In Web Visitors With 50% Less Google Ads Spend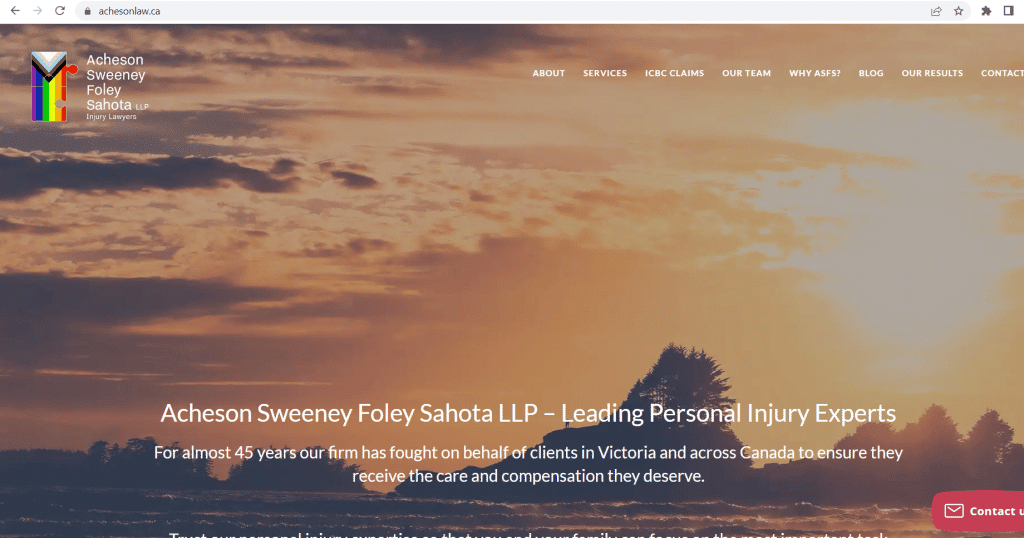 Acheson Law, a Personal Injury Law Firm has been using Yellow Pages to run their SEM campaign (Google Ads, formerly known as Google AdWords). They came to us looking to increase leads online.

Within two months our agency was able to reduce the Cost Per Click by 50%, triple the exposure of adverts (impressions) and still increase the number of visits to their website. This meant more business and less budget being wasted.
Find a time that works for you, and book a Discovery Call today.
Proven Law Firm Marketing Solutions
We take a tried and tested, multi channel approach to all of our legal industry digital marketing campaigns.
With a strategy rooted in data, and backed by over a decade of experience, our insights drive real and measurable results. But don't just take our word for that. By all means, go and take a look through our case studies, or check out our client feedback and testimonials. 
Ready to hear more about why what we do is so effective?
Let's dive in.
Search Engine Optimization for Law Firms

SEO for law firms is tough. Competition for the top spots in most cities is fierce,  and let's not even get started on the massive ways that AI is disrupting search.
So how do we design and execute a reliable and scalable SEO campaign for law firms across Canada?
Step 1 – Taking the time to lay the right foundations
The first step in any successful legal industry SEO campaign is a thorough audit and assessment of what you currently have. This should include:
A technical SEO review of your current website
Extensive keyword research to find the words and phrases that people are actually searching for in your local area
A deep dive into your competitors SEO strategies, incuding a keyword gap analysis to look for any potential new keyword oppertunities you're not currently taking advantage of
An in depth E-E-A-T (Experience, Expertise, Authoritativeness and Trustworthiness) of your website and any other online assets.
A review of your current backlink profile
Full optimization of your Google Business Profile(s)
Once we've completed these extensive setup steps, we'll be armed with all the information and insights we need to devise the most effective SEO campaign for your law practice.
Step 2 – Identify your core target keywords
With all of this data in hand, the next step is to narrow down a set of core target keywords that will be the focus of the campaign. Our SEO philosophy is a holistic one, and our overarching goal is always to increase your visibility in organic search more broadly, but these core set of keywords will become our North Star goal for the campaign, and a key way in which we'll measure progress.
With our core keywords identified, we can get to work mapping them to the appropriate target landing pages and making any necessary onpage optimizations needed.
Step 3 – Strengthening E-E-A-T
When it comes to SEO for law firms, E-E-A-T is everything.
E-A-T stands for Expertise, Authoritativeness, and Trustworthiness. It is an important concept in SEO, particularly for law firms, because it plays a crucial role in establishing credibility and trust with both search engines and potential clients. Here's why E-A-T is important for law firm SEO:
Expertise: Demonstrating expertise is essential for law firms to establish themselves as knowledgeable and trustworthy sources of legal information. Search engines evaluate the expertise of a website by analyzing the quality and depth of its content. By providing high-quality, well-researched, and authoritative content on legal topics, law firms can showcase their expertise and improve their chances of ranking higher in search engine results.

Authoritativeness: Authoritativeness refers to the reputation and authority of a website or brand. Law firms need to build a strong online presence and demonstrate their authority in the legal field. This can be achieved through various means, such as obtaining backlinks from reputable legal directories, industry associations, or other authoritative websites. The presence of authoritative links and references to a law firm's website signals to search engines that the firm is reliable and respected.

Trustworthiness: Trust is crucial in the legal profession, and the same applies to online presence. Law firms must instill trust in both search engines and potential clients. A website's trustworthiness can be evaluated by factors such as its overall design and user experience, the presence of clear contact information, privacy policies, security measures (e.g., SSL certificates), and positive online reviews. Testimonials, case studies, and client success stories can also help build trust by showcasing the firm's track record.
Search engines, particularly Google, prioritize websites that exhibit strong E-A-T signals. Google's algorithms aim to deliver the most reliable and relevant information to users, especially in sensitive areas like legal advice. By focusing on E-A-T, law firms can enhance their online visibility, attract organic traffic, and ultimately generate more leads from individuals seeking legal services.
Graham Wilson
CEO @ Life Support Group
"Amazing team at Marwick Marketing - job well done! Fast, responsive, innovative and reliable. Quality service, attention to detail. Recommend above any other SEO firm in Canada or the UK for top quality results."
Tyson Nicholson
Sunly.ca
"Markwick has done a phenomenal job at both PPC and SEO. They have been able to work with me in a small market ensuring targeting was on point to allow me to get the right visitors. This led to great conversion rates. Within a week for PPC they were able to reduce my cost per lead and increase the amount of leads (which were all relevant leads too!)."
Angie Wahi
McQuarrie
"I have been working with the team at Marwick for over 6 months and after unsuccessful attempts to work with some other local agencies, I am pleased to have found the team at Marwick. They are extremely agile, responsive, and have helped pivot the companies entire digital marketing strategy with great results in just a few short months...all while developing and launching a brand new custom website too!"
Google Ads for Dental Clinics
Maximize Your Law Firm's Success with Expert Google Ads Campaign Management
As potential clients increasingly turn to the internet to find legal services, it becomes paramount for law firms to capture their attention and stand out from the competition. One highly effective strategy for achieving this is through Google Ads campaigns. However, managing a successful Google Ads campaign requires expertise, time, and continuous optimization. That's where professional PPC (Pay-Per-Click) management services tailored specifically for law firms come into play.
Why Choose Google Ads for Law Firms?
Reach Your Target Audience:
Google is the world's most popular search engine, processing billions of searches every day. By utilizing Google Ads, you can strategically position your law firm's services in front of individuals who are actively searching for legal assistance. It enables you to reach your target audience precisely when they need you the most.
Increase Visibility and Brand Awareness:
A well-crafted Google Ads campaign can significantly enhance your law firm's visibility online. By appearing at the top of search engine results pages (SERPs) or on relevant websites, you can effectively increase brand recognition and establish your firm as a trustworthy authority within your legal niche.
Drive Qualified Traffic:
One of the primary advantages of Google Ads is its ability to generate highly targeted and qualified leads. By selecting the right keywords and utilizing advanced targeting options, you can attract potential clients who are specifically looking for the legal services your firm offers. This results in increased conversion rates and higher chances of acquiring new clients.
The Need for Professional Google Ads Campaign Management:
While Google Ads can be a powerful tool for law firms, managing successful campaigns requires expertise and dedicated effort. Here's why you should consider professional PPC management services tailored specifically for law firms:
Optimal Campaign Setup:
A professional Google Ads campaign manager understands the nuances of creating well-structured campaigns. They conduct thorough keyword research, analyze competition, and craft compelling ad copy that resonates with your target audience. This ensures that your ads reach the right people at the right time.
Continuous Optimization:
Managing Google Ads campaigns requires ongoing monitoring and optimization to deliver optimal results. An experienced PPC manager will closely analyze your campaign's performance, make data-driven decisions, and implement necessary adjustments to maximize your return on investment (ROI). They will refine your targeting, adjust bids, and test different ad variations to consistently improve campaign effectiveness.
Stay Ahead of Competition:
Law firms operate in a highly competitive industry, and without expert campaign management, it's easy to fall behind. A professional PPC manager keeps a close eye on market trends, competitor strategies, and industry changes. By leveraging their expertise, they can position your law firm ahead of the competition, ensuring your ads remain visible and relevant.
In today's digital landscape, harnessing the power of Google Ads is essential for law firms seeking to grow their client base and thrive in a competitive environment. By partnering with a trusted PPC management service provider that specializes in law firms, you can save time, minimize wasted ad spend, and maximize the return on your marketing investment. With expert campaign setup, continuous optimization, and the ability to outperform competitors, your law firm can establish a strong online presence and attract quality leads that turn into satisfied clients.
What Can Google Ads Do For Your Law Firm?
Hyper granular keyword and location targeting means you'll have full control over where, when and how your ads are served. Quickly test new services, and ramp up your most profitable campaigns.
Serve laser focused ads to your local target market wherever they are online, with the power of the Display network.
Are you seeing high numbers of users come to your website, but not convert into new clients? Remarketing can help keep you top of mind, with focused follow up campaigns for non converting users.
Find a time that works for you, and book a Discovery Call today.