Find More Clients &
Grow Your Firm
With Canada's
Premier
Google Agency
Start today with a FREE, no strings attached, audit of your current website.
Book A FREE Discovery Call
Want to find out exactly how to grow your business online? Book a free, no strings attached Discovery Call with our team today, and let us show you how!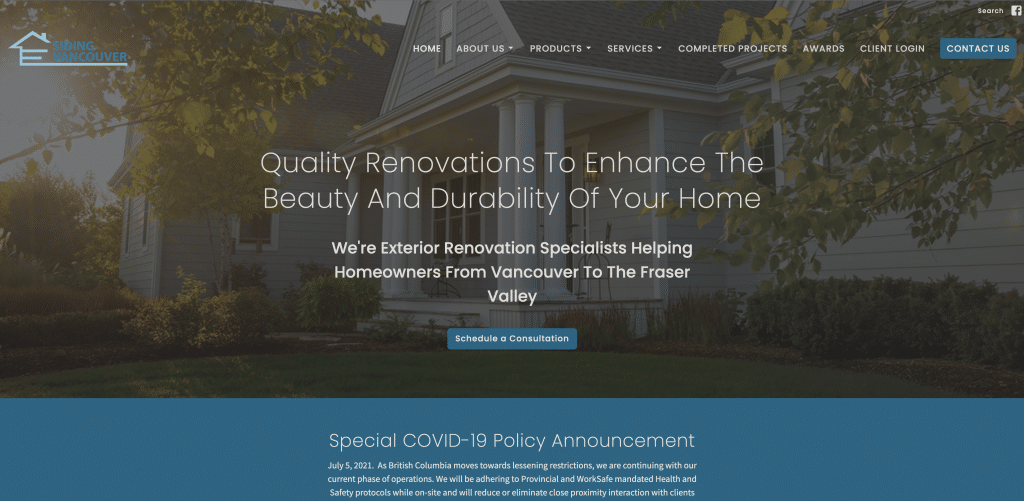 The Trifecta! #1 on Google Organic, #1 Google Ads and #1 on Google Maps
We need to be number one on Google for Ads and Organic SEO, and you've got 6 weeks. That was the call put to us by the management team at Siding Vancouver.
Not only did we deliver with #1 Organic Listings and #1 Google Ads (formerly known as Google AdWords) placement but we went two steps further. We built a loyal following on Facebook and got them to #1 on the Google Map listings.
Number One on Google Organic Number One on Google Ads Number One on Google Maps $280,000 of Sales In First 2 Months
Page 1 Rankings on Google
Find a time that works for you, and book a Discovery Call today.
Proven Home Renovation Marketing
Home renovation companies are unlike many other companies in that their customers are not likely to offer repeat business on a daily, weekly, or monthly basis. They may not even return annually. For this reason, it is necessary to constantly be finding new clients. But while digital marketing offers such an opportunity, many home renovation companies continue to rely on more traditional methods.
Traditional marketing involves running print ads, radio advertisements, mailings, and even word of mouth. These can be effective if you manage to connect with those already in need of your services, but your efforts will often reach many who are not yet planning renovations.
Search Engine Optimization for Home Renovation Companies

While digital marketing relies on a variety of different methods to increase your online visibility, the best-known is perhaps Search Engine Optimization (SEO). This method concerns itself with making your site more attractive to search engines, Google in particular. Why? Because when users search for something online, Google provides a list of suggestions on the Search Engine Results Page (SERP). Out of the thousands of suggestions, it's the top 3 that receive almost all of the clicks. If your site is not listed at the top of the page, chances are that you will remain unseen.
Getting into one of those top spots means that Google has deemed your site to be trustworthy, high-quality, and relevant to the user's query. Search Engine Optimization is what helps you get thereby making your site as user-friendly as possible. Having a slow, unresponsive site can result in users bouncing away before it even loads completely. If users can't find the information they want, or if articles are poorly written, that might likewise drive them away. Google will see this, and your site ranking will suffer.
Having your company appear for even a portion of them will lead to a drastic increase in business. And that is one keyword of many, for example "Home Renno Company near me" or "Best Home Renovation Firm" – there are literally thousands of people looking for your business every single day.
Top Rated Digital Marketing Agency
4.9/5 from over 100 reviews!
Graham Wilson
CEO @ Life Support Group
"Amazing team at Marwick Marketing - job well done! Fast, responsive, innovative and reliable. Quality service, attention to detail. Recommend above any other SEO firm in Canada or the UK for top quality results."
Tyson Nicholson
Sunly.ca
"Markwick has done a phenomenal job at both PPC and SEO. They have been able to work with me in a small market ensuring targeting was on point to allow me to get the right visitors. This led to great conversion rates. Within a week for PPC they were able to reduce my cost per lead and increase the amount of leads (which were all relevant leads too!)."
Angie Wahi
McQuarrie
"I have been working with the team at Marwick for over 6 months and after unsuccessful attempts to work with some other local agencies, I am pleased to have found the team at Marwick. They are extremely agile, responsive, and have helped pivot the companies entire digital marketing strategy with great results in just a few short months...all while developing and launching a brand new custom website too!"
Google Ads for Home Renovation Companies
What if you aren't seeing the results you hope for?
Search Engine Optimization is an excellent means for building your profile online, but it does take some time and is an ongoing process. If you find yourself wanting quicker results, you might want to consider Google Ads.
Google Ads is a pay-per-click platform that can be incredibly useful for pushing your site to the top of the SERP quickly. It works by targeting certain keywords—the search terms that users enter in Google when searching for something. This is especially useful for home renovation companies because, by the time consumers are searching for a company online, they are already close to taking action.
By focusing your efforts on specific keywords and phrases, you are able to pinpoint your precise audience, ensuring that your ads are seen by those who want to see them. This means they are much more likely to reach out to you.
Digital marketing can have a significant effect on your business, giving you more visibility and credibility, and bringing more users to your site. Contact us today and see how we can help put the power of digital marketing to work for you!
What Can Google Ads Do For Your Home Renovation Company?
Hyper granular keyword and location targeting means you'll have full control over where, when and how your ads are served. Quickly test new services, and ramp up your most profitable campaigns.
Serve laser focused ads to your local target market wherever they are online, with the power of the Display network.
Are you seeing high numbers of users come to your website, but not convert into new clients? Remarketing can help keep you top of mind, with focused follow up campaigns for non converting users.
Find a time that works for you, and book a Discovery Call today.
Why Choose Digital Marketing?
Digital marketing offers unprecedented access not only to a huge audience but also allows you to target those who are most likely to request your services. While traditional marketing can still play a role in your advertising, digital marketing is an effective and cost-efficient complement or alternative.
There were approximately 34.56 million internet users in Canada in 2019, which represents 96% of the population. Most of those users are online daily, checking email, going on social media, shopping, watching Netflix, and researching goods and services that interest them. This year is expected to see users spending more time online than on television for the first time ever.