Find More Clients &
Grow Your Firm
With Canada's
Premier
Google Agency
Start today with a FREE, no strings attached, audit of your current website.
Book A FREE Discovery Call
Want to find out exactly how to grow your business online? Book a free, no strings attached Discovery Call with our team today, and let us show you how!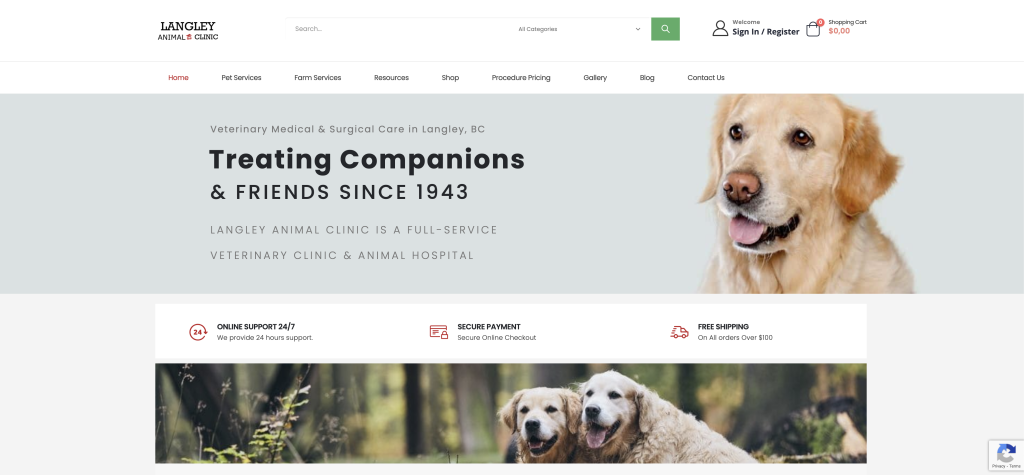 The Langley Animal Clinic is a proven example of how effective organic SEO, Google Ads (formerly known as Google AdWords), Social Media and Google Map listings can ensure they are number one every time. We can help your vet clinic, as we have done for Langley Animal Clinic and many others.
Page 1 Rankings on Google
Find a time that works for you, and book a Discovery Call today.
Proven Engineering Marketing Solutions
Growing your business requires a few different things, but the most obvious and most important is finding more clients, with most clients finding you through your marketing efforts.
For years, the Yellow Pages were a popular means of finding goods and services providers, but with the modern age, that has fallen by the wayside. Other traditional methods of marketing included television and radio. These are still in use, obviously, but their effectiveness is far from absolute, as they are broadcast to a wide audience that may never even have need of your services. Printing and distributing flyers or inserts have proven popular, but again your efforts aren't necessarily putting you in touch with the right people.
In many industries, word of mouth advertising can be incredibly effective if you have a stable of satisfied customers, but while personal recommendations are golden, they are not always reliable.
Digital marketing is different in that it is precisely targeted and puts you in front of those who are seeking what you offer. In the chart below (Source: Google Trends) you can see how over the years more and more potential clients have been turning to Google to search for "Engineering companies near me" a true testament that people are turning to Google to search for you and your company.
Search Engine Optimization for Engineering Companies

The purpose of Search Engine Optimization is to increase your visibility and traffic by moving you to the top of the list. It is an ongoing process that seeks to continually improve your site and your performance in search engines. 
Google even offers several tools to help assess, monitor, and improve your site including:
Google Search Console
Google AMP
Google Analytics
Google Speed Test
Google My Business
Google Tag Manager
Google MAPS address verification
There are others as well, all of which can be leveraged to help your site and your business be found and remembered.
Top Rated Digital Marketing Agency
4.9/5 from over 100 reviews!
Graham Wilson
CEO @ Life Support Group
"Amazing team at Marwick Marketing - job well done! Fast, responsive, innovative and reliable. Quality service, attention to detail. Recommend above any other SEO firm in Canada or the UK for top quality results."
Tyson Nicholson
Sunly.ca
"Markwick has done a phenomenal job at both PPC and SEO. They have been able to work with me in a small market ensuring targeting was on point to allow me to get the right visitors. This led to great conversion rates. Within a week for PPC they were able to reduce my cost per lead and increase the amount of leads (which were all relevant leads too!)."
Angie Wahi
McQuarrie
"I have been working with the team at Marwick for over 6 months and after unsuccessful attempts to work with some other local agencies, I am pleased to have found the team at Marwick. They are extremely agile, responsive, and have helped pivot the companies entire digital marketing strategy with great results in just a few short months...all while developing and launching a brand new custom website too!"
Google Ads for Engineering Companies
Another compelling option lies in Google Ads, which allows you to get more immediate results than SEO by itself. This pay-per-click (PPC) platform has you select search terms that, when entered by Google users, display your ads at the top of the SERP, giving you tremendous visibility. This can jumpstart your marketing campaign with quicker results than SEO on its own.
While Search Engine Optimization is the backbone of your strategy and allows for long-term gains by improving your company's website, Google Ads is there for you when you seek more immediate results that are easy to interpret so that you have immediate insight into how well your ads are performing.
Random Fact
The average cost per click for "Vet Clinic" in Canada is $1.89 and in the USA is $2.03.
What Can Google Ads Do For Your Engineering Company?
Hyper granular keyword and location targeting means you'll have full control over where, when and how your ads are served. Quickly test new services, and ramp up your most profitable campaigns.
Serve laser focused ads to your local target market wherever they are online, with the power of the Display network.
Are you seeing high numbers of users come to your website, but not convert into new clients? Remarketing can help keep you top of mind, with focused follow up campaigns for non converting users.
Find a time that works for you, and book a Discovery Call today.
Social Media for Engineering Companies
Social media is your direct connection to clients' past, present, and future. The average person uses social media on a daily basis, offering you a myriad of opportunities to be seen by and to interact with your audience.
Social media is used for much more than simply staying in touch with family and old high school friends. Today, many users take to social media to learn more about companies and products. Aside from reviews and fan pages for various products and companies, users will be able to go directly to an official page to learn more about individuals and businesses.
By posting frequently on Social media, you can educate and inform followers about your business, what you do, the services you offer, and any other pertinent information. Your posts are a perfect method for building credibility and trust with your readers.
Social media platforms are also where you can share links to the content from your site. This will lead them directly to the selected page and creates the opportunity for them to further explore your website. Not only is this good for your social media account, but it brings you traffic.
Another significant benefit of social media is that when someone discovers content that they find useful or simply interesting, they tend to share it. This free advertising allows you to reach a much larger audience through the efforts of your followers.
The Elements of Digital Marketing
Digital marketing works on several different fronts all at once to bring you the results you seek. Perhaps the best known is Search Engine Optimization, or SEO, which focuses on building your online presence in a way that makes your website attractive to Google.
Sometimes this might require totally revamping your site, as there are many factors that contribute to your success or bring you difficulties. If your site is slow to load, for example, you are losing potential customers who become increasingly likely to leave your site as loading time increases.
The content on your page is another large factor. Do you add content regularly, or would a visitor see that the last time you posted was a year ago? The regular addition of high- quality content gives value to those who visit your page, and attractive images and video make them more likely to stay and visit other pages. In fact, the content may be the most important part of digital marketing for engineering companies. Not only is it great for your site, but it can be shared on social media, which we'll discuss below.
Why does this matter?
When a Google user searches for something online, they will almost invariably click on one or more of the top three suggestions on the Search Engine Results Page (SERP). Results following the top three see considerably less traffic, and the number of clicks they receive diminishes rapidly as one goes down the list or on to the next page.