Find More Clients &
Grow Your Firm
With Canada's
Premier
Google Agency
Start today with a FREE, no strings attached, audit of your current website.
Book A FREE Discovery Call
Want to find out exactly how to grow your business online? Book a free, no strings attached Discovery Call with our team today, and let us show you how!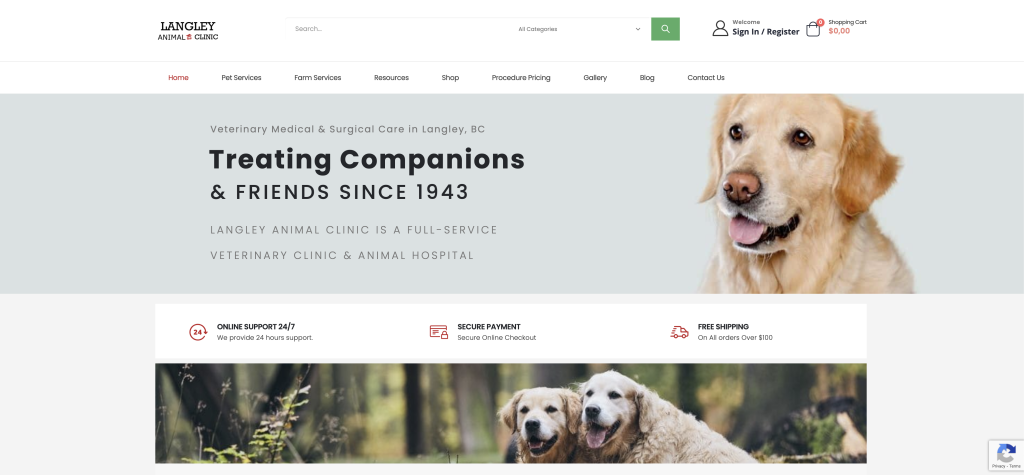 The Langley Animal Clinic is a proven example of how effective organic SEO, Google Ads (formerly known as Google AdWords), Social Media and Google Map listings can ensure they are number one every time. We can help your vet clinic, as we have done for Langley Animal Clinic and many others.
Page 1 Rankings on Google
Find a time that works for you, and book a Discovery Call today.
Proven Architecture Marketing Solutions
Many industries have had success in the past by relying on word-of-mouth advertising and referrals, and this has been the case for many architecture firms as well. This by itself is not a sustainable model, and so finding other methods of generating business is called for.
Digital marketing is the most powerful form of marketing and an excellent means of building your business. For your firm to thrive and grow, you need to attract new clients, but for that to happen, those clients need to be able to find you. Digital marketing is your means of connecting with them.
Search Engine Optimization for Architecture Companies

When someone needs information, they turn to Google and other search engines to find it with such regularity that Google itself has become a verb. But a quick search for almost anything you can imagine will turn up results numbering in the hundreds of thousands. How does a user search through all of that?
Basically, they don't.
When users enter their search terms, Google will provide the Search Engine Results Page (SERP) with all the results that are deemed pertinent to the query. These results are provided in a best-to-worst order in terms of relevance. That means that the first few results at the top of the list are those that Google feels are the most likely to match the user's needs, and the average user will only click among the top three results. Accordingly, you can guess where you should be positioned for the best results.
Reaching the top of the SERP is usually achieved through Search Engine Optimization (SEO). This is a process of building (or rebuilding) your company's website to be as appealing as possible to search engines. This is achieved through a variety of means, such as making your site easily navigable, more user-friendly, and more visually appealing. Emphasis is also given to the structure of your site and the quality of its content.
Users might visit your site and click away quickly. This could be because your site is slow to load; users typically begin clicking away to other sites if they are required to wait 3 seconds or more. Each additional second sees a greater number of them leave. They might also bounce away if the content of your site isn't a match for their needs or expectations. When Google sees this, they feel that your site is not a good match for the query and your rank suffers. Search Engine Optimization, therefore, works to address all the small (and not so small) issues that affect your value in Google's eyes.
Top Rated Digital Marketing Agency
4.9/5 from over 100 reviews!
Graham Wilson
CEO @ Life Support Group
"Amazing team at Marwick Marketing - job well done! Fast, responsive, innovative and reliable. Quality service, attention to detail. Recommend above any other SEO firm in Canada or the UK for top quality results."
Tyson Nicholson
Sunly.ca
"Markwick has done a phenomenal job at both PPC and SEO. They have been able to work with me in a small market ensuring targeting was on point to allow me to get the right visitors. This led to great conversion rates. Within a week for PPC they were able to reduce my cost per lead and increase the amount of leads (which were all relevant leads too!)."
Angie Wahi
McQuarrie
"I have been working with the team at Marwick for over 6 months and after unsuccessful attempts to work with some other local agencies, I am pleased to have found the team at Marwick. They are extremely agile, responsive, and have helped pivot the companies entire digital marketing strategy with great results in just a few short months...all while developing and launching a brand new custom website too!"
Google Ads for Architecture Companies
As effective as social media and Search Engine Optimization can be for your business, they do require an investment of time to reach their potential. There may be times when you are in need of more immediate results, and in these cases, you have the option of turning to Google Ads, a pay-per-click platform that allows you to target specific keywords and phrases. When these terms are entered, your ad will appear, giving you a huge boost in visibility.
Whatever your goals for your business, digital marketing can help you achieve them. Contact us today to learn how to put the most effective form of marketing to work for you!
What Can Google Ads Do For Your Architecture Company?
Hyper granular keyword and location targeting means you'll have full control over where, when and how your ads are served. Quickly test new services, and ramp up your most profitable campaigns.
Serve laser focused ads to your local target market wherever they are online, with the power of the Display network.
Are you seeing high numbers of users come to your website, but not convert into new clients? Remarketing can help keep you top of mind, with focused follow up campaigns for non converting users.
Find a time that works for you, and book a Discovery Call today.
Why Choose Digital Marketing?
What is it about digital marketing that makes it so effective, and what can it do for your business?
Virtually anywhere we look these days, we see people online. The digital world touches upon several facets of the typical person's life, and on average, we spend 6 hours and 42 minutes online each day. That is more than 2400 hours in a year! Clearly, if you are seeking to engage with your audience, finding them online is an excellent means to do so.
While most people will spend a good portion of their time online performing various tasks such as shopping and banking, searching online has become the default means of finding information on businesses, products, and services. Your future clients are looking for you online. It makes sense to ensure they find you quickly and easily.