Find More Customers &
Grow Your Business
With Victoria's Leading
Digital Marketing Agency
Start today with a FREE, no strings attached, audit of your current website.
Marwick Marketing are a top rated Digital Marketing Agency in Victoria, Canada.
Thousands of companies across Victoria, BC, throughout Vancouver Island and across Canada trust our digital marketing agency services to help grow their online audience and attract more leads and sales online.
Want to find out exactly how to grow your business online?
Victoria Digital Marketing Agency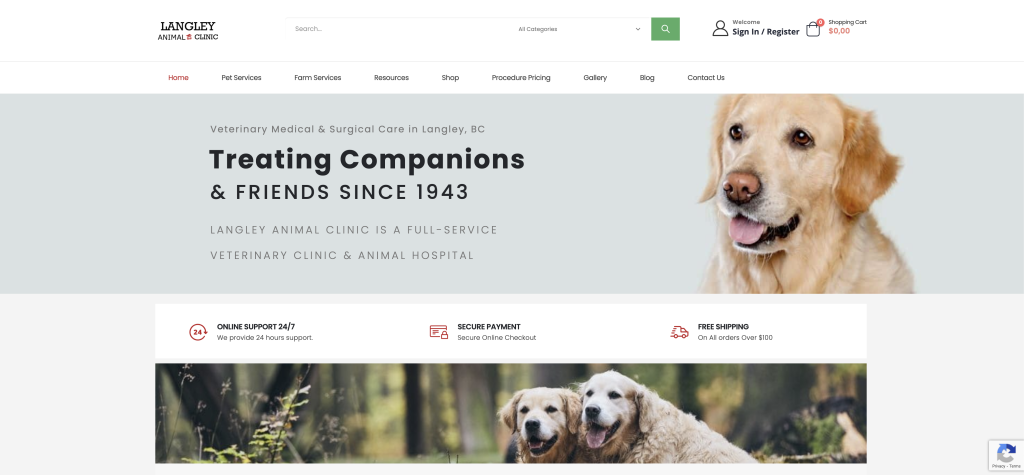 The Langley Animal Clinic is one of Canadas largest and most trusted veterinary clinics, a national level ecommerce pet and large animal store and a proven example of how effective organic SEO, Google Ads (formerly known as Google AdWords), Social Media and Google Map listings can ensure they are number one every time. We can help your business too, as we have done for Langley Animal Clinic and many others.
Page 1 Rankings on Google
Find a time that works for you, and book a Discovery Call today.
Your Local Victoria Digital Marketing Agency
Victoria's Top Rated Digital Marketing Agency
4.9/5 from over 100 reviews!
Graham Wilson
CEO @ Life Support Group
"Amazing team at Marwick Marketing - job well done! Fast, responsive, innovative and reliable. Quality service, attention to detail. Recommend above any other SEO firm in Canada or the UK for top quality results."
Tyson Nicholson
Sunly.ca
"Markwick has done a phenomenal job at both PPC and SEO. They have been able to work with me in a small market ensuring targeting was on point to allow me to get the right visitors. This led to great conversion rates. Within a week for PPC they were able to reduce my cost per lead and increase the amount of leads (which were all relevant leads too!)."
Angie Wahi
McQuarrie
"I have been working with the team at Marwick for over 6 months and after unsuccessful attempts to work with some other local agencies, I am pleased to have found the team at Marwick. They are extremely agile, responsive, and have helped pivot the companies entire digital marketing strategy with great results in just a few short months...all while developing and launching a brand new custom website too!"
Digital Marketing Agency Victoria
Every business owner wants their enterprise to succeed, and generally speaking, the best means of succeeding is continual growth. This means the business must not only retain existing customers but continue to attract new ones.
Marketing has long been the means by which a business finds new clients. 
In the past, most small to medium businesses could only afford to do print advertising in the form of flyers, brochures, posters, newspapers, or other printed media. Radio and television ads were another option, but not everyone had the budget for that. That brings us to today, when digital marketing allows us to communicate with the entire world with only a few clicks of a mouse. But are you familiar with all that a digital marketing agency in Victoria can do for you?
Types of Digital Marketing
There are several types of digital marketing, each with its own strengths. There's a good chance that you are already familiar with at least a few of them, and by combining them, you can create a highly effective marketing campaign.
Some types of digital marketing include:
Search Engine Optimization (SEO)
Search Engine Optimization, or SEO, may be the one you hear about the most. It is focused on helping your website reach the top position on the Search Engine Results Page (SERP). This means that when a user goes online to search for the type of goods and services that you offer, your site will be among the first that they see.
Most users will only ever consider clicking on the top 3 results that Google and the other search engines provide them with. If your site is not in one of those positions, your chance of receiving a click drops dramatically. Even worse, if you happen to be on the second page, you are, for all intents and purposes, invisible to the average user.
Your position in the SERP is determined by things such as the keywords that you use, the authority of your page, the perceived quality and trustworthiness of your site, and how well you align with what the search engine perceives to be the user's intent.
Google places a great deal of value on a good user experience, always striving to deliver the best, most relevant links to users. This means that your site should not only contain useful, high-quality information, but also be visually attractive, easy to navigate, and fast to load. SEO helps you determine the weak points of your site to make it more attractive to users and search engines, resulting in a higher ranking.
Pay-Per-Click (PP)
Pay-Per-Click is precisely what it sounds like—advertising that requires you to pay a certain fee each time a user clicks one of your ads. This type of advertising is useful for those who want to see more immediate results than SEO, which can take some time to come fully into effect.
The exact details of the as will determine the amount of the fee, but many find that this is an effective and worthwhile means of increasing their visibility.
Social Media Advertising
Not everyone thinks of social media when they first consider digital marketing but take a moment to consider the fact that social media is used regularly by more than 4.62 billion people across the globe. This means that you have a huge potential audience, especially given the fact that your fans and followers could help you reach beyond your normal boundaries by sharing your posts.
Content Marketing
Virtually anyone with a website is using content marketing, even if they don't think of it in such terms. Almost everything on your website is contributing to your marketing. Videos, blogs, images, and more are all content that can garner attention. Some sites will even provide downloadable material such as free e-books.
By using this type of content to communicate with your audience, you can provide them with information about your business, including upcoming product launches, special promotions, and more. It also allows you to establish yourself as an authoritative voice in your industry and build trust with potential customers and referral sources.
Email Marketing
Some may say that email marketing's best days are in the past, but it is still an integral part of your marketing efforts. Much like content marketing, it is a great way of providing information to your existing clients, as well as reaching out to new customers. It also typically has the advantage of being something that the client has willingly signed up for, meaning they will be more receptive to your efforts.
Why You Need a Digital Marketing Agency
When you work with a digital marketing agency in Victoria, you are gaining access to a team of professionals who will pool their resources and expertise to help you succeed. By allowing professionals to handle your marketing efforts, you will free up the time you need to focus more on your business.
Some of the benefits you can expect from working with a digital marketing agency in Victoria include:
Reduced Costs
Everyone is interested in saving money and reducing costs. This sometimes leads to concerns over the expense of working with a digital marketing agency. This concern is unfounded, however, as working with an in-house team typically proves more expensive, owing to the need for continual training, equipment, and the usual cost of maintaining full-time employees. Conversely, a digital marketing agency will come with all the training and equipment needed to do the job right.
Scalability
If the point of marketing is to help your business grow, then it needs to be able to grow with you. Maintaining an in-house team means hiring new employees, along with the necessary training. When you work with a digital marketing agency, the process is much easier, as they can scale their services to match your changing needs.
Measurable Results
More than anything else, what you want to see is measurable results, which is something that a digital marketing agency can provide. You will receive regular reports demonstrating your progress and the effectiveness of your marketing strategies, allowing you to see just how well you are doing and where you still need to make some adjustments.
When you need a digital marketing agency in Victoria, Marwick is here to help with the knowledge and experience you need to see your business grow.
To learn more about how digital marketing can help your business, contact us today.
How We Do It - Our Surrey Digital Marketing Services
As a full service marketing agency in Edmonton, we offer a full range of digital marketing services to help local businesses grow.
Our experienced Victoria SEO agency team have helped thousands of businesses grow online with targeted SEO.
We work with you to identify your goals, then we devise and implement an SEO strategy to help you achieve success.
From market and keyword research, to technical SEO and outreach with powerful content marketing techniques, our 4 step SEO process is scalable, repeatable and dependable.
Pay Per Click advertising on platforms such as Google Ads, is a great way to quickly increase your online conversions.
Our digital marketing agency in Victoria can help you make the best use of your PPC budgets and maximize your ROAS.
Let our local Victoria PPC specialists fine tune your campaigns, and increase your ROI today!
From organic social media management in Victoria that increases your engagements, to brand building or customer acquisition focused social media ad campaigns, our Victoria digital marketing agency and dedicated team of social media specialists grow brands like yours every day.
Start getting better results from your social media marketing today.
Driving more traffic to your website is fundamental to your future growth.
But what about your existing users?
Our Victoria digital marketing agency team devise and run targeted, data driven A/B split tests that increase conversion rates.
Outdated website holding you back?
As a full service digital marketing agency in Victoria, our inhouse web design and development specialists are here to help!
Get a website with the design and functionality you need to achieve your business growth goals.
Looking for a one off SEO Audit?
Our detailed and indepth manual audits are conducted by some of our most experienced Victoria SEO specialists.
You'll get technical SEO insights and competitor analysis that gives you a clear path to organic search growth.
Contact our Victoria digital marketing agency today to get started.
Transparent, Real Time Reporting
As a Marwick Marketing client, you'll get 24/7 access to your very own, custom reporting dashboard.
Track your rankings, traffic, Cost Per Click, conversions and any other metrics you want, all in real time.