Find More Customers &
Grow Your Business
With Toronto's Leading
Digital Marketing Agency
Start today with a FREE, no strings attached, audit of your current website.
Marwick Marketing are a leading Digital Marketing Agency in Toronto, Canada. We partner with local, Toronto based business to help them grow their brands online via targeted and high impact campaigns via our comprehensive digital marketing services.
Our Toronto based digital marketing agency has been driving online traffic and sales growth for business across Ontario, Canada and North America for over 10 years.
As Canada's largest city, Toronto is home to a huge and diverse range of businesses and entrepreneurs.
At Marwick Marketing, our Toronto team of digital marketing agency specialists work with businesses of all shapes and sizes across just about every industry, to help them grow and succeed online.
Our clients include businesses from all around the Greater Toronto Area, from Scarborough to York and out through Mississauga and Hamilton.
We offer bespoke digital marketing services, including channels such as SEO, PPC, Social Media Management, Web Design and Development and everything your website needs to achieve your business goals. Call our Toronto team today, and let's chat about how we can help your business too.
Toronto Digital Marketing Agency
Are you looking for a passionate team of Toronto digital marketing specialists?
You found us!
Marwick Marketing are an award winning digital marketing agency with offices in Toronto, Vancouver and across North America.
Our local Toronto based team, supported by our extended team across Canada, have helped hundreds of local businesses to expand their online reach and attract more sales and leads through their websites.
As the largest city in Canada by population, the opportunities for business growth here in Toronto are almost endless.
From the hustle and bustle of the Bay Street financial district to the high growth GTA real estate industry to tech, Toronto is an international centre for business and opportunities for small, medium and even enterprise businesses are huge.
At Marwick Marketing, we help local, national and international companies based in Toronto to attract more users to their websites.
Our specialists cover all aspects of digital marketing from SEO to PPC, Social Media Marketing and website design and development.
If you're interested to find out more about how a Toronto digital marketing agency can help your business, head over to our contact page today and drop us a message. One of our dedicated Account Director team will get back to you.
Case Study #1 - (SEO & PPC)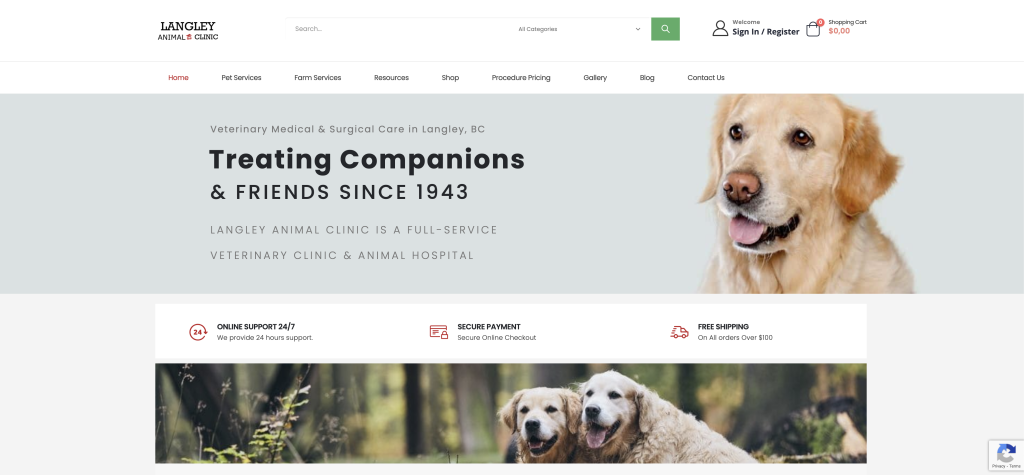 The Langley Animal Clinic is one of Canadas largest and most trusted veterinary clinics, a national level ecommerce pet and large animal store and a proven example of how effective organic SEO, Google Ads (formerly known as Google AdWords), Social Media and Google Map listings can ensure they are number one every time. We can help your business too, as we have done for Langley Animal Clinic and many others.
Page 1 Rankings on Google
Find a time that works for you, and book a Discovery Call today.
Your Local Toronto Digital Marketing Agency
Originally founded in Vancouver, BC, Marwick Marketing has rapidly grown to become one of the leading digital marketing agencies in North America.
By focusing on delivering data driven recommendations and documenting clear return on campaign investments, we quickly expanded our team across Canada and North America.
Our local Toronto digital marketing agency is a diverse team of specialists across all areas of online marketing. 
As Canada's capital and most populous city, Toronto is a great but very unique place to do business. Home to some of Canadas most exciting and largest companies, Toronto is a city where opportunities for business growth are endless. Whether you're a new business or an established one, Toronto's reputation as an international business hub means you'll never be short of potential customers, or new markets to explore.
Let our expert Toronto digital marketing team guide you through that growth, with targeted, research driven digital marketing campaigns that drive more customers to your website and increase your conversions online.
Toronto's Top Rated Digital Marketing Agency
4.9/5 from over 100 reviews!
Graham Wilson
CEO @ Life Support Group
"Amazing team at Marwick Marketing - job well done! Fast, responsive, innovative and reliable. Quality service, attention to detail. Recommend above any other SEO firm in Canada or the UK for top quality results."
Tyson Nicholson
Sunly.ca
"Markwick has done a phenomenal job at both PPC and SEO. They have been able to work with me in a small market ensuring targeting was on point to allow me to get the right visitors. This led to great conversion rates. Within a week for PPC they were able to reduce my cost per lead and increase the amount of leads (which were all relevant leads too!)."
Angie Wahi
McQuarrie
"I have been working with the team at Marwick for over 6 months and after unsuccessful attempts to work with some other local agencies, I am pleased to have found the team at Marwick. They are extremely agile, responsive, and have helped pivot the companies entire digital marketing strategy with great results in just a few short months...all while developing and launching a brand new custom website too!"
As a full service marketing agency in Toronto, we offer a full range of digital marketing services to help local businesses grow.
Our experienced Toronto SEO agency team have helped thousands of businesses grow online with targeted SEO.
We work with you to identify your goals, then we devise and implement an SEO strategy to help you achieve success.
From market and keyword research, to technical SEO and outreach with powerful content marketing techniques, our 4 step SEO process is scalable, repeatable and dependable.
Pay Per Click advertising on platforms such as Google Ads, is a great way to quickly increase your online conversions.
Our digital marketing agency in Toronto can help you make the best use of your PPC budgets and maximize your ROAS.
Let our local Toronto PPC specialists fine tune your campaigns, and increase your ROI today!
From organic social media management that increases your engagements, to brand building or customer acquisition focused social media ad campaigns, our Toronto digital marketing agency and dedicated team of social media specialists grow brands like yours every day.
Start getting better results from your social media marketing today.
Driving more traffic to your website is fundamental to your future growth.
But what about your existing users?
Our Toronto digital marketing agency team devise and run targeted, data driven A/B split tests that increase conversion rates.
Outdated website holding you back?
As a full service digital marketing agency in Toronto, our inhouse web design and development specialists are here to help!
Get a website with the design and functionality you need to achieve your business growth goals.
Looking for a one off SEO Audit?
Our detailed and indepth manual audits are conducted by some of our most experienced SEO specialists.
You'll get technical SEO insights and competitor analysis that gives you a clear path to organic search growth.
Contact our Toronto digital marketing agency today tog et started.
Marwick Marketing is a top rated digital marketing agency in Toronto.
We are one of the top rated digital marketing agencies on Clutch, and have over 100 reviews on Google from happy clients.
Our team of digital marketing specialists know Toronto well – many of our clients are based here and many of our team are from here.
But when you choose to partner with us, you get more than just a local team of leading digital marketers.
You get our global team of experts and specialists, who can plug in and out of your campaign exactly as needed.
Marwick Marketing is a full service digital marketing agency. That means we have many different specialists and expertise on the team – on your team – that all work together to accelerate growth for your business.
Transparent, Real Time Reporting
As a Marwick Marketing client, you'll get 24/7 access to your very own, custom reporting dashboard.
Track your rankings, traffic, Cost Per Click, conversions and any other metrics you want, all in real time.

We Have A Proven Track Record of Digital Marketing Success
Any Toronto digital marketing agency can talk the talk. At Marwick Marketing, we prefer to let our results speak for themselves.
Check out our huge collection of case studies to see the kinds of results and incredible ROI's we've been able to achieve for our clients over the last 10 years.
How Can Digital Marketing Help My Business?
Digital marketing services help Toronto business just like yours to expand their reach online, attract more visitors to their websites and, ultimately, generate more leads and sales.
With the help of our expert team of digital marketing specialists, you too can grow your business and achieve your online goals with targeted marketing campaigns.
We work with you to identify your target market based on a thorough understanding of your business and your industry.
We take the time to dig deep into your competitors, your existing audience and current online trends, to pin point exactly who your audience is, where they spend their time online and what content they're actively looking for.
Then, we work out a strategy that makes you the answer they've been looking for.
Our content creation specialists will work to build best in class content assets that you'll own and benefit from for years to come. Then we put that content to work on whatever digital marketing channels we feel will best resonate with your intended target audience. Whether that's via SEO, PPC or Social Media.
Known as the tech capital of Canada, some of North Americas largest digital companies call Toronto home. The city is the headquarters of Research in Motion (RIM), maker of the Blackberry smartphone. It also has offices for Google, Facebook, Twitter, HGTV, Zilok and XM Radio to name a few.
Traditionally this lively metropolis has been associated with finance but today it is home to many world-class technology companies including Amdocs , ATI Technologies , Celestica , Ceridian Corporation , CGI Group , Cognos Incorporated , Com Dev International Ltd. , Dalsa , Extreme Networks Inc. , Freescale Semiconductor Ltd and more!
Easy access to this huge pool of national and international companies, means that Toronto is a city rich with opportunities for businesses of all sizes.
Although the city is known for hosting some of Canada's biggest businesses, it also has a high percentage of small-to-medium sized enterprises (SMEs). In fact, the Greater Toronto Area (GTA) is home to around 1.5 million SMEs who together employ over half of the region's workforce!
Toronto offers a high density of incubators and accelerators designed to help new companies get started. Some of these programs include: Ryerson's DMZ, U of T's Creative Destruction Lab, OneEleven and the MaRS Discovery District among many others!
Toronto is a great city for business. With an excellent infrastructure in place and an abundance of opportunities, its no wonder so many businesses – both national and international call Toronto home.
For B2C businesses, The Greater Toronto Area is the countries largest city. With a population of over 5 million, it offers businesses the chance to access potential customers from all walks of life. It is a city of diversity and culture, where many people from different parts of the world have settled. And targeted digital marketing services are a great way to get your brand in front of new customers.
In addition, Toronto has been ranked as one of the top three cities in North America for transit by Walk Score which means that both commuters and shoppers alike will always find public transportation an easy travel option.
The City Of Toronto itself has committed to making entrepreneurship easier with their latest programs called " Markerlight: A Toolkit for Entrepreneurs ". This program introduced at Startup Canada , aims to help startups grow through workshops focusing on business development and expansion skills such as: legal and financial guidance; marketing and sales training; growth-related programs and networking events.
All of these factors contribute to Toronto being a great place for businesses to be, no matter the size!
Get started today, with an easy, no hassle call and let us show you why we're rated as one of the top digital marketing agencies in Toronto.
Finding The Best Digital Marketing Agency In Toronto For Your Business
Finding a digital marketing agency in Toronto can be a difficult task if you don't know what to look for.  When looking for digital marketing agency in Toronto, you will want to find an experienced digital marketing company that has experience with your industry and the current digital trends in place.
Any digital marketing company worth their salt will be able to handle the digital marketing aspect of your business.  This includes digital strategy, SEO, content marketing, PPC (pay-per-click), etc.
Before deciding on a digital marketing agency in Toronto it's important you take some time to do your research.  Look online for digital companies in Toronto and see what they are doing for other businesses like yours.  Find digital marketing agencies that have experience with B2C (business-to-consumer) AND B2B (business-to-business) services so that they can help your business succeed at both aspects of digital interactions.
Many times people looking for digital marketing agency in Toronto just want someone to manage their SEO and digital presence.
A digital marketing agency in Toronto can help you design a digital strategy development plan for your business based around your industry and what other companies like yours are doing.  They should be able to show examples of websites they have done similar work for as well as answer any questions you may have about their services and processes.
What Digital Marketing Services Are Right For Me?
That's a great question!
There are so many different marketing channels and different ways to connect with your target audience online.
Deciding which channels are the best investment for your business and which areas you can expect the best ROI in will depend on multiple factors.
It'll depend on your business model and how you make money, it'll depend on your industry and what your competitors do, but most importantly it'll depend on who your target audience are, where they spend their time online and what their interests and behaviors are.
The first 3 months of any new campaign we begin here at Marwick Marketing is all about understanding all of these factors.
Our Account Directors will work with you to dig deep and truly understand your business, your industry and your customers.
Once we understand that, we'll be able to suggest the right digital channels that make sense for your business.
It could be a case of a new website design, content marketing, search engine optimization, social media marketing, email marketing, graphic design or brand awareness campaigns. Our marketing experts and account managers will work with you to understand and devise the best marketing strategies based on your goals and objectives online.