Marwick Marketing are a top rated Digital Marketing Agency in Surrey, Canada.
Thousands of companies across Surrey and throughout Canada trust our Surrey digital marketing agency specialists to help grow their online audience and attract more leads and sales online.
As a full service digital agency, our diverse range of online marketing services covers everything from SEO to PPC to Social Media and Web Design.
Are you looking for a leading digital marketing agency in Surrey to help take your business to the next level?
Then look no further.
That's what we've been doing for local business since Marwick Marketing was founded right here in BC over 10 years ago.
Surrey offers a great blend of city life – with all it's conveniences and luxuries – and rural, with some of the best outdoor adventures just a stones throw away.
From the strong "shop local" vibes of South Surrey to the world class Central City Shopping Center, direct to consumer businesses are thriving across Surrey.
As one of the fastest growing cities in Canada, and with all the benefits of its Metro Vancouver surroundings, many locally based businesses are experiencing huge growth.
If you'd like to find out how our targeted, data driven digital marketing solutions can help your business grow too, get in touch today and let us show you how.
Case Study #1 (SEO & PPC)
First Place On Google!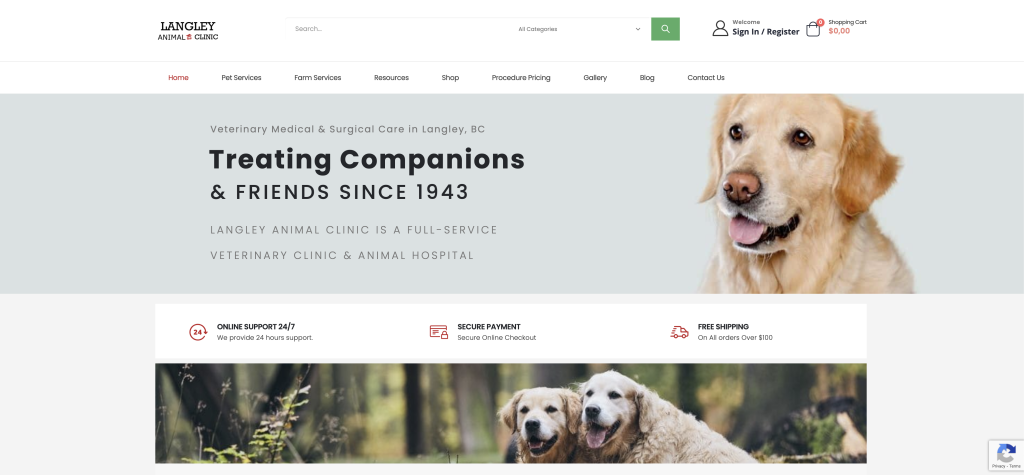 The Langley Animal Clinic is one of Canadas largest and most trusted veterinary clinics, a national level ecommerce pet and large animal store and a proven example of how effective organic SEO, Google Ads (formerly known as Google AdWords), Social Media and Google Map listings can ensure they are number one every time. We can help your business too, as we have done for Langley Animal Clinic and many others.
Your Local Surrey Digital Marketing Agency
We Are Surrey's Top Rated Digital Marketing Agency
4.9/5 from over 100 reviews!
"Amazing team at Marwick Marketing – job well done! Fast, responsive, innovative and reliable. Quality service, attention to detail. Recommend above any other SEO firm in Canada or the UK for top quality results." – Graham WilsonCEO @ Life Support Group Read More
"Markwick has done a phenomenal job at both PPC and SEO. They have been able to work with me in a small market ensuring targeting was on point to allow me to get the right visitors. This led to great conversion rates. Within a week for PPC they were able to reduce my cost per lead and increase the amount of leads (which were all relevant leads too!)." – Tyson NicholsonSunly.ca
"I have been working with the team at Marwick for over 6 months and after unsuccessful attempts to work with some other local agencies, I am pleased to have found the team at Marwick. They are extremely agile, responsive, and have helped pivot the companies entire digital marketing strategy with great results in just a few short months…all while developing and launching a brand new custom website too!" – Angie WahiMcQuarrie
How We Do It – Our Surrey Digital Marketing Services
As a full service marketing agency in Surrey, we offer a full range of digital marketing services to help local businesses grow.
SEO
Our experienced Surrey SEO agency team have helped thousands of businesses grow online with targeted SEO.
We work with you to identify your goals, then we devise and implement an SEO strategy to help you achieve success.
From market and keyword research, to technical SEO and outreach with powerful content marketing techniques, our 4 step SEO process is scalable, repeatable and dependable.
PPC
Pay Per Click advertising on platforms such as Google Ads, is a great way to quickly increase your online conversions.
Our digital marketing agency in Surrey can help you make the best use of your PPC budgets and maximize your ROAS.
Let our local Surrey PPC specialists fine tune your campaigns, and increase your ROI today!
Social Media
From organic social media management that increases your engagements, to brand building or customer acquisition focused social media ad campaigns, our Surrey digital marketing agency and dedicated team of social media specialists grow brands like yours every day.
Start getting better results from your social media marketing today.
CRO
Driving more traffic to your website is fundamental to your future growth.
But what about your existing users?
Our Surrey digital marketing agency team devise and run targeted, data driven A/B split tests that increase conversion rates.
Web Design & Development
Outdated website holding you back?
As a full service digital marketing agency in Surrey, our inhouse web design and development specialists are here to help!
Get a website with the design and functionality you need to achieve your business growth goals.
SEO Audit
Looking for a one off SEO Audit?
Our detailed and indepth manual audits are conducted by some of our most experienced Surrey SEO specialists.
You'll get technical SEO insights and competitor analysis that gives you a clear path to organic search growth.
Contact our Surrey digital marketing agency today to get started.
Why Marwick Marketing?
Transparent, Real Time Reporting
As a Marwick Marketing client, you'll get 24/7 access to your very own, custom reporting dashboard.
Track your rankings, traffic, Cost Per Click, conversions and any other metrics you want, all in real time.

Why Hire a Digital Marketing Agency in Surrey?
For virtually every type of business across every industry, marketing will play an important role. It is your means of attracting new customers and keeping existing ones. It is what drives the long-term growth of your company.
Today, effective marketing requires keeping up to date with the constantly changing digital environment. For your marketing efforts to get the best possible results, you need to hire a digital marketing agency in Surrey, and here are some of the reasons why:
It Lets You Focus On Your Business
Unless you started your business with the dream of handling all the marketing yourself, there is a very good chance that you would rather be doing something else. When you hire a digital marketing agency, it frees up valuable time that you could be using to oversee other important aspects of your business.
Even if you have an in-house team handling all your marketing, you will be spending time hiring, training, and overseeing their efforts. This can be time-consuming and can keep you from growing your business as efficiently as you otherwise might.
Just as you want your customers to trust in your experience and expertise, you can do the same with a marketing agency. They have the know-how to do the job right so that you can focus on what you do best.
It Will Bring You New Customers
Pay-per-click (PPC) ads, Facebook ads, and other forms of advertising on Instagram, Google, and elsewhere cost money. You want to get the best possible results from the money you spend, and a digital marketing agency helps you create ads that look good and bring in customers.
A digital marketing agency will help provide you with a strong online presence, raising your profile so that you are easier to find. Your marketing agency can help you create powerful, effective SEO, social media, and PPC campaigns that get you noticed.
A Reduction of Overall Costs
A common concern when considering the pros and cons of hiring an agency versus an in-house team is the cost. Many assume that hiring an agency will be more expensive, but the truth is that it is more cost-effective in the long run. For example, hiring an agency means that you no longer have to concern yourself with the expenses of full-time employees such as benefits, health care costs, and regular salaries. You also eliminate the need to hire and train employees and continually update their skills and knowledge.
There are various tools used to run digital campaigns that come with a considerable price tag. Keeping an in-house team equipped with everything they need can become expensive, but a digital marketer will have access to the tools and resources that may not be readily available to you. This can include content research tools, SEO optimizers, grammar and plagiarism checkers, website development tools, and various automated tools, all of which typically come with a monthly subscription fee.
The agency is responsible for continually updating its staff and tools, saving you that expense.
A High Level of Experience
Digital marketing agencies work with a range of businesses. The best agencies typically have experience with everything from small startups to much larger corporations representing a wide range of industries. It would be almost impossible to gain this level of experience by hiring an in-house team.
Working with various platforms gives the agency the ability to advise you about those platforms and which strategies would be most beneficial to you. Working with those who have extensive industry knowledge makes a significant impact on the results you can expect to receive.
A Different Perspective
Not every strategy will work for everyone. Some will provide minimal results that can be quite disappointing, but a good, well-qualified agency will be able to offer you insight into which strategies will provide you the results you seek. They can assess your previous efforts and provide an outside perspective that is based on experience within your industry, helping you understand the viewpoint of your customers.
It's a Scalable Service
You engage in digital marketing to increase your revenue and help your company grow. It makes sense that you would want a service that can grow with you, and that's what you get when you hire a digital marketing agency.
If you try to maintain an in-house team, you will be forced to expand it as your company grows and any time that you want to launch something new. This requires an expenditure of resources. When you work with an agency, however, they will be able to grow with you in order to meet your changing needs. An agency should also offer you multiple choices when it comes to service plans so that you can choose what works best for you.
Measurable Results
Of course, one of the most important things when it comes to your marketing efforts is seeing results. When you invest in marketing, you want to know that it is money well spent and that it is having a real, tangible effect. But if you are handling your own marketing, it may be difficult to determine the actual return on investment (ROI).
An agency handling your marketing will determine your key performance indicators (KPIs), which will help in determining just how well your marketing campaigns are performing in relation to your goals, both short- and long-term.
The agency will know the most important metrics to follow to understand and explain to you the effectiveness of each of your campaigns. They will provide you with monthly and/or quarterly reports on your campaign, giving you the information and insight you need to make the best possible decisions.
When you are working hard to expand your business, working with a digital marketing agency can help you reach the next level in your growth. They are your partners in developing the right strategies to reach all your business goals.
For more information on working with a digital marketing agency, contact us today. We will be happy to answer all your questions.