Find More Customers &
Grow Your Business
With Burnaby's Leading
Digital Marketing Agency
Start today with a FREE, no strings attached, audit of your current website.
Marwick Marketing are a top rated Digital Marketing Agency in Burnaby, Canada.
Thousands of companies across Burnaby and throughout Canada trust our digital marketing agency services to help grow their online audience and attract more leads and sales online.
Book A FREE Discovery Call
Want to find out exactly how to grow your business online? Book a free, no strings attached Discovery Call with our expert digital marketing team today, and let us show you how!
Burnaby Digital Marketing Agency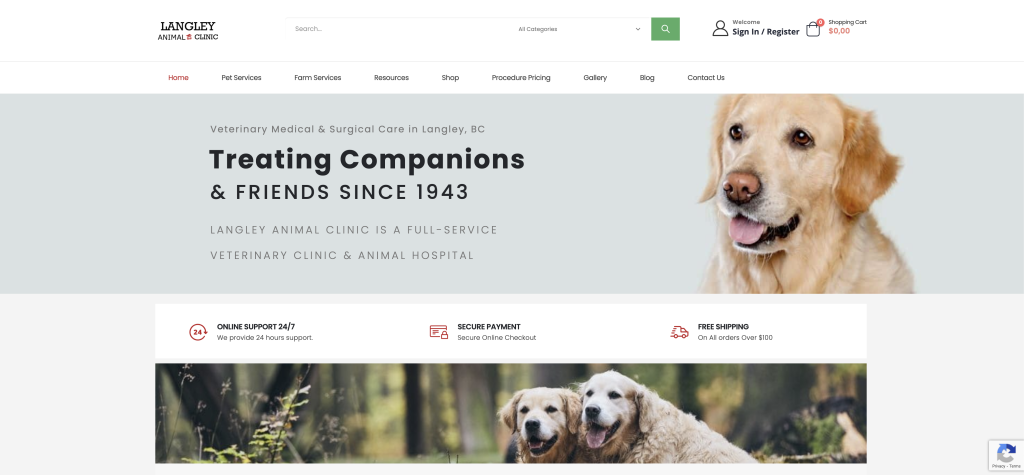 The Langley Animal Clinic is one of Canadas largest and most trusted veterinary clinics, a national level ecommerce pet and large animal store and a proven example of how effective organic SEO, Google Ads (formerly known as Google AdWords), Social Media and Google Map listings can ensure they are number one every time. We can help your business too, as we have done for Langley Animal Clinic and many others.
Page 1 Rankings on Google
Find a time that works for you, and book a Discovery Call today.
Your Local Burnaby Digital Marketing Agency
Burnaby's Top Rated Digital Marketing Agency
4.9/5 from over 100 reviews!
Graham Wilson
CEO @ Life Support Group
"Amazing team at Marwick Marketing - job well done! Fast, responsive, innovative and reliable. Quality service, attention to detail. Recommend above any other SEO firm in Canada or the UK for top quality results."
Tyson Nicholson
Sunly.ca
"Markwick has done a phenomenal job at both PPC and SEO. They have been able to work with me in a small market ensuring targeting was on point to allow me to get the right visitors. This led to great conversion rates. Within a week for PPC they were able to reduce my cost per lead and increase the amount of leads (which were all relevant leads too!)."
Angie Wahi
McQuarrie
"I have been working with the team at Marwick for over 6 months and after unsuccessful attempts to work with some other local agencies, I am pleased to have found the team at Marwick. They are extremely agile, responsive, and have helped pivot the companies entire digital marketing strategy with great results in just a few short months...all while developing and launching a brand new custom website too!"
How We Do It - Our Surrey Digital Marketing Services
As a full service marketing agency in Edmonton, we offer a full range of digital marketing services to help local businesses grow.
Our experienced Burnaby SEO agency team have helped thousands of businesses grow online with targeted SEO.
We work with you to identify your goals, then we devise and implement an SEO strategy to help you achieve success.
From market and keyword research, to technical SEO and outreach with powerful content marketing techniques, our 4 step SEO process is scalable, repeatable and dependable.
Pay Per Click advertising on platforms such as Google Ads, is a great way to quickly increase your online conversions.
Our digital marketing agency in Burnaby can help you make the best use of your PPC budgets and maximize your ROAS.
Let our local Burnaby PPC specialists fine tune your campaigns, and increase your ROI today!
From organic social media management that increases your engagements, to brand building or customer acquisition focused social media ad campaigns, our Burnaby digital marketing agency and dedicated team of social media specialists grow brands like yours every day.
Start getting better results from your social media marketing today.
Driving more traffic to your website is fundamental to your future growth.
But what about your existing users?
Our Burnaby digital marketing agency team devise and run targeted, data driven A/B split tests that increase conversion rates.
Outdated website holding you back?
As a full service digital marketing agency in Burnaby, our inhouse web design and development specialists are here to help!
Get a website with the design and functionality you need to achieve your business growth goals.
Looking for a one off SEO Audit?
Our detailed and indepth manual audits are conducted by some of our most experienced Burnaby SEO specialists.
You'll get technical SEO insights and competitor analysis that gives you a clear path to organic search growth.
Contact our Burnaby digital marketing agency today to get started.
Transparent, Real Time Reporting
As a Marwick Marketing client, you'll get 24/7 access to your very own, custom reporting dashboard.
Track your rankings, traffic, Cost Per Click, conversions and any other metrics you want, all in real time.

Digital Marketing Agency Burnaby
When building your business, you need to be able to attract new clients while retaining the old ones. At the same time, particularly when you are first starting out, it's important to make the most of your resources, which may be quite limited.
Marketing has always been a part of business, and it often took up a good portion of the budget. Today's digital marketing is not only more affordable, but it's also much more effective. Working with a digital marketing agency in Burnaby can help you grow without overtaxing your budget. If you are not already putting digital marketing to use for you, then it's definitely time to consider it because chances are good that your competitors are using it to gain a major advantage over you.
Digital Marketing Types
You are probably already aware of some types of digital marketing, but there are others that may not immediately come to mind. As one might expect, each type has certain advantages, and when combined, they become highly effective in advancing your business.
Some of the different types of digital marketing that you will encounter are:
Search Engine Optimization (SEO)
Perhaps the most well-known, or at least most talked-about, type of digital marketing is Search Engine Optimization, or SEO. This type of marketing is focused on improving your online visibility by ranking higher on the search engine results page (SERP).
The SERP is the page on which Google or other search engines will list relevant sites related to the search terms input by the user. For example, if a user enters "women's running shoes," they will receive a list of sites that might include brand name webpages, reviews, stores where the shoes are available, and more.
When keywords and phrases are entered into a search engine, it will evaluate them to determine the user's intent and then try to provide them with results that are appropriate to their needs. Each search engine will make every effort to provide the most appropriate results. Google, in particular, places a great deal of emphasis on the user's experience and will provide them with what they deem to be the highest quality links, which will appear at the top of the results page, sometimes following paid ads.
Given that the average user will only click on one of the top 3 links provided, this is the spot where your business needs to be. The farther down the list that your website appears, the less likely it is to be clicked by a user. If you are far enough down that you appear on the second page, you have little chance of being seen and less chance of receiving a click.
Pay-Per-Click (PPC)
Although SEO is an excellent means of gaining visibility in the long term, it does take some time to reach its full effect. If you are looking for more immediate results, you will probably want to make use of Pay-Per-Click advertising.
As the name implies, PPC advertising requires that a fee be paid each time a user clicks on one of your ads. The advantage of this type of marketing is that you can have your ads appear at the top of the SERP, where it is most visible and thus most likely to receive a click. The exact details of the ad will determine the price, but for many, it is an effective means of getting quick results.
Social Media Marketing
With more than 4.62 billion people worldwide using social media, it is a remarkably effective means of connecting with potential clients, and for that reason, it has become quite popular. One great advantage of social media is the ability of users to share posts that they like, meaning that followers and fans of your business can help you spread the word about your products and services at no cost to you.
Content Marketing
Although you may not have given it much thought, content marketing is possibly the form of digital marketing you encounter the most. Virtually anything on your site can contribute to your marketing efforts. This includes blogs, videos, and other content. Some sites will offer downloadable content, such as free e-books.
This content is a great means of communicating with your clients, offering them important information about your company, your products, and your services. You can inform them about upcoming releases, or any special promotions that are available.
Content marketing is a great way to establish yourself as an authority in your field.
Email Marketing
Although it has been around for a long time and some might consider its best days to have passed, email marketing is still a vital part of your marketing campaigns. As with content marketing, it is an excellent means of providing your clients and potential customers with information or important updates about your company or industry. Generally, clients will have signed up to receive emails from you, meaning they will be more receptive to your messages. 
Why You Need a Digital Marketing Agency
Working with a digital marketing agency in Burnaby means that you will benefit from a team of professionals combining their efforts to bring you greater success. Leaving your marketing to the experts means that you will have more time to devote to the things you do best.
Some of the main benefits of working with a digital marketing agency include:
Reduced Costs
A common concern when it comes to working with a digital marketing agency is that it will be too expensive, but over the long term, it can save you money. When you maintain your own team in-house, you must provide ongoing training and continually update equipment, in addition to the usual expenses of full-time employees. A digital marketing agency will see to the training of their own employees and keep them equipped with everything they need.
Scalability
With an in-house team, you will need to hire and train new employees as your business grows. An agency, on the other hand, will be able to grow with you, adjusting to meet your needs.
Measurable Results
More than anything else, it's important to see results from your investments. When you team up with a professional agency, they will provide you with regular reports that show the results of your efforts so that you can not only make adjustments as necessary but also see exactly how well your efforts are working.
When you are looking to invest in digital marketing in Burnaby, Marwick is ready to help, providing you with the expertise you need to get maximum results for your business.
To learn more about how digital marketing can help your business, contact us today.