Google has been gradually ramping up its local search monetization; have you noticed? At the end of 2016, it introduced local search ads, which placed ads on local business listings on Google Maps, and then began putting ads in local Knowledge Panels roughly two years ago. This is something, we could get behind.
But not so fast, Google…, now you think it's okay to start showing competitor ads in local business profiles?! Many business owners believe they "own" their Google My Business listing, however, this new move by Google serves as a sobering reminder that just like your company Facebook page, the Google My Business listing is owned by Google. This means  Google can place whatever advertising it likes within your own profile. Just when you thought you had it all sorted; we can understand your frustrations.
Depending on how you look at this new feature from Google and how much of an early adopter you are this can be a great new tactic or a big pain in the butt. Much of the SEO community in North America agrees this could be confusing for customers. 
I was not able to recreate an advert within a Google My Business profile, but Ben Fisher first noticed this development last week.
Here's his smartphone screengrab: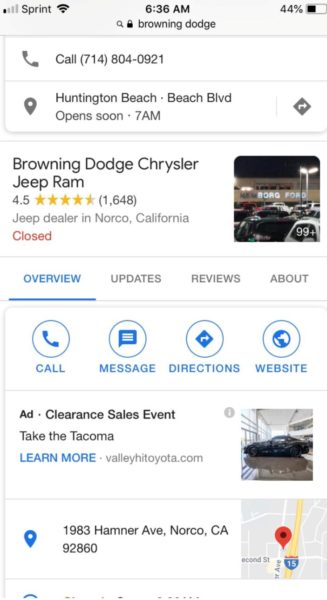 There is no current way to pay to stop competitors advertising on your profile. There's speculation that Google is gearing up to charge business owners to remove the ad. So, for now, keep a close eye on your business listing on Google. If you're feeling fruity and see the value in advertising on competitor profiles we can help. Staying ahead with new tactics can win big business, and this is just another example of Google shifting the way people can advertise.
So no matter which way you look at this, there's an opportunity for those ready to make a move and annoyance for those who do not understand the latest in digital marketing and are left wondering why their leads are going somewhere else.
Which side of the coin do you land? 
Christian Thomson
LinkedIn
07/09/2019
Christian is a British-born entrepreneur and founder of Marwick. For over 19 years, Christian has successfully helped businesses excel in digital marketing. Founded in 2012, Marwick has grown from a start-up to the 11th Fastest Growing Company in Canada in 2020 and expanded into the UK in 2019.