Over the course of the last 6 months, We grew Reset Learning's Instagram and LinkedIn audiences by 1275% and 150% respectively.
How did we achieve this? Let's dive into our strategy. 
Our strategy was rooted in a comprehensive social media approach that leveraged the following key elements:
Content Strategy: We developed a tailored content plan that resonated with the target audience and aligned with the client's brand identity. This included a balance of content across the 4 social media pillars, which are within brand guidelines.
Consistency & Balance: Maintaining a consistent posting schedule and voice across platforms to build trust and recognition, posting twice per week, and containing a variety of video based, static images, and carousels. 
Community Engagement: We actively engaged with the audience, responding to comments, questions, and messages promptly.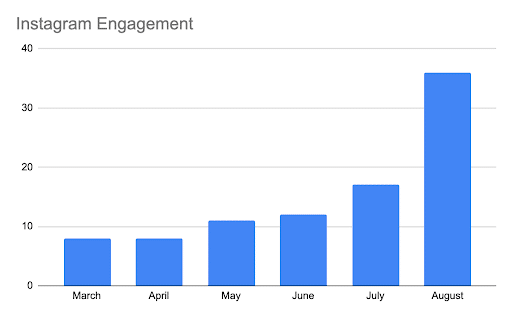 Post engagement has been making a steady incline as we grew closer to opening. Specifically, content encouraging parents to sign up for tours with the program director and visit the website to give their child a unique learning experience have resulted in an increase in post likes and clicks overall. 
Data-Driven Insights: Regularly analyzing social media data and adjusting our strategy accordingly to optimize results.
Leveraging Influencer Collaboration: One effective strategy is collaborating with influencers who are parents themselves. These influencers have already cultivated engaged followings of other parents seeking valuable insights and advice. By partnering with them, we can tap into their established networks, effectively reaching a wider and more relevant audience.
Social Media Ads
The synergy between organic and paid efforts allows clients to reach their social media goals more quickly, allowing brands to nurture relationships with existing followers while simultaneously attracting new ones.
Growth in LinkedIn Audience

Growth in Instagram Audience
Social
Media

Social Media plays a vital part to your companies presence online, social media can reinforce your company values, build customer trust and drive revenue if managed correctly. Our agency will provide set up, strategy and fulfillment. Saving you time, money and making your company a market leader in a noisy digital space.